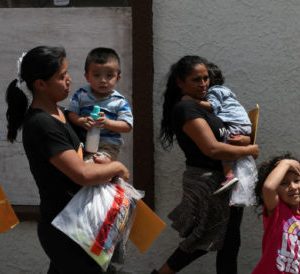 Por Guille Quiroz y Sayrah Namaste
Proyecto Oak Tree es un proyecto de alojamiento temporal para inmigrantes refugiados en Las Cruces, Nuevo México. La mayoría son voluntarios y has trabajado desde el 2014 atendiendo a refugiados que salen del Tornillo Center, al sur de El Paso, Texas. Este centro alojó la mayoría de los niños durante las crisis de 'separación de familias' en junio, 2018.
Project Oak Tree vino y pidió apoyo en donaciones a la comunidad estudiantil de  Encuentro, entre otras organizaciones, incluyendo ropa y dinero efectivo. En una semana se logró un paquete grande llenó de calcetines, brassieres y ropa interior para mujer y niños, y esto sirvió a quince familias aproximadamente. Sayrah Namaste, directora del Proyecto Oak Tree coordinó que lo recogieran y lo llevaran.
Sayra explica que estas familias fueron aprehendidas por el Departamento de de Seguridad Nacional (Homeland Security) y liberadas el 4 de octubre, 2018. Cuando salieron, los refugiados sólo tenían lo que traían puesto. Además de higiene, ropa y comida, apoyo financiero y en logística han sido sus mayores necesidades.
Sayrah envió su mensaje de gratitud a Encuentro directamente del Proyecto Oak Tree. Ella dice que estas familias son mayormente hondureñas y guatemaltecas. Cuando liberadas, las familias primero se querían bañar, no se habían bañado en más de una semana. Después, revisaron toda la ropa para encontrar una puesta que les viniera.
Hubo un grupo de voluntarios, más que todo personas retiradas y estudiantes de universidad, que ayudaron a Carlos espinoza, Diácono Católico de Las Cruces, reservar pasajes de avión y autobús para asistir a las familias a llegar a su destino. Sayrah mencionó que sólo esto tomó cuatro horas.   
Sayrah añade: "No sé qué palabras usar para describir esta situación. Una mujer hondureña con su hijo de dieciséis años, muy callado y educado, se sentaron conmigo mientras yo buscaba unos boletos de vuelo para el medio oeste. Cuando le dije que mi hermana había vivido en honduras hace quince años y yo la visité, me dijo que las cosas en Honduras han cambiado mucho. Que ella y su hijo huían para que las pandillas no lo asesinaran. Su hijo tenía la mirada fija en el suelo mientras ella me hablaba de la violencia que escaparon.
Una madre guatemalteca tenía su niña preciosa de dos años con una colita en su pelo y tos con fiebre. Parecía que muchos se habían enfermado en Tornillo Center. Supimos que ellos sólo recibían una botella de agua diaria.  
Otra mujer estaba algo perturbada porque tenía que hacer un viaje de ocho horas en tres vuelos diferentes para llegar a su destino y estaba viajando con un bebé. Otros iban a tomar autobuses a Florida y durarán tres días en el viaje. Fue bueno que un voluntario trajera a un perro de terapia, a las familias les gusto mucho el perro.
Entonces, tuve un momento muy cercano con cada una de las familias mientras arreglabamos su viaje. ¡Es una operación muy grande en términos de logística!
Otro grupo será liberado del Tornillo Center en Octubre 11, 2018 y necesitamos más ropa, especialmente pañales, pantalones y chaquetas de talla chica para hombres, chaquetas y suéteres para mujeres, y ropa interior para todos. El Centro Tornillo también cobra $600 por persona detenida. "¡La persona que donó efectivo fue increíble!", menciona Sayrah.  
Si puedes revisar tu closet y ver si hay alguna ropa que ya no uses la puedes donar. Si puedes donar efectivo ponlo en un sobre cerrado. Traelos a Encuentro. También puedes enviar tus donaciones directamente al Proyecto Oak Tree a: La Diócesis Católica en Las Cruces, 1280 Medpark Circle, Las Cruces NM, 880055; su teléfono es: (575) 523-7577
Esto no terminará pronto.
________________________________________________________________________________________________________________________________________________________________________________________
By Guille Quiroz and Sayrah Namaste
Project Oak Tree is a temporary housing project for refugee immigrants in Las Cruces, New Mexico. They are mostly volunteers and have been working since 2014 taking care of refugees coming out of the Tornillo Center in the south of El Paso, Texas. This center held most of the children during the 'separation of families' crisis in June 2018.
Project Oak Tree requested support for donations from the Encuentro student community, among other organizations, including clothing and cash. A large package filled with new socks, underwear, and bras for women and children was put together within a week and it served some fifteen refugee families.
Sayrah Namaste, director of 'Project Oak Tree' coordinated the pickup and delivery. Sayrah explains that these families were apprehended by the Department of Homeland Security and released on October 4th, 2018. When released, refugees come out only with what they wear. Besides hygiene, clothing and food, logistics and financial support to reach their destination become a huge need.  
Sayrah sent a gratitude message directly from the 'Project Oak Tree' to Encuentro. She says that these families are mostly Honduran and Guatemalan. When released, families wanted to bathe first since they hadn't bathed for more than a week. Afterward, they examined all the clothing to find a set that fit them.   
There was a group of volunteers, mostly retired folks and college students, assisting Carlos Espinoza, Catholic Deacon from Las Cruces, book plane and bus tickets to get all the families to their destination. Sayrah said this alone took about four hours.
Sayrah adds: "I don't have the right words to describe the situation.  A Honduran mother and her quiet and polite sixteen-year-old son sat with me while I searched for plane tickets to get them to their family in the Midwest. When I told her that my sister had lived in Honduras fifteen years ago and I had visited her country, she said things had changed so much in Honduras. She fled with her son so he wouldn't be killed by the gangs. Her son stared at the floor as she talked about the violence they escaped.
A Guatemalan mother had a precious two-year-old girl in pigtails with a bad cough and a fever. It seemed like most of the people had become ill in Tornillo Center. We heard they were only given one bottle of water each day.
Another woman was very upset to learn that she had to take three different planes to get to her destination and will be traveling eight hours with her toddler. Others were taking buses to Florida and would be on the bus for three days. One volunteer brought a therapy dog and that was a really good idea, the families liked the dog.
So, I had the profound opportunity of sitting with each and every family as we arranged their travel. It's a huge operation in terms of logistics!".
Another group will be released from Tornillo Center on October 11th, 2018 and more clothing is needed, especially small men's jeans, small men's jackets, women's jackets and sweaters, and toiletries. Tornillo Center also charges $600 per detained person. "The person who donated cash is amazing!", Sayrah mentions.
You can look in your closets and see if there's clothing you don't use, you can donate it and bring it to Encuentro. Remember underwear and diapers are important. If you have cash you can place it in a closed envelope. You can also donate them directly to Project Oak Tree: Catholic Diocese in Las Cruces, 1280 Medpark Circle, Las Cruces NM, 880055; their telephone is (575) 523-7577.  
This is not ending soon.