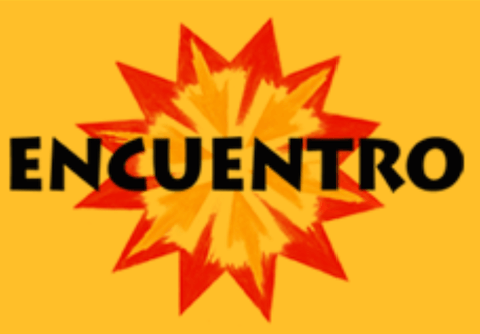 Bertha Campos- Estudiante del Año 2013
El pasado miércoles 6 de marzo, la Legislatura del Estado de Nuevo México, proclamó el 6 de Marzo como el "Día de la Educación para Adultos". Ese dia Bertha Campos, estudiante destacada de ENCUENTRO  recibió el merecido reconocimiento de Alumna del Año. Estudiantes, educadores para adultos y aliados se dieron cita en Santa Fe donde el Representante Rick Miera, apoyó la proclamación y fue el anfitrión de los reconocimientos estudiantiles.
ENCUENTRO nominó a Bertha Campos y la Asociación de Educación para Adultos de Nuevo México (NMAEA) decidió a favor de nuestra compañera Bertha por su impresionante trayectoria como estudiante, voluntaria, madre de familia, pequeña empresaria y por su activo compromiso con la comunidad migrante latina.
Durante la conferencia de prensa en la Rotunda varios estudiantes y educadores hablaron acerca la importancia de la educación para adultos. En este video vemos a Bertha expresando su opinión personal sobre este tema. ¡Felicidades a Bertha por su reconocimiento y a todos los estudiantes adultos por sus esfuerzos y sus logros!
---
Bertha Campos – Student of the Year 2013
This past Wednesday, the New Mexico State Legislature proclaimed March 6th as "Adult Education Day". On that day, Bertha Campos, an exceptional student at ENCUENTRO received a much-deserved honor as Student of the Year. Students, adult educators and allies gathered in Santa Fe where Representative Rick Miera supported the Proclamation and hosted the student's awards.
ENCUENTRO nominated Bertha Campos and the New Mexico Adult Education Association (NMAEA) decided in favor of our colleague Bertha for her impressive career as a student, volunteer, mother, small business owner and her active commitment to the Latino migrant community.
During the press conference at the Rotunda, several students and educators talked about the importance of adult education. In this video, we see Bertha expressing her personal view on this topic. Congratulations to Bertha for her award and to all adult students for their efforts and accomplishments!