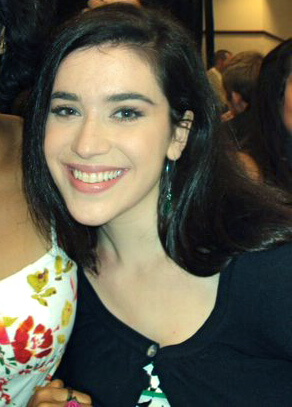 La Comida es Un Asunto de Justicia
Mi nombre es Marisa y yo trabajo aquí en Encuentro. Antes de describir el nuevo proyecto que llevaré a cabo este verano, les quisiera dar un breve antecedente para explicar porqué estoy aquí y lo bendecida y emocionada que estoy de tener esta oportunidad.
Soy originaria de Wisconsin y después de graduarme de la universidad me uní al Grupo de Voluntarios Jesuitas (JVC por sus siglas en inglés). JVC es una organización que manda voluntarios a vivir y trabajar en diferentes ciudades alrededor del país o en otros países alrededor del mundo por 1 o 2 años. Trabajamos por la justicia social haciendo servicio directo, vivimos un estilo de vida simple en comunidad con otros miembros del programa, y nos sumergimos en la Espiritualidad Ignaciana. Yo vine a trabajar aquí en Encuentro porque al igual que JVC, Encuentro tiene una misión dedicada a la justicia social comunitaria.
Una manera muy emocionante de vivir esta misión es por medio de una clase de educación alimenticia que estoy desarrollando para este verano que viene. La comida es una parte integral de nuestras vidas: la compartimos con amigos y familiares,  en reuniones, está presente durante las festividades y celebraciones, y es esencial para vivir y funcionar a diario.
La comida es un asunto de justicia porque es una necesidad básica para la humanidad, impacta nuestro ambiente, y es un aspecto culturalmente relevante en cómo nos relacionamos con nosotros mismos y entre unos a otros. La justicia alimentaria busca asegurar que los beneficios y riesgos en la producción, distribución, y consumo de comida sean compartidos de manera justa entre todos los involucrados en ese sistema y transformar el sistema alimentario para eliminar inequidad. La justicia alimentaria incluye a todos: los que siembran, los que cosechan, los que cocinan en casa y las corporaciones que venden víveres o comida rapida. Esto significa que la justicia alimentaria es un movimiento multicultural que involucra una variedad de trabajos a nivel local, regional, nacional y global.
El movimiento de justicia alimentaria se enfoca en la creación de proyectos de agricultura en lugares urbanos con el apoyo comunitario—programas que se enfocan en crear acceso a productos agrícolas frescos para la gente que vive en los desiertos alimentarios, y se solidarizan con la lucha de los trabajadores del campo y trabajadores en restaurantes para la protección de sus derechos,  desafiando las prácticas agrícolas corporativas que ponen en peligro el ecosistema— ¡y mucho más!
Nuestra relación con la comida, nuestro entendimiento  sobre su origen, y lo que introducimos a nuestro cuerpo a diario, tienen efectos duraderos en nuestras vidas. La comida saludable es fresca, nutritiva, al alcance de nuestro bolsillo, en concordancia con nuestra cultura y cultivada localmente cuidando el bienestar de la tierra, los trabajadores y los animales. La gente que vive la justicia alimentaria crea sistemas  de alimentación  locales fuertes, lo cual conlleva  a la generación de comunidades autosuficientes y a un ambiente saludable en general.
Este verano nos enfocaremos en cómo llevar una vida saludable con nuestras familias de manera que también sustenten a nuestra comunidad. Mientras preparan su próxima cena y prueban ese primer bocado, les invito a reflexionar sus decisione con respecto a la comida. ¡Estén al pendiente de más información aquí sobre este nuevo y emocionante proyecto que ocurrirá este verano! ¡Espero que este verano podamos crecer y aprender juntos mientras disfrutamos la comida y todas sus bondades!
---
Food is a Justice Issue
My name is Marisa and I work here at Encuentro.  Before I describe the new project happening this summer, I'd like to give a little background to explain why I am here and how excited and blessed I feel to have this opportunity!
I am originally from Wisconsin and after I graduated from college I joined the Jesuit Volunteer Corps (JVC). JVC is an organization that sends volunteers to live and work in different cities around the country or in other countries around the world for one or two years. We work for social justice through direct service, live simply and in community with other JVs, and immerse ourselves in Ignatian Spirituality. I came to work for Encuentro through JVC because like JVC, Encuentro has a mission dedicated to working toward social justice for its community.
One way in which I am excited to live out this mission is through a food education class I am developing for this coming summer.  Food is an integral part of our lives: we eat meals with friends and family, we share food over meetings, food is present during festivities and celebrations, and it is essential to living and functioning on a daily basis.
Food is a justice issue because it is a basic need for all humans, impacts our environment, and is a culturally relevant aspect of how we relate to ourselves and to one another as people. Food justice aims to ensure that the benefits and risks of producing, distributing, and consuming food are shared fairly by everyone involved and to transform the food system to eliminate inequities.
Food justice includes everyone from the farmer to the tomato picker to the home cook and the corporation that sells groceries or fast food.  This means that food justice is a multicultural movement that involves a wide variety of work on local, regional, national, and global levels.
The food justice movement focuses on creating urban, community-supported agriculture projects (CSAs), programs that focus on making accessible fresh produce to people who live in food deserts, working in solidarity with workers in farms and restaurants to ensure their rights are protected, and challenging corporate farming practices that endanger the ecosystem – and much more!
Our relationship with food and our understanding of where it comes from and what we put into our bodies everyday all have lasting effects on our lives. Healthy food is fresh, nutritious, affordable, culturally appropriate, grown locally with care for the well being of the land, workers, and animals. People who live out food justice create strong local food systems, which lead to self-reliant communities and an overall healthy environment.
This summer we will focus on how to lead healthy lives with our families in ways that also sustain our communities. As you prepare your next meal and take that first bite, I encourage you all to reflect on how you make your food choices. Be on the lookout at Encuentro for more information about this new and exciting project occurring this summer! I am looking forward to us growing and learning together this summer as we enjoy food and all of its goodness!