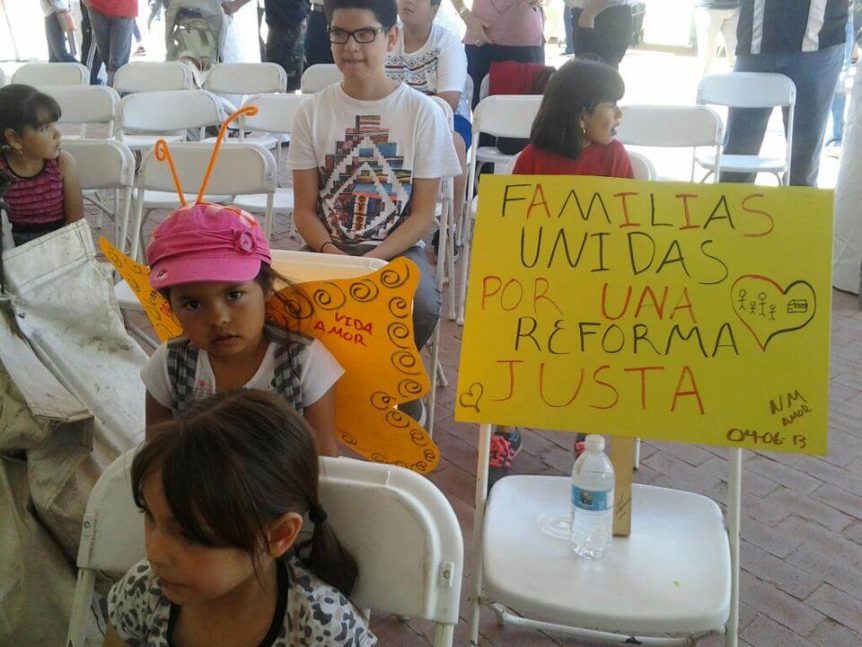 No Tenemos Una Ley Todavia – La Reforma Migratoria Continua
Muchos años han pasado desde el 1ro de Mayo del 2006 cuando la comunidad se unió en las calles de sus ciudades para exigir un fin a las leyes de odio contra los inmigrantes. Desde esos días hasta hoy el mundo de inmigración ha sido un campo de batalla en cual muchas familias han sufrido separación, deportaciones, y terror por solo querer salir a trabajar, estudiar y vivir una vida digna. Barreras que no son alineados con los valores de Nuevo Mexicanos.
En muchos de nuestras comunidades han surgido organizaciones para defender sus barrios y otras organizaciones que se han enfrentado a comunicar directamente con los creadores de leyes para exigir un fin a las deportaciones, con una meta de alcanzar ciudadanía para las mas de 11 millones de indocumentados en el país. La idea es simple, solo salir de las sombras.
En este año en que gano el presidente su segundo ciclo de 4 años se esta haciendo lo que hemos estado exigiendo por casi una década, la reforma migratoria. Queremos en esta semana destacar que por fin estamos viendo esto pasar en forma del debate adentro de la capital — por fin un plan bipartidista ha sido revelado y esta siendo presentado a los demás congresistas.  Esto no significa que es una ley ya, ni que es lo mejor para nuestras comunidades.
Lo que significa es que ahora hay mucho mas que hacer. Tenemos que asegurar que el plan detalle bien que si va ver un camino muy claro hacia la ciudadanía, que no hay barreras discriminatorias que impidieran a muchos en nuestra comunidad. Queremos lo mejor, porque nuestro esfuerzo han sido grandes y unidos. Encuentro quiere destacar los esfuerzos desde Albuquerque a Alabama, porque esos esfuerzos llegaron a los corazones del país entero. Queremos celebrar con ustedes, pero también, hay reconocemos que hay mucho que hacer, especialmente salir a apoyar las celebraciones del trabajador emigrante yendo a la marcha del 1ro de Mayo!
---
We Don't Have a Law Yet – Migration Reform Continues
By: Candelario Vazquez
Many years have passed since May 1st, 2006, when our community united in the streets of their cities to demand an end to the hate laws against immigrants. Since those days up to now, the world of immigration has been a battlefield in which many families have suffered separation, deportation and terror just for wanting to go out and work, study and live a dignified life. This has not been something aligned with our values as New Mexicans.
Organizations have surged out of many of our communities to try and defend their barrios and other organizations have been out communicating to our lawmakers, through social media and online petitions, the need for an end to deportations, and to make a path to citizenship an attainable goal for the 11 million undocumented people in this country. The idea is simple, we just want to get out of the shadows.
This year wherein we've elected the president for a second term, our leaders are starting to work for what we've been demanding for almost a decade, immigration reform. This week we wanted to highlight that we're finally seeing it happen in form of debate in the capital — we finally have a bipartisan plan revealed and it's being presented to the rest of those in congress. Yet this doesn't mean this is a new law.
What this means is that there is so much more to do. We have to now assure that the plan is detailed with the clearest, attainable path to citizenship, that there be no discriminatory barriers that could impede people in our community. We want the best because our struggle has been big and united. Encuentro wants to highlight that this struggle has been happening from Albuquerque to Alabama and beyond, and is finally getting to the hearts of the entire country. We want to celebrate with you all, but at the same time, we still recognize there's much to do, especially going out and celebrating the migrant worker this year by going to the May Day celebrations and marches.