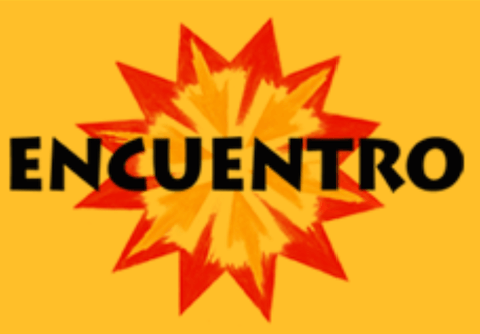 Un Verdadero Americano/ A Real American
El 11 de Junio, antes que comenzara el partido final de Basquetbol del NBA en San Antonio, Texas, entre el equipo San Antonio Spurs y Miami Heat, Sebastian de la Cruz, joven de 11 años, canto el himno nacional de este país. Desafortunadamente, muchas personas comenzaron a usar el sitio de red social llamado twitter, para atacar al niño con comentarios como, "Porque tienen que tener un inmigrante ilegal como cantaor del himno nacional," y "Porque esta cantando el himno nacional con traje de mariachi? No somos Mexicanos," y muchos peores. (http://publicshaming.tumblr.com/post/52763976629/racist-basketball-fans-pissed-a-mexican-american-boy)

La discusion alrededor de este tema me hiso penar en lo que realmente es ser un "Americano" y que estar documentado o indocumentado no deberia importar porque en realidad, el verdadero tema es el racismo y xenofobia persistente que continua pervirtiendo este pais y que se puede ver a escala mas grande con este debate de inmigracion.
Sebastian reconocio su cultura/patrimonio y honestamente reconociendo la cultura/patrimonio de los Tejanos por medio de su traje de charro, y a la vez, orgullosamente honrando su pais de nacimiento, EEUU.
"[Yo me visto de charro] porque enseña mi cultura, es parte de mi vida. Realmente, es parte de mi." – Sebastian de la Cruz [traducción]
Los comentarios de Twitter resaltaron un problema en donde el ser "Americano" es igualado a ciertos requisitos en donde uno debe ignorar su patrimonio, o por lo menos no hacer visible su orgullo cultural o patrimonio especialmente si no es patrimonio Europeo.
El hecho de que un niño de 11 años tuvo que enfrentar una avalancha de racismo y xenofobia del mismo pais que el orgullosamente canto sobre, revela que hay un largo camino que enfrentar para entender quienes realmente somos como pais, historicamente, políticamente, culturalmente, y mas aya. Entendiendo esto nos dará mejores herramientas para terminar ciertas presunciones que nos dicta "Que es un verdadero Americano", como se mira, suena, viste, de donde viene, y independientemente de que tenga papeles o no. Todas nuestras experiencias en este pais son diferentes, por eso, habla de un miedo a las diferencias, y poco respeto a las experiencias fuera de las suyas cuando no puedes entender que un niño puede cantar el himno nacional en su ropa tradicional.
Al final de esta historia, hubo un poco de esperanza. En respuesta a esto, cienes de miles de nosotros nos paramos junto con el, respondiendo fuertemente al mitote de odio, y eventualmente apoyando una repetición a cantar el himno en el siguiente juego, que resulto un exito.
"Ser invitado de regreso a cantar el himno nacional es asombroso, porque ahora se que los San Antonio Spurs les gusta como canto," dijo Sebastian. "Me hace sentir que estoy haciendo algo legendario." [Traduccion]
Este 4 de Julio, me hago un recordatorio de que aunque esta historia termino favorable, tenemos mucho trabajo que hacer para mejorar estas tierras y nuestras comunidades. Una manera para comenzar es, como hacemos aqui en Encuentro, involucrarse en la justicia migratoria que toma en cuenta los tratos indignos de las familias de nuestros estados de la frontera y mas aya, luchando contra deportaciones y la retórica y discursos de odio dentro de los medios comerciales y en los debates de congreso que nos ponen en blanco a nuestra comunidad. Otra manera, es celebrar este dia siendo feliz y orgulloso de quien eres, en todas las formas que te hacen ser quien eres.
– Idea and/y Escrito por/ Written by: Javier Trejo y Candelario Vazquez.
---
On June 11 before an NBA Finals game in San Antonio, Texas between the San Antonio Spurs and Miami Heat, Sebastian de la Cruz a boy of 11 sang the national anthem. Unfortunately many people took to twitter to attack the boy with comments like, "Why do they have this Illegal Immigrant singing the National anthem"and Why was this kid singing the national anthem wearing a mariachi band outfit? We ain't mexican," and much worse. Click here to see more of how this exploded on social media:(http://publicshaming.tumblr.com/post/52763976629/racist-basketball-fans-pissed-a-mexican-american-boy)
The discussion around this issue made me think about what it means to be an "American" and that documented or undocumented it shouldn't have mattered because the real issue at hand is a persistent racism and xenophobia that continues to pervade this country and can be seen on a larger scale in the Immigration debate.
Sebastian was recognizing his culture/heritage and frankly recognizing the culture/heritage of Tejanos, through his charro outfit, while simultaneously proudly honoring his country of birth.
"[I wear the charro outfit] because it shows my culture, it's a part of my life. It's a part of me, actually." (http://www.huffingtonpost.com/2013/06/18/sebastien-de-la-cruz-racism_n_3462075.html)
The twitter comments highlighted a problem which equates being "American" with a certain requirement of disregarding one's heritage or at least not openly display pride in one's culture or heritage especially if that heritage is not European.
The fact that an 11 year old boy had to face an avalanche of racism and xenophobia from the same country he sang proudly about, shows that we are a long way from understanding who we are as a country, historically, politically, culturally, and beyond. Understanding gives us tools to stop assumptions of what a "real American" looks like, sounds like, dresses like, comes from, regardless of a paper. All of our experiences in this country are different, therefore, it speaks to a fear of differences, and limited respect to others experiences outside of your own when you can't fathom a child singing the national anthem in traditional clothing.
At the end of this story, there was a ray of hope. Hundred of thousands of us in this country stood up with him, spoke back powerfully to this cacophony of hate, and eventually supported an encore at the next Spurs game, which was successful.
"To be invited back to sing the national anthem is just amazing because now I know the San Antonio Spurs like how I sing," Sebastien said. "It makes me feel like I'm doing something legendary."
This fourth of July, I'd like to remind myself that although this story ended for the best, we have a lot of work to do for the betterment of this land and our communities. One way to start, like we do here at Encuentro, is by engaging in migrant justice that takes in account the inhumane treatment of families here in the border states and beyond, fighting deportations, and a rampantly hateful rhetoric in the media in our congressional debates aimed at our community. Another way, is to celebrate today by being proud of who you are, in all ways that make you, you.