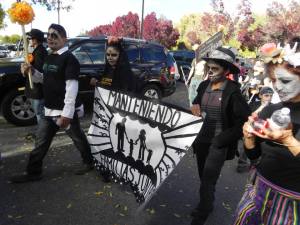 La Lucha, el Arte y la Cultura: Encuentro en el desfile "Muertos y Marigolds"
¡Se Ve, Se Escucha, El Pueblo esta en la Lucha!
Esta porra se conoce más que todo en las marchas y las acciones para la reforma de inmigración, pero lo que más me gusta de nuestra comunidad inmigrante, es que la pelea para la reforma está viva en todos los ambientes.
No importa si estamos peleando con el estado, rogándole al Congreso, o celebrando el Dia de los Muertos – ¡este tema nunca muere!
Así fue el domingo, 3 de noviembre cuando estudiantes de Encuentro, miembros de El Centro y compañeros de Working Classroom se reunieron en el Valle Sur de Albuquerque para participar en el lindo desfile anual de cempaxuchil.  Bajo el tema "Sin Papeles, Sin Miedo" nos pintamos las caras y nos fuimos a la calle con pancartas y banderolas, promoviendo la unión familiar, los derechos para los trabajadores, la educación para todos y la reforma migratoria.
Aquí están las impresiones de tres maravillosos líderes inmigrantes:
Placida es un estudiante de inglés, una trabajadora del hogar y miembro delequipo de medios de comunicación: "Me gusto el entusiasmo de la gente, la participación, y el colorido del evento.  No sé porque me quede muy sorprendida, pues nunca lo había visto y menos participado. Pero lo que me di cuenta en el trayecto es que mucha gente nos apoyaba en nuestra petición, y era una variedad de gente!"
Manuel también es un estudiante de inglés, y participante activo con Encuentro, El Centro y Enlace Comunitario y él se impresionó mucho y dice, "Me dio mucho gusto ver la participación de la comunidad en el desfile, lo sentí como una fiesta comunitaria donde la gente participaba sin inhibiciones y mostrando su mejor disposición para divertirse y convivir con los demás. Da gusto ver que las tradiciones hispanas cada vez toman más arraigo en Albuquerque; también me agrado mucho ver que al corear nuestras consignas sobre los derechos de inmigrantes y una reforma migratoria, muchos de los espectadores las apoyaban con aplausos y gritos; tan es así que me mandó un mensaje Gabriel informando que ganamos el premio al mejor tema del desfile!"
Reyna llegó con su hijo Trevor y explica, "El desfile estuvo maravillosamente divertido.  Es una gran celebración a nuestra tradición y cultura.  Necesitamos realizar nuestros sueños, educación y superación personal con una reforma migratoria justa y reunificación familiar!"
Gracias a todos por su participación.  ¡Qué lindo poder recordar a todos nuestros antepasados en este día tan especial, e incluirlos en nuestras celebraciones y luchas que hacen de esta vida una maravilla!
Vean este pequeño video de nuestras porras en el desfile:
Imagenes: Elizabeth Moreno, Estudiante "Tu Voz Digital"
---
La Lucha, Art and Culture: Encuentro in the Muertos y Marigolds Parade
¡Se Ve, Se Escucha, El Pueblo esta en la Lucha! (We see it, we hear it, the community's in the struggle! translated from Spanish)
This chant is very common in all of our marches and actions for immigration reform, but what I most like about our immigrant community, is that the fight for reform is alive in every environment.
It doesn't matter if we're in a battle at the state capitol, pleading to Congress, or celebrating the Day of the Dead — this theme will never die!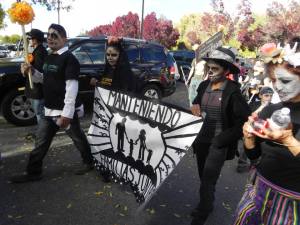 This is what transpired Sunday, November 3rd, when studentsImage: El Centro de Igualdad y Derechos from Encuentro, member of El Centro de Igualdad y Derechos and friends from the Working Classroom came together in the South Valley of Albuquerque to participate in the beautiful Muertos y Marigolds Parade. With the theme being "No Papers, No Fear" we painted our faces and headed to the streets with protest arts and banners, promoting family unity, workers rights, education for all, and immigration reform.
Here are some impressions from three fabulous migrant leaders:
Placida is an English student, a domestic worker and member of Encuentro's community media team: "I loved the people's enthusiasm, the participation, and how colorful the event was. I don't know why I was left so awestruck, since I had never seen it much less participated in it. But what I came to find out was that throughout [the parade] path people were really in support of our petition, and it was a variety of people!"
Manuel is also an English student, and active participant with Encuentro, El Centro de Igualdad y Derechos and Enlace Comunitario: "I was very happy to see the community's participation in the parade, it felt to me like a community party where the people participate uninhibited and demonstrate their best disposition for having fun and getting along with others. I'm glad to see that hispanic traditions are increasingly becoming more established in Albuquerque; I also felt joy to see that in chanting our slogans for immigrant rights and immigration reform, many of the spectators were in support through their applause and shouts; so much so that I was sent a text message from Gabriel informing me that we had won the 1st prize for best theme at the parade!"
Reyna participated with her son Trevor and she explains, "This parade was marvelously fun. Its a great celebration of our traditions and culture. We need to achieve our dreams, education and personal growth with a just immigration reform and family reunification!"
Thank you to all for your participation. How beautiful it is to be able to remember all of our ancestors on this special day, and include them in our celebrations and struggles that make this life wonderful!