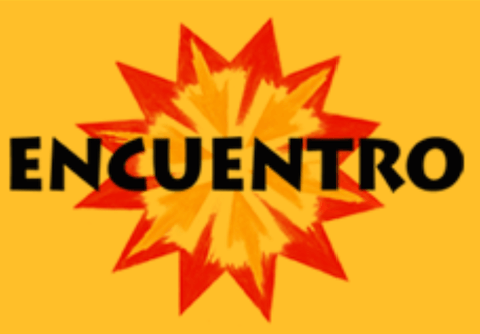 La Lucha Sigue: Ramon Dorado Jr. / The Struggle Continues: Ramon Dorado Jr.
Hace unas semanas, la comunidad Encuentrolera, se reunió en Los Jardines Institute, para platicar con un panel del grupo #BringThemHome3 y "Team Dorado" (el apodo que se dio al equipo que se formo para apoyar el regreso a casa de Ramon Dorado Jr.). Un objetivo de la reunion fue aprender que proceso se llevo a cabo entre el y la comunidad para que el lograra regresar a Nuevo Mexico después de haber sido separado de su familia y regresado a Mexico en el 2010 (haga clic aquí para ver el video de este incidente). Este es uno de tres reportajes que publicaremos en este blog sobre este tema. En este reporte entrevistamos a Ramon Jr. donde refleja sobre su experiencia. Ramon nos cuenta lo que el aprendió en trabajar en comunidad y lo importante que es nunca perder la fe hasta en los tiempos mas obscuros.
Este es un resumen  breve de lo que escucharan en la entrevista.
Tu Voz Digital (TVD): ¿Que es un hogar, y que es la familia?
Ramon: Para mi es lo mismo, el hogar y la familia, el hogar es un lugar donde tienes a tu familia donde llegas y estas a gusto, no te sientes atacado por nada, y al mismo tiempo la familia te esta dando el apoyo, de amor, de ayuda en cualquier cosa…
TVD: Cuando a ti te detuvieron, ¿Cual fue tu experiencia?
Ramon: Me sentí, como que no estaba pasando, como una pesadilla… cuando vi la realidad, que si estaba pasando, ya empece agarrar acá la onda de no saber que hacer, ahora que tengo que hacer, porque esta sucediendo esto. Y fue una experiencia muy dura.
TVD: ¿Que es lo que te inspiro para seguir luchando, o para luchar y regresar a tu casa?
Ramon: Prácticamente mi familia,  todos los días hablando por skype y oía la lucha que ellos tenían, que seguían, me querían acá.
TVD: ¿Que sientes ahora que la comunidad esta contigo, te apoya?
Ramon: Sin mucha gente no estuviera aqui… Faltan muchas huelgas, muchos encuentros entre todos, para poder apoyarnos  y dar mi experiencia a los demas. Enseñarles que es lo que ha sucedido, como funciona el sistema, porque ahi es donde yo estaba confundido. donde yo me hayaba en un hoyo negro que no tenia salida. Y no hayaba la luz de como salir de ese hoyo.  Hasta que empece a verme con todas estas organizaciones y de esa forma fue la forma que vi la luz.
TVD: ¿Que piensas sobre la movilización de la gente?
Ramon: Tiene que ser grupo como comunidad… Entre toda la comunidad cada persona fue una piezita que movió toda la maquina. Es lo que hiso funcionar todo el proceso. Desde mi ida hasta la llegada. Y esa maquina sigue continuando, sigue sirviendo, y es lo que necesitamos seguir haciendo, seguir como comunidad.
TVD: ¿Y ahora que sigue?
Ramon: Seguir luchando, y ahora que tengo mi familia, disfrutarla mas que nunca…
---
A few weeks ago, the Encuentro community got together at Los Jardines Institute, to dialogue with a panel from the community #BringThemHome and "Team Dorado" (the nickname given to the team that formed in support of the Ramon Dorado Jr.'s return home). One purpose of the event was to hear from this group what steps took place between him and the community to achieve his return back to New Mexico after he was separated from his family and returned back to Mexico in 2010 (click here to see a video of this incident). This will be part of three reports this summer on this blog. In this report we ask Ramon to reflect on his experience. Ramon explains what he learned about community working together, and the importance of never losing faith even in the darkest of times.
This is a brief summary of what you will hear in this interview.
Tu Voz Digital (TVD): What is a home and what is a family?
Ramon: For me its the same thing, family and home. Home is where you have your family, where you feel in safety, not in danger of any attacks, and at the same time family is there giving you support through love and any help in anything…
TVD: When you were detained, what did you experience?
Ramon: I felt, as if it wasn't really happening, like a nightmare… Once realized that this was happening, I started feeling like I had no idea what to do, wondering what tod do next, and why this was happening to me. It was a very difficult experience.
TVD: What inspired you to keep going, to act on your struggle, to come home?
Ramon: Pretty much my family, everyday being on Skype with them, I would hear the struggle they were enduring and continuing all to get me here.
TVD: How do you feel knowing that the community is behind you?
Ramon: Without the help of many, I would not be here. .. Still many protests left to do, more gatherings between all of us, to start helping each other and share experiences like mine to others. Show them what is happening, how the system works, because that's where I was confused. I found myself in a black hole with no way out. And I couldn't see the light to get out of that hole. Not until I saw myself within other organizations and with that I was able to see the light.
TVD: How did the community mobilizing itself make you feel?
Ramon: Groups have to work in community… Through the community every person is a part that together moves a machine. Its what made this process work.  From my exit to my return. And that machine continues, still functioning, and we need to keep it going, continue as a community.
TVD: ¿What's next?
Ramon: Keep in the struggle, and now that I have my family, enjoy them like never before.