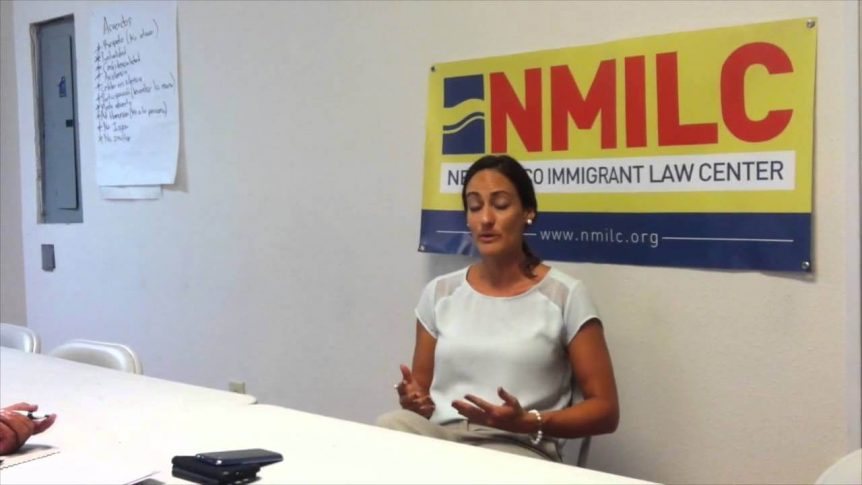 Los Derechos Humanos y Debido Proceso para Los Niños Refugiado
Esta entrevista  habla sobre la importancia de unirnos por los derechos humanos. "Cuando nuestra comunidad se une para ayudar a las familias centroamericanas, estamos defendiendo los derechos de todos." – Placida Cortes
El tema de niños centroamericanos no acompañados no es algo nuevo. Lo que es nuevo es el centro de detención en  Artesia. Eso abrio en este verano. Y empezó de repente, nadie sabia que iba pasar. Y el gobierno escogió un lugar tan lejos de ciudades, tan lejos de abogados de inmigración, para que nadie supiera que ellos estaban ahi.

– Megan Jordi, Directora Legal
Placida Cortes, Tu Voz Digital, entrevista a la abogada Megan Jordi, Directora Legal, del Centro Legal Inmigrante de Nuevo México. Escuche la entrevista completa aqui:
Megan Jordi, Abg.: El problema mas grandes que yo veo desde la perspectiva de una abogada es que, hay una falta del proceso debido, y el proceso debido es algo que la constitución garantiza para cualquier persona que esta en nuestra tierra, no importa su estatus legal.
Los refugiados tienen derecho a un proceso ante el juez. Y un proceso de ciertos pasos. Lo que el gobierno esta haciendo en Artesia es acelerar el proceso tanto que muchos de esos pasos requeridos no estén pasando.
Están acelerando todo para deportar a mucha gente, muy rápidamente, y hay personas que podrían calificar bajo la ley de asilo politico para quedarse, pero sus historias no están siendo escuchadas por nadie."
Placida Cortes, Tu Voz Digital: Entonces con lo que usted nos a comentado, por lo que yo escucho decir—la ley no es justa."
Megan: Bueno la ley de asilo politico podría ser mas liberal, en mi opinion. Asilo es algo muy difícil de ganar bajo la ley actual de inmigración. No es para una persona que está huyendo de cualquier situación de violencia. Por ejemplo una persona que esta huyendo de Mexico, de la situación en general, la violencia, la corrupción, extorsión: esas personas realmente tienen muchos problemas calificando para asilo porque hay que comprobar que el gobierno, o un grupo o persona, que no puede ser controlado por el gobierno, esta persigiendote basado en tu raza, tu religion, tu opinion política, tu nacionalidad, o por pertenecer a un grupo social en especifico. Como por ejemplo, si una persona es homosexual, y es persiguidó por el gobierno basado en esa razón. Así que es un análisis muy complicado que se tiene que llevar acabo ante un juez y con un abogado de inmigración. La ley entonces, esta mas o menos, podría ser mas liberal para incluir a mas gente que esta huyendo de tipos diferentes de violencia.
Lo que esta pasando en Artesia que es en contra de la ley que existe es que no están siguiendo la ley de proceso debido. Los detenidos ahi reciben noticia de su audiencia unas horas antes de que tengan que ir ante el juez para presentar toda su historia. Tal vez han tenido la suerte de tener contacto con un abogado, tal vez no. A veces, los levantan a media noche para prepararse para su audiencia ante un juez, pero ni saben para que es, no han tenido tiempo para comunicarse con sus familias, con sus abogados, y están yendo ante el juez, sin saber quien es el juez. ¿Y donde esta el juez? El juez esta en Virginia, mil ochocientos millas de Nuevo México en una pantalla de television, para que sea no muy personal. Entonces, la ley de asilo puede ser mas grande, y las leyes de proceso debido debe ser seguido por el gobierno. Y ahorita, no están siguiendo las leyes que existen."
---
Human Rights and Due Process for Child Refugees
This interview speaks to the importance of unity and human rights. When our communities unite to help the Central American refugee families, we are defending everyone's human rights.
The issue of the Central American unaccompanied minors is not something new. What is new is the detention center in Artesia that opened this summer. Something that started suddenly, that no one knew would happen and the government chose to have in a  place so far from cities, so far from immigration attorneys, so that no one would know they were there.

– Megan Jordi, Legal Director, NM Immigrant Legal Center
Excerpt from the interview:
Megan Jordi, Esq.: The biggest problem that I see from a legal perspective, is the lack of due process, and due process is something that's guaranteed by the constitution for any person on this land, regardless of legal status.
The refugees have a right to this process in front of a judge. And a process with certain steps. What the government is doing in Artesia is accelerating the process so much that the required steps are not happening and it's accelerating to deport many people, very quickly, and there's people who could qualify under the political asylum law to stay, but their stories are not being heard by anyone.
Placida Cortes, Tu Voz Digital: With what you are telling us and what it sounds like to me: There is no justice in these laws.
Megan: Well the law for political asylum should be more liberal, in my opinion. Asylum is something very difficult to win through our current immigration laws. It's not for someone who is fleeing from any situation of violence. For example a person fleeing Mexico, in it's current general situation, the violence, the corruption, the extorsion: those folks really have a lot of problems qualifying for asylum because it's about proving that the government or some group or person, not controllable by the government, is targeting you based on your race, your religion, your political opinion, your nationality, or because you belong to a specific social group.
One example is, if a person is homosexual, and is being targeted by the government based on that reason. So the analysis is complicated and has to be taken up to a judge and an immigration lawyer. The laws are, so-so, could be more liberal to include more people that are fleeing different types of violence.
What's happening in Artesia is going against the current laws that exist- they're not following due process. The detained receive notice of their hearing a few hours before they take place in front of a judge to present their story. Perhaps they've been lucky and met with a lawyer, or perhaps not. Sometimes, they are woken in the middle of the night to get ready for their hearings before a judge, not knowing what's going on. They haven't talked to family, or to a lawyer, and they are going to a judge, not knowing who he is. Where is the judge? The judge is in Virginia, 1800 miles away from New Mexico and on a small television screen, so it's not that personal. So, the political asylum laws can be better, the due process laws should be followed by the government. Right now, they're not following existing laws.