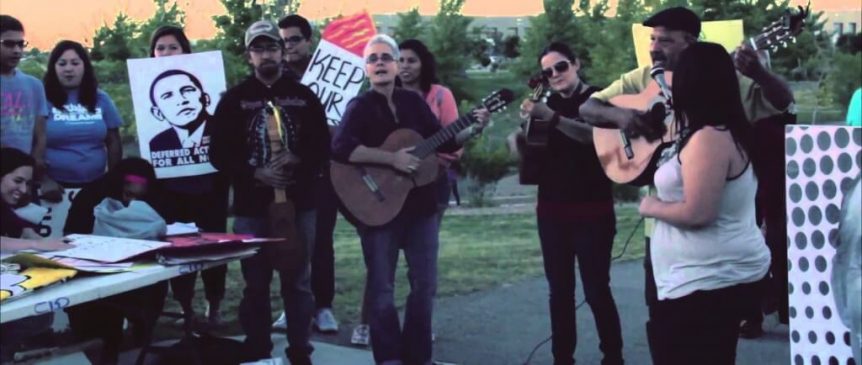 Vigilia en ICE / ICE Vigil
Manuel Sanz y Plácida Cortes, realizaron entrevistas y video en la vigilia que se llevo enfrente del centro de ICE el Viernes, 3 de Octubre. ICE es un lugar de detención para inmigrantes.  Esta Vigilia fue organizada por El Centro De Igualdad y Derechos. La vigilia se dio acabo por que han sucedido tantas deportaciones y muchas familias han estado separadas. Nos tienen que escuchar.  la gente ya esta cansada de la inacción de el Presidente Obama.¡Queremos Acción! El pueblo unido jamas sera vencido!
Estamos aquí en la vigilia en frente de ICE peleando la inacción de la administración y congreso, y por inacción quiero decir que Obama prometio ación deferida para la gente y no nada mas dreamers, para que nosotros podríamos evadir la deportación. Y ahora estamos perdiendo mil-cien familias al día y están siendo separadas por la falta de acción de ejecutivos y las ramas de congreso.

— Luis Hernandez, Voluntario de El Centro
Manuel Sanz, Tu Voz Digital, entrevista a Rembrandt Stokhof De Jong, Maestro De ESL, Encuentro. Escuche la entrevista completa aqui:
Placida Cortes, Tu Voz Digital, entrevista a Jared Ames. Escucha la entrevista completa aqui:
Placida Cortes, Tu Voz Digital da un discurso en la vigilia. Escucha el discurso aqui:
Plácida Cortes, Tu Voz Digital, ¿Por que estoy aquí? soy una trabajadora. Queremos que Obama nos escuche que Obama nos cumpla. Nosotros como trabajadores aportamos a este país, trabajamos por este país, lógico que nuestro trabajo vale entonces tenemos que exigirle a Obama que nos cumpla para que nosotros sigamos aportando, sigamos acrecentando este país. Nosotros como trabajadores somos una parte importante en este país porque si nosotros dejamos de trabajar no creo que el país salga solo adelante. Somos una parte, una pieza importante para el país y además estamos aquí, es nuestro país también.
---
ICE Vigil
Manuel Sanz and  Plácida Cortez, recorded interviews and video at the vigil that took part in front of the ICE center on Friday, October 3rd. ICE is a detention center for immigrants.  This vigil was organized by El Centro De Igualdad y Derechos. The vigil took place because there have been a plethora of deportations and many families have been separated. We must be heard.  The people are tired of Obamas Inaction. We demand action! The city united shall never be divided.
Excerpt from Plácida's speech:
Plácida Cortes, Tu Voz Digital, Why am I here? Because I am a worker. We want Obama to hear us and to make good on his promises. We as workers help this country out. Work for this country, logically our work matters. We have to demand president Obama to make good on his promises so that we can continue to help this country and in turn make it grow. We as workers are a vital part of this country because if we stopped working I don't believe that this country would advance. We are a part, a very important piece for the country and also we are here so it's our country too.