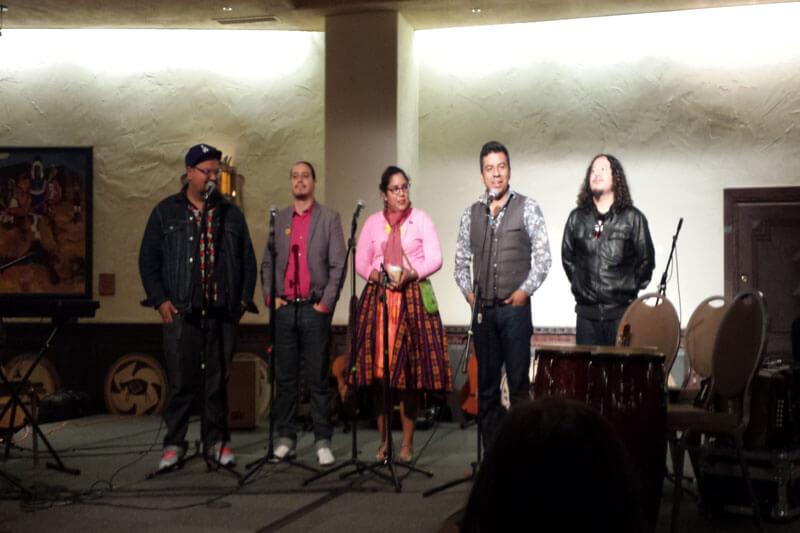 Cantando Nuestras Historias
El 22 de Noviembre la comunidad inmigrante de Encuentro, El Centro, 100 Aguas International School, y el grupo musical [email protected]@s tuvo oportunidad de encontrarse en un dialogo comunitario con la banda La Santa Cecilia.
La Santa Cecilia es una banda musical Mexicana- Americana que integra una variedad de generos musicales como la cumbia, el bolero, el rock entre otros. Nuestra comunidad inmigrante se identifica con esta banda ya que aboga activamente por los derechos de los inmigrantes y por la re-creacion y fusion de nuestra herencia cultural con las nuevas experiencias en estas tierras de Norte América.
En el marco de la conferencia de la asociación de Lenguaje Dual de Nuevo Mexico, "La Cosecha", se realizo este evento. Los grupos representados en la reunion compartimos una muestra de nuestro trabajo y como usamos el arte y la cultura en nuestra lucha por integrarnos a la sociedad Norteamericana. La Santa Cecilia compartió con nosotros su sonado tema El Hielo,que trata el tema de migración y deportación. Después, la audiencia compuso nuevos versos para este tema, que la Marisoul interpreto con su hermosa voz y con el acompañamiento musical de toda la banda.
Fue lindo compartir nuestras historias de migración y nuestros sueños para el futuro con La Santa Cecilia. Como dijo el maestro Miguel Angel Acosta "contando nuestras historias, no solamente reafirmamos quienes somos, sino que imaginamos quienes queremos ser".
Video: Felipe Hernandez
_____________________________________________________________________________________
Singing Our Stories
On November 22nd the immigrant commmunity, El Centro, 100 aguas International School, and the musical group [email protected]@s had the opportunity to be in a community dialogue with the band La Santa Cecilia.
La Santa Cecilia is a Mexican – American band that integrates a variety of musical genres such as cumbia, bolero, rock and more. Our immigrant community identifies with this band and actively advocates for the rights of immigrants and the recreation and fusion of cultural heritages with new experiences in these lands of North America.
This conference took place in "La Cosecha." The groups represented at the meeting shared a sample of our work and how we use art and culture in our struggle to integrate into American society. La Santa Cecilia shared with us one of their songs named Ice, which addresses the issue of migration and deportation. The audience then composed new verses for this song which Marisoul interpreted with her beautiful voice, and with musical accompaniment of the whole band.
It was beautiful sharing our stories of migration and our future dreams with La Santa Cecilia. Miguel Angel Acosta, teacher, once said "telling our stories not only reaffirms who we are, but we imagine who we want to be."