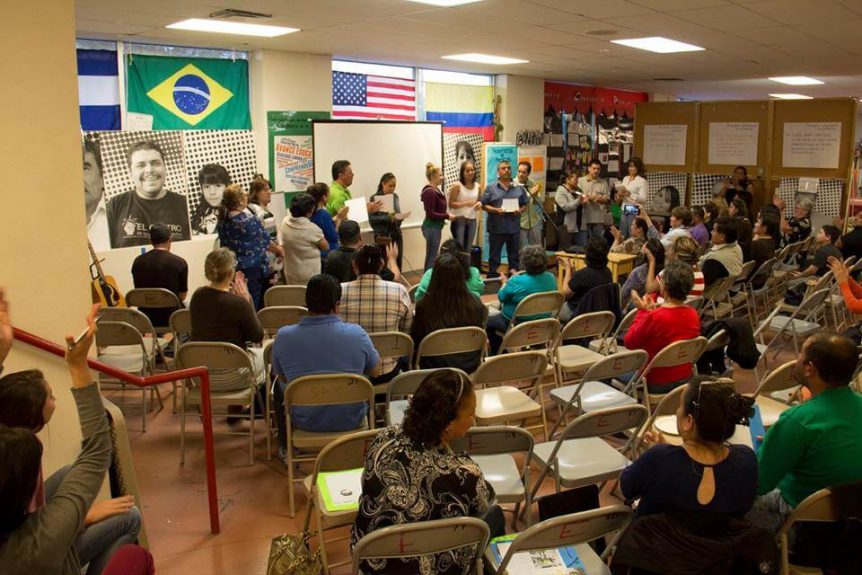 Testimonios de Transformación
Una vez al año, durante el semestre de primavera, los participantes de Encuentro se reúnen para compartir y celebrar el conocimiento y las habilidades desarrolladas a lo largo del ciclo escolar.
Cada clase prepara una presentación sobre algún proyecto en el que han trabajado en su clase. Las presentaciones de clase son una muestra del aprendizaje de los estudiantes en sus clases.
Este es un momento para sentirnos orgullosos del arduo trabajo de los participantes de la educación para adultos en Encuentro y de todas las contribuciones que hacemos a New México.
"La idea de estos proyectos es porque nos damos cuenta que en las clases pasan cosas fabulosas. El aprendizaje de los estudiantes, todas las habilidades que están adquiriendo y nos parece que es muy importante compartirlo y así motivarnos unos a otros," Directora de Programas Educativos, Teresa Guevara, dijo. "Mas que nada estas presentaciones son testimonios de transformación."
Los estudiantes de la clase de Ingles 1 de la maestra Pat Bonilla tuvo la oportunidad de presentar su proyecto de manera de conversaciones cortas en ingles. Los estudiantes de la clase de ingles del maestro Larry Moore presentaron su proyecto de forma oralmente describiendo sus vidas. Los estudiantes de la clase de computación de la maestra Veronica Salazar presentaron su presentación en forma de un folleto con gráficas muy avanzadas detallando las habilidades técnicas de la clase. Los estudiantes de la clase de Ciudadanía de el maestro Larry construyeron un programa de juegos en donde hacían preguntas y el publico tenia que responder. Todos los proyectos de todas nuestras clases aquí en Encuentro fueron muy buenos y queremos felicitar a todos nuestros maestros y estudiantes que participaron.
______________________________________________________________________
Testimonies of Transformation
Once a year, during spring semester, class participants at Encuentro come together to share and celebrate the knowledge and skills they have developed throughout the academic year. Each class prepares a presentation around a project they have worked on in class.
The presentations are a sample of the students' learning and development in their classes.This is a time to be proud about the hard work of Latino adult education participants at Encuentro and all the contributions we make to New Mexico.
"The idea of these projects is that we see that there are fabulous things going on in the the classes. The learning that's going on with the students, all the skills that they're acquiring, and we think that this is important to share in order to provide each other with motivation," Educational Programs Director, Teresa Guevara, said. "More than anything this presentations are testimonies of transformation."
The students of Pat Bonilla's ESL 1 class had the opportunity to present their project through short conversations in english. The students of Larry Moore were able to present their project through oral descriptions of life stories. The students of Veronica Salazar's Computer Studies class presented a brochure that they had been working on with very advanced and detailed graphics that showed off the technical skills they had acquired. The students of Larry's citizenship class constructed a game show where the students asked the audience questions and the audience had to respond. All of the projects in all of our classes here at Encuentro were very well done, and we want to congratulate all the teachers and students that were involved.