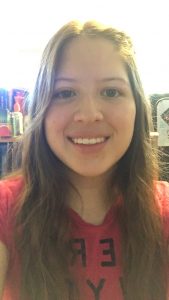 Caras Jovenes En La Comunidad
¡CONOZCAN A SU NUEVA ASISTENTA DE PROGRAMAS EDUCATIVOS  EXTRACURRICULARES!
Hola mi nombre es Alondra Dominguez, soy una em
pleada estudiantil aquí en Encuentro. Yo nací en Michoacán, Mexico, pero he vivido la mayoría de mi vida en Albuquerque. Yo deseo ser pediatra, para ofrecerle un mejor futuro a la gente de Nuevo México. Mi plan ahora es estudiar en la Universidad de Nuevo Mexico, y luego irme a la escuela de medicina.
El tipo de trabajo que hago en Encuentro involucra tareas de oficina como metiendo información a la base de datos y ayudando en el frente tomando y recibiendo llamadas, y archivando carpetas de los estudiantes.
---
MEET YOUR NEW EXTRACURRICULAR EDUCATIONAL PROGRAMS!
Hello my Name is Alondra Dominguez , I'm an work-study here in Encuentro. I was born in Michoacán, Mexico, but lived the majority of my life here in Albuquerque. I desire to become a pediatrician so that I can offer a better future to the people of New Mexico. My plan right now is to study at the University of New Mexico and then go to medical school.
The type of work that I am currently doing at Encuentro involves tasks like getting information into the database, helping on the front receiving and taking calls, and archiving student folders.