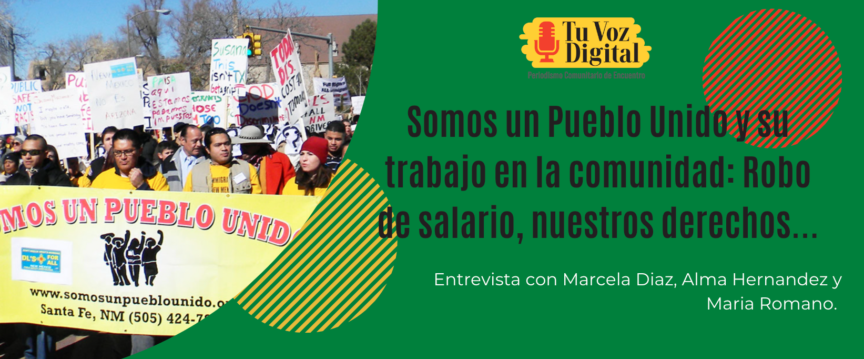 TVD interview: Hablemos Sobre Somos un Pueblo Unido y su trabajo en la comunidad
Cuando hablamos de defensa, liderazgo comunitario y protección de los derechos humanos en Nuevo Mexico, tenemos que hablar de Somos Un Pueblo Unido.
Somos un Pueblo Unido, fundada en 1995, es una organización estatal dirigida por inmigrantes y basada en la comunidad que promueve la justicia racial. La comunidad de Somos cuenta con membresía activa de 2,500 personas en ocho condados alrededor del estado y ofrece, entre otras cosas, educación comunitaria sobre derechos, oportunidades de liderazgo,  servicios legales a víctimas de robo de salarios, involucra a los latinos en procesos politicos y electorales ademas de liderar y apoyar campañas de base para políticas locales y nacionales que fortalezcan nuestras comunidades.
Gracias al trabajo y a la lucha de Somos, Nuevo Mexico es uno de los Estados que otorga  la  licencia de conducir a miembros de la comunidad aunque no cuenten con seguro social,  ICE ya no esta presenta en las cárceles Estatales disminuyendo deportaciones y tenemos politicas de protección santuario en varias ciudades del Estado. Esto solo por mencionar algunas de los logros de Somos en el Estado.
En esta entrevista mensual de TVD, aprenderá más sobre la historia de Somos, su trabajo en la comunidad y las campañas actuales en las que trabajan, como #VoteSíPorLosNiños la cual busca destinar y asegurar mas fondos a la educación temprana. Todo esto, en la voz de Marcela Diaz (Directora Ejecutiva de Somos) y las organizadoras de Somos Alma Hernandez y Maria Romano. 
Checa el trabajo de Somos Un Pueblo Unido visitando su sitio web: http://www.somosunpueblounido.org/somos-un-pueblo-unido.html
When we talk about advocacy, building community and protecting human rights in NM, we have to talk about Somos Un Pueblo Unido.
Somos un Pueblo Unido, founded in 1995, is a statewide community-based and immigrant-led organization that promotes worker and racial justice. Somos has an active membership of 2,500 people in eight counties around the state, and offers community education about rights, leadership opportunities, and low-wage workers Provides legal services to wage theft victims and initiates impact litigation to defend worker's rights, engages Latinos in the political and electoral process and leads and supports grassroots campaigns for local and national policies that strengthen our communities.
Thanks to the work  of Somos, New Mexico is one of the States that grants a driver's license to members of the community even if they do not have social security, ICE is no longer present in State prisons, reducing deportations and we have protection policies sanctuary in several cities of the State. This just to mention some of the achievements of Somos in the State.
On this interview, you will learn more about Somos story, they work in the community and the current campaigns they working on such as #VoteYesForKids. in the voice of Marcela Diaz (Somos Executive Director) and Somos organizer Alma Hernandez and Maria Romano.
Check Somos Un Pueblo Unido work visiting their website: http://www.somosunpueblounido.org/somos-un-pueblo-unido.html