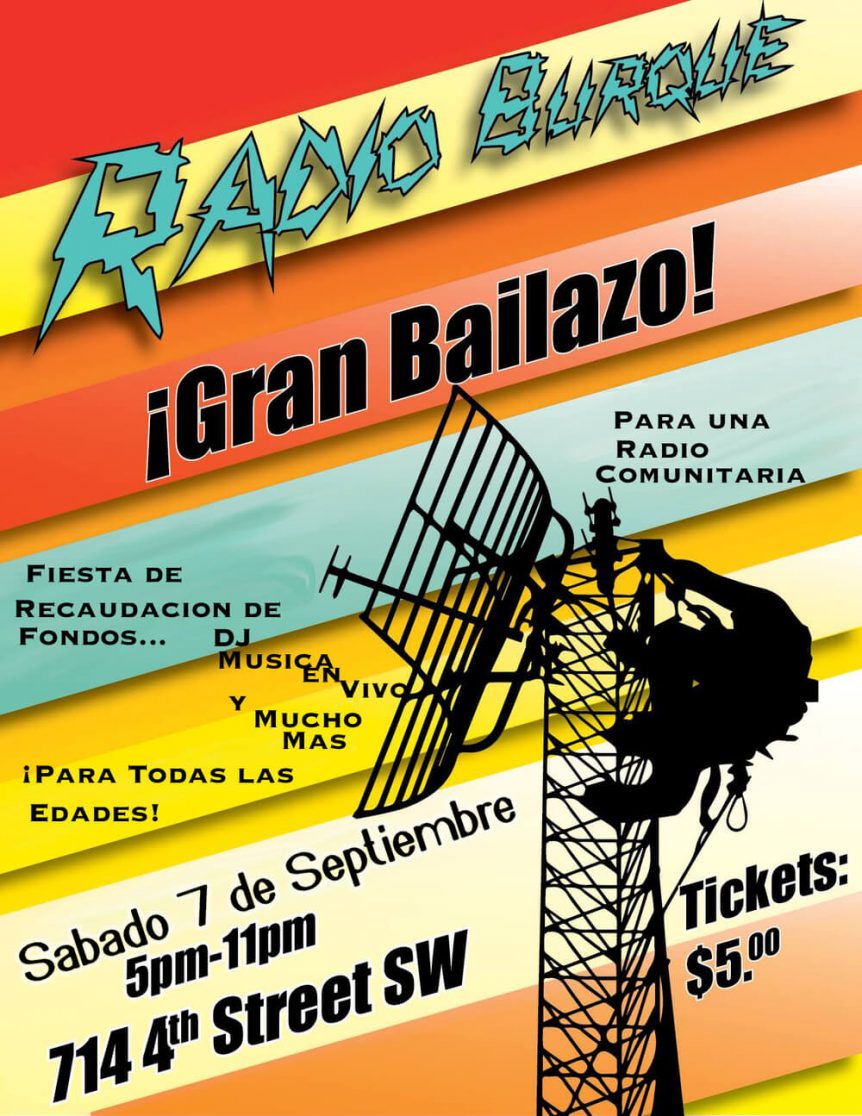 Radio y Pachanga Para el Barrio/ Radio and Dance Party for the People
RECAUDACION DE FONDOS PARA EL PROYECTO RADIO BURQUE

¡Estamos a punto de lanzarnos al mundo de radio comunitario aquí en Encuentro, y los del comité de "Proyecto Radio Burque" estallan una pachanga bomba en nuestro edificio, 714 calle 4 SW, este Sabado 7 de Septiembre, 5-11pm! Este evento es para financiar este proyecto que nos dejara ser dueños como comunidad de este importante medio de comunicación!
Deja platicarles un poco de fondo de la radio comunitaria y luego informarles lo que significa este esfuerzo para nosotros. Como ya saben la radio es el aparato de comunicación más importante y accesible en el mundo por ya más de un siglo.
La humanidad ha tenido una ventana al mundo, entretenimiento de calidad, y periodismo, gracias a la radio. Desafortunadamente, mas y mas la calidad de programación se ha ido abajo–perdiéndose en los intentos de las grandes corporaciones que limitan el contenido, la musica, y mas triste de todo, quitan el enfoca en la comunidad en donde transmiten, para elevar historias de farándula, noticieros amarillistas, indiferentes a la opinión del pueblo.
Sin embargo, por primera vez en la historia de radio estadounidense, se ha implementado un mando federal que permita miles de organizaciones sin fines de lucro obtener licencias para transmitir de nuestra propia frecuencia en FM, una señal de casi 5 millas de alcance en áreas rurales y urbanas como aqui en Albuquerque. Para muchos que han mostrado interés, significa oportunidades para escuchar contenido cultural, noticias de acontecimientos locales, foros contra injusticias, compartir remedios caseros, promover grupos musical locales, entre muchas otras ideas.
Y que pueblo mas fregon para localizar esta estación de radio, que en el mero corazón de Albuquerque, nuestro barrio antiguo de Barelas, Nuevo Mexico.  Una comunidad que por tiempos inmemoriales ha resistido asimilación de su cultura Bareleña, e invasiones de fuerzas dominantes que históricamente las múltiples comunidades alrededor de Nuevo México de culturas mayormente no-anglosajonas han tenido que enfrentar par perdurar y sobrevivir.
Es por eso que el comité de Radio Burque Project, desea concentrar sus esfuerzos en la calle 4 de Barelas, promoviendo a que participen, en especial, nuestra comunidad Encuentrolera, los Bareleños, los del South Valley, South Broadway, University y Southeast Heights (lugares que creemos que alcanzara la señal)! Vengan y interanse, participen, bailen, y contribuyen a esta causa, aunque no sean de esos lugares, porque en fin un ambiente de medios de comunicación saludable incluye el pueblo como dueño de contenido de medios diversos que reflejan el interés de la comunidad en donde se transmite.
Nuestra meta es mil dólares para este evento! Con las ganancias de la venta de comida y cobro de entrada ($5) destinados a conseguir un estudio de ingeniería de transmisión que es parte de los procedimientos para pedir la licencia. Conosca mas acerca de nuestro esfuerzo uniendose a facebook.com/radioburque, o dejenos tu opinion marcando a nuestro correo de voz digital,(505) 633-0278diganos que deseas de una radio comunitaria, y/o como nos quieres ayudar con tiempo talento y/o recursos.
Este video fue producido por prometheusradio.org, lo editamos para comenzar una lluvia de ideas para nuestra radio aqui en Albuquerque.
---
FUNDRAISER FOR THE RADIO BURQUE PROJECT

We are about ready to launch into the world of community radio here in Encuentro, and the folks from the "Radio Burque Project" committee are about to drop a pachanga bomb in our building, 714 4th Street SW, this Saturday, September 7th, 5-11pm, a fundraiser to help us attain a community radio license! We need everyone's support for this new endeavor to own, as a community, this important media tool!
Let me give a little deeper background on community radio and then I can inform you what this effort means to our community. As you know, for over a century radio has been one of the most important accessible radio tools in the world.
Humanity has had a window to the world, quality entertainment, and journalism available to them, thanks to the radio. Unfortunately, we've increasingly seen a drop in radio programming quality–getting lost in the attempts by big corporations to limit content, music, and more sad than anything, the end of a focus on the actual community in which they're broadcasting, leaving us with celebrity gossip stories, sensational news, and ignoring people's opinion in the process.
Never the less, we have for the first time in the history of radio in the United States, a federal policy change that will allow thousand of non-profit organizations the chance to obtain a license to broadcast on an FM channel, a signal that potentially reaches up to 5 miles in rural and urban areas like Albuquerque. For many who have shown interest, this means opportunity to hear cultural content, locally attained news, participation in forums against injustices, even home-remedy sharing, local music promotion, amidst many more ideas.
And what more powerful place to broadcast from then in the heart of Albuquerque, the historic Barelas, New Mexico. A community that from time immemorial has resisted assimilation of it's Bareleña cultura, steadfast against invasion from dominant forces that historically diverse communities (mainly communities of color) from all around New Mexico have had to confront in order to continue and survive.
This is why the "Radio Burque Project" committee, plans to concentrate its efforts on 4th Street in Barelas, promoting participation, especially in our immigrant community, Barelas, South Valley, South Broadway, University y Southeast Heights (Places we believe the radio signal will reach)! Come and inform yourselves this Saturday, participate, dance, and contribute to this cause. Even if you're not from those places, because at the end, a healthy media environment includes the community owning it's diverse media content reflecting the interests of the community it broadcasts to.
The goal is one thousand dollars for this event! With proceeds from the sale of delicious food, and cover charge ($5), we plan to finance a broadcast engineering study necessary for the license application process. Learn more at facebook.com/radioburque, or leave your (up to 10 minute long) opinion on our digital voicemail number, (505) 633-0278 tell us what you want from community radio, and/or how you can help with time, talent or resources.
This video was produced by prometheusradio.org, we hope it will spur conversation about what this radio will mean to us: