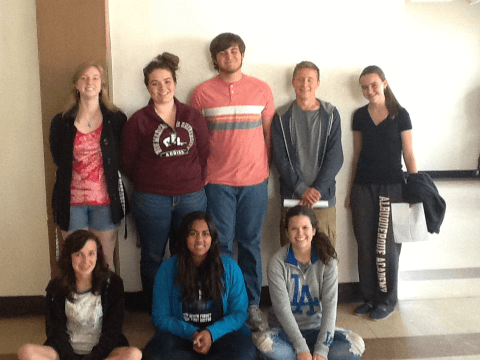 Amigos de las Americas 2014
¡Gracias a los voluntarios del programa Amigos por completar su proyectos de aprendizaje en servicio comunitario con Encuentro este pasado mes de Mayo!
En este año el equipo de voluntarios apoyó el personal y los estudiantes en el curso de computación, intercambio de lenguaje (¡donde practicaron su español!) y con el programa de guardería.
Fue un placer ver como los estudiantes se realizaron su trabajo con una mente abierta y con mucho entusiasmo, responsabilidad y profesionalismo– cuatro cualidades muy valorables que serán de mucha importancia al iniciar sus proyectos en Latino América. Aprende sobre Amigos aqui.
¡Esto es lo que dijeron sobre su experiencia en Encuentro!
Mi nombre es Sandy Wilkens, yo soy graduada de la preparatoria La Cueva High School, y estaré asistiendo la Universidad Estatal de Nuevo México en Las Cruces este semestre del otoño que está por empezar. Yo estaré estudiando ciencias de animales y trabajando en equino terapia. Yo apoye a Encuentro siendo parte de la guardería y realmente me encanto. Aprendí que soy más flexible y calmada de lo que pensaba en situaciones donde no puedo comunicar muy bien. También pude comunicar en otras formas fuera del uso de palabras y eso es algo que nunca jamás había hecho. Yo encontré que mi comunidad no es tan cerrada mentalmente a lo que previamente me imaginaba. Yo encontré amistad en un lugar extraño donde nunca lo esperaba. Todos fueron amables y además perdonaban mi horrible manera de hablar español. Gracias a esta experiencia no veo la hora para estar en Costa Rica.
¡Trabajando como voluntario en Encuentro ha sido una experiencia maravillosa! No solo fue el gran aprendizaje sino que también me la pase muy bien. Yo trabaje en la clase de intercambio de lenguaje cada jueves y pude fortalecer mi español. Creo que aprendí más español en estas pocas semanas trabajando en Encuentro que en las materias de la escuela. También pude observar mi comunidad de otra perspectiva en trabajar con gente de México. Asistiendo May Day (el primero de Mayo) y platicando en la clase de intercambio me enseño que yo suelo no apreciar mí alrededor cuando veo gente trabajando tan duro por quedarse en Nuevo México. Esta experiencia me ha preparado mucho para el verano ya que me ha dado una nueva perspectiva enseñándome que no hay que esperar una expectativa específica. Yo sé que este verano en San Juan, Republica Dominicana tendré una excelente experiencia. Encuentro me ayudo ver una cultura diferente a la mía y eso es lo que voy a ver en la Republica Dominicana. Yo estoy tan agradecido en tener esta experiencia porque yo sé que me preparo para el verano que está por iniciar.

–Janessa Smith, grado 11, Saint Pius X.
Hola, me llamo Mikey Taylor. Yo soy un junior (del grado 11) en La Cueva High School (preparatoria). Cuando primero comencé mi trabajo voluntario en las clases de computación de Encuentro, yo empecé enseñando los estudiantes como guardar imágenes de Google y poner los en un documento de Word. Después de unas semanas yo sentí que este papel no fue el mejor para mí, entonces yo cambie mi ubicación y papel y recomencé en el edificio de la escuela de Coronado. ¡En la escuela yo trabaje con los niños en el programa de guardería de los estudiantes de Encuentro!

Los niños fueron muy amables y maravillosos. Ellos son muy respetuosos y jugar con ellos es divertido. Me sentí en el lugar indicado mientras trabajaba ahí. Sentí que los niños disfrutaban de la supervisión que fue más que solo decirles que hacer y no hacer, si no que consistía en ir al nivel de los niños como personas iguales para mostrarles el buen comportamiento en vez de tratarlos como si no tuvieran nada de conciencia.

Nunca me imaginaba cuanta gente en Albuquerque está tratando de sobrevivir y alcanzar su ciudadanía Estadounidense aprendiendo inglés, sacando su diploma de GED, o tratando de aprobar su examen de ciudadanía (¡que definitivamente es muy difícil!). Todos son gente normal que merecen un trato normal, y un fin a todas esas deportaciones y prejuicios. Yo aprendí que realmente amo trabajar con niños y que estoy más listo que de lo que pensaba en liderar a la juventud de la comunidad que me asignaron en la Republica Dominicana.

También aprendí que puedo lograr cualquier cosa que me incomode con solo enfrentar la situación. Me siento hoy definitivamente más preparado para este viaje que lo antes sentía, pero aún estoy nervioso. Yo sé que mi viaje este verano a la ciudad de San Juan, DR valdrá la pena y será la mejor experiencia que yo tendré. Este año de entrenamiento, trabajo voluntario en Encuentro y este verano serán un tiempo en mi vida que nunca olvidare.

Sinceramente,
Mikey
Mi nombre es Blas Alvarado, estoy en el grado 10 y asisto la escuela V. Sue Cleveland High School (preparatoria) en Rio Rancho. En Encuentro yo trabaje con el grupo Cali y esa experiencia me abrió los ojos al impacto que tiene una persona a su comunidad y cuanto deseo personalmente ayudar a mi comunidad. Esta experiencia me hiso ya ansiosa por llegar a Costa Rica, mi país asignado.
Como voluntario en computación, Me enteré de que lo que me parece ser de conocimiento común, tales como el uso de Google y YouTube, es algo muy desconocido para la gente en mi propia ciudad.

Me entere que a mí me encanta observar personas descubriendo los múltiples usos de la tecnología y como eso puede mejorar sus vidas.

Calvin Good, Grado 10, Bosque School
---
Amigos de las Americas 2014
Thank you to the Amigos Volunteers who completed their community service learning projects with Encuentro in May!
This year's team of volunteers supported staff and students with computer instruction, in the language exchange program (practicing their Spanish!) and with the childcare program.
It was great to see how the students approached their work with such openness and enthusiasm, responsibility and professionalism – four valuable qualities that will be very important as they embark on their projects in Latin America. Learn about Amigos here.
Here's what they had to say about their experiences at Encuentro!
My name is Sandy Wilkens, I am a graduated senior from La Cueva High School, and will be attending New Mexico State University in Las Cruces this upcoming fall semester. I will be studying animal science and working in therapeutic riding. I was part of day care support at Encuentro, and I truly enjoyed myself. I learned that I am much more flexible and easy going in a situation that I can't communicate as well in. I am also able to communicate in ways other than words which I have never had to experience before. I found out that my community is not as closed minded as I previously imagined. I found friendship in a very odd place that I never expected. Everyone was very kind and forgiving of my horrible Spanish. I am really looking forward to Costa Rica after this experience.
Volunteering at Encuentro was definitely a wonderful experience! Not only did I learn a lot but I also had a great time. I worked in the language exchange every Thursday and was able to strengthen my Spanish. I think I learned more Spanish in the couple weeks I worked at Encuentro than I have from my school books. I was able to see my community from a different perspective as I worked with many people from Mexico. Attending May Day and just talking with the people in the language exchange showed me that I often times take everything for granted while others work hard to be able to stay in New Mexico. This experience will help me a lot this summer as it gave me a new way at looking at things and taught me not to expect anything specific. I know that this summer in San Juan, Dominican Republic I will have a great time. Encuentro helped me to see a different culture from my own which is definitely what I will experience in the Dominican Republic. I am so grateful to have had this experience because I know it helped prepare me for the summer ahead of me.

-Janessa Smith, 11th grade, Saint Pius X High School.
Hola, me llamo Mikey Taylor. I am a junior (11th grade) at La Cueva High School. When I first started my volunteer work at Encuentro I worked in the Encuentro building with the computer classes. I taught the students how to save images from Google and put them in a Word document. After a few weeks I felt like this role wasn't the right one for me, so I changed locations and roles to the Coronado School building. At the school I worked with the children in the childcare program for Encuentro Students!

The children are all so friendly and amazing kids. They are very respectful and a lot of fun to play with. I felt in place while working there. I feel like the kids enjoyed having supervisors that would not just watch them and tell them what they can do and what they can't do, but show them the right things to do through engaging with them and treating them like equals instead of silly little kids. While at Encuentro I learned a lot more about immigration than I ever knew.

I never knew just how many people in Albuquerque are just trying to get by and earn their way into American citizenship by working to learn English, get their GED, or trying to pass their citizenship exam (which is actually really hard!). They are all just regular people that deserve regular treatment, not all the deportation and prejudice. I learned that I really love working with kids and that I am more ready than I thought to lead the youth in the community I am assigned to in the República Dominicana.
I also learned that if I just confront the situations I'm not the most comfortable in, I can achieve it no problem. I am definitely more prepared for this trip than I was before but still very nervous. I know my trip this summer to San Juan, DR will be worthwhile and the best experience I will ever have. This whole year of training and volunteering at Encuentro and this summer is a time in my life I will never forget.

Sincerely,
Mikey
My name is Blas Alvarado, I am in the tenth grade attending V. Sue Cleveland high school in Rio Rancho. At Encuentro I worked as a leadership partner for CALI and the experience opened my eyes to the effect one person can have on their community and how much I personally wish to help my own community. This experience is making me look forward to my country assignment in Costa Rica.
As a computer tutor, I learned that what I find to be common knowledge, such as using Google and youtube, is very foreign to people in my own city.

I learned that I enjoy watching people discover the many uses of technology and how it can improve their lives.

Calvin Good, 10th Grade, Bosque School