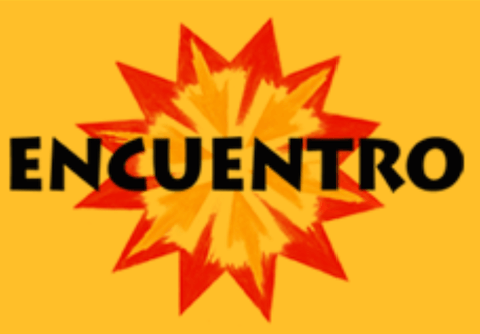 Un Dia en el Mercado del Patio De Trenes – Barelas, NM
En el corazón de nuestra ciudad, un esfuerzo de base exitosamente resulto en el renacimiento de los edificios industriales del patio de trenes que se localiza al lado de la frontera oriente del barrio Barelas. Este lugar de estructuras majestuosas que tenia años abandonado,  ha sido transformada y es ahora el Mercado del Patio de Trenes. Con  la ayuda de voluntarios manteniendo el lugar, muchos vendedores, músicos, artistas/artesanos, y campesinos locales que juntos componen lo que es el Mercado del Patio de Trenes, ahora ponen entretenimiento, inspiración y excelentes productos locales de calidad en las manos, corazones y panzas de miles de visitantes cada Domingo. Hasta en estos pocos meses después de su gran apertura nos dicen muchos con quienes hablamos que es un éxito total para el pequeño negociante y el bienestar comunitario.
El pasado domingo observamos un lindo ambiente en el mercado–una verdadera reflexión de la simple e importante vision presentada en la pagina de internet de este mercado donde dice ser enfocado en "crear una economia local, sustentable y fuerte, en cual disfrutamos de la labor y el recreo." 
Recomendamos que visites el Mercado del Patio de Trenes porque es la única forma que sentirás lo emocionante que es estar en el interior de esta estructura tan grande como catedral, en un ambiente maravilloso, con talento y compras excelentes–como ningún otro lugar. Escucha estas grabaciones en español y tome un vistazo al video, visite el Mercado del Patio de Trenes, y cuéntanos lo que opina sobre el. Participe en el desarrollo, recaudación de fondos y ejecución  del proyecto aquí. ¡Nos vemos el proximo domingo!
---
A Day at the Rail Yards Market – Barelas, NM
In the heart of our city, a grassroots effort succeeded in reviving the industrial rail yards buildings that sit along the eastern border of the Barelas neighborhood. This once abandoned set of majestic structures have now been transformed into the bustling Rail Yards Market.  With the help of volunteers that keep it operating smoothly, many vendors, musicians, artists/artisans, and farmers that make up the Rail Yards Market (RYM) are currently putting entertainment, inspiration and excellent quality, locally made goods into the hands, hearts and tummies of thousands of visitors every Sunday. Even its first few months of operations many folks we were able to talk to last Sunday believe it is a most definite success for local business and community well-being.
The atmosphere we witnessed last Sunday reflect the simple yet important vision presented on RYMs website, stating a focus on "building a resilient, sustainable local economy that we all love to work and play in". In this one day, we experienced what seemed like a community festival showcasing our city's rich and beautiful cultures, local agriculture and artisans in a surreal, magically-industrial location.
We recommend you visit the RYM because that is the only way you will get a feel of the space's cathredral-like presence, and the great ambience, talent and excellent local-made finds you won't encounter anywhere else. All audio recordings in this blog are done in Spanish and the video highlights some live music and beautiful art. So Be sure to hit up the Rail Yards Market, and let us know what you think. Participate in the fundraising, development and/or execution of this project here. See you next Sunday!
Audio Postales / Audio Postcards
Por: Manuel Sanz, Tu Voz Digital
Sentados afuera en la entrada del mercado. / Sitting outside the market.
Paseando e Observando / Watching and Strolling
Entrevista con estudiante de Encuentro-vendedor, Jaime Gomez. / Interview with Encuentro student-vendor, Jaime Gomez
Entrevista con vendedor artesano y campesino tradicional de Los Jardines de Moctezuma, Ricardo Anzures. / Interview with South Valley vendor and local farmer from Los Jardines de Moctezuma, Ricardo Anzures.
Musica en vivo de Allan Esquibel. / Allan Esquibel, live music.