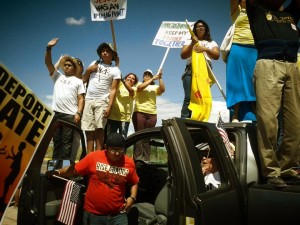 Artesia, NM: Protestando en Solidaridad
Esta es una entrevista con Marian Jazmín Mendez, líder del grupo juvenil de El Centro de Igualdad y Derechos. Después de un mes desde que participo en una protesta en apoyo de las madres y niños de Centroamérica, detenidos en Artesia, NM, ella nos cuenta que ha pasado desde entonces y que tenemos que hacer.
Extracto:
Marian Jazmín Mendez: El 17 de Agosto miembros del centro de igualdad y derechos y un grupo de jóvenes marcharon en solidaridad con Somos Un Pueblo Unido, y la comunidad de Artesia. El propósito fue hacer una protesta en apoyo de las mujeres y niños de Centroamérica que están huyendo de la violencia. Fue algo muy emotivo…
Elizabeth Moreno: ¿Y que es lo que ha estado pasando recientemente?
Marian: Los medios de comunicación ya no han hablado del tema en Artesia. Ya no han habido noticias recientes como han habido anteriormente.
Elizabeth: ¿Como podemos tomar acción?
La manera que puede una persona tomar acción es integrarse haciendose voluntario de organizaciones como Encuentro y El Centro de Igualdad y Derechos los cuales están tomando acciones para apoyar diferentes causas… Hacemos muchos eventos de justicia social. Estar involucrado es una manera de tomar acción.
…Todas las personas tienen derechos independientemente de su lugar de origen. Todos somos humanos y por eso tenemos derechos. Cual deben ser enforsados. Todos tenemos también la obligación de tomar acción ya que injusticia en cualquier lugar es injusticia. Les recomiendo que tomen acción, ayuden a su prójimo y que sigamos luchando para mejorar el país.
---
Excerpt:
Marian Jazmín Mendez: August 17th members of El Centro de Igualdad y Derechos including the youth committee marched in solidarity with Somos Un Pueblo Unido and the community of Artesia. The purpose was to offer support and protest for the women and children of Central America that are fleeing violence. It was something very powerful…
Elizabeth Moreno: And what's been happening recently?
Marian: Mass media is no longer talking about Artesia. There has been no recent news at the level it was before.
Elizabeth: How can we take action?
Marian: The way we can start getting involved is becoming volunteers with organizations like Encuentro and El Centro (Center for Rights and Equality) who are taking action for many different causes. We do many events for social justice. Being involved is a way to take action.
… Everyone has rights independent of their place of origin. We are all human and that's why we have rights. Rights that should be enforced. We also all have the obligation of taking action knowing that injustice in one place is injustice [everywhere]. I recommend that we all take action for our brothers and sisters and to continue fighting for a better country.