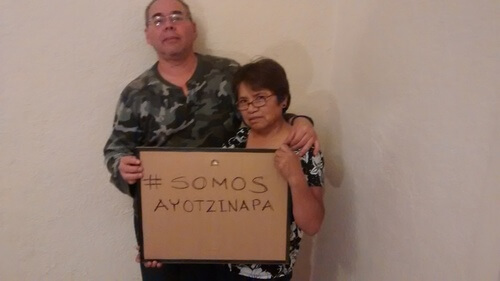 Plácida Cortes y Manuel Sanz tienen una conversación de lo que esta pasando en Ayotzinapa, Guerrero, donde 43 estudiantes normalistas han desparecido en manos de la policía. Todo apunta que fueron masacrados pero el gobierno mexicano no da respuestas. La gente esta cansada y harta de los maltratos y injusticias de el Gobierno Mexicano y por los medios de comunicación se están dando escuchar. ¡Estamos con ustedes Ayotzinapa! ¡Encuentro es Ayotzinapa!
Conversación De Ayotzinapa by Encuentronm on Mixcloud
Extracto:
Manuel Sanz: Oye y si supiste que el padre Alejandro Solalinde esta apoyando el problema ese de los 43 estudiantes desaparecidos en Iguala Guerrero?
Plácida Cortes: Si se lo que hace el padre Solalinde que es un activista que defiende los derechos humano y es por eso que la gente se le acerco a pedir ayuda. El también tiene un refugio para los inmigrantes de Centro-America que se llama Hermanos En El Camino, porque no es justo como ellos cruzan de Centro-America para buscar un futuro mejor. Huyendo de lo que es aya su país y lo que esta pasando en nuestro país.
Manuel Sanz: y fíjate como se entrelaza todo. Estamos hablando de eso, estamos hablando de el padre Solalinde que esta buscando defender los derechos de los inmigrantes de Centro-America y volvemos otra vez aquí. Con todas estas situaciones económicas, todas estas situaciones de violencia, de política, obligan de alguna manera a los Mexicanos buscar un refugio político, un refugio económico viniéndose aquí a Estados Unidos, y es por eso que la gran inmigración se da muchas veces porque la gente ya no soporta esta situación tan tirante que se esta dando  en nuestros países desgraciadamente.
---
Plácida Cortes and Manuel Sanz have a conversation about what's happening in Ayotzinapa, Guerrero, where 43 student-teachers have disappeared in the hands of the police. Everything points to them being massacred, but the mexican government doesn't give any answers. The people are sick and tired of the mistreatments and injustices of the Mexican government and the people are voicing their opinions through the use of media. We are with you Ayotzinapa! Encuentro is Ayotzinapa!
Extract
Manuel Sanz: Hey and did you hear about the priest, Alejandro Solalinde who is helping out with the problem of the 43 disappeared students in Iguala, Guerrero?
Plácida Cortes: Yes, I know who priest Solalinde is, he is an activist who defends human rights, and that's why the people have reached out for his help; he also has a place of refuge for the immigrants of Central America that is called Hermanos En El Camino, because it's unjust how they cross over from Central America to look for a better future, escaping from their country, and what is happening in our country.
Manuel Sanz: And notice how everything is interlaced. We're talking about that, we're talking about priest Solalinde who is looking to defend the rights of the immigrants from Central America and we go back to this. with all these economic, violent, and politic situations that go on, they somehow force Mexicans to look for a political or economical refuge bringing them here to the United States, and it's because of this that Immigration is so big because the people can't stand such tyrant situations that are ongoing in our countries, unfortunately.