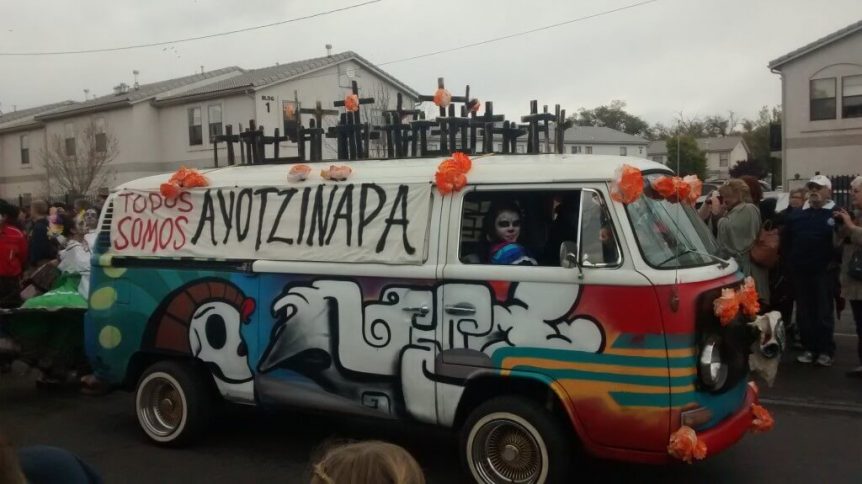 Desfile de Cempoalxóchitl
Desfile de Cempoalxóchitl
Tu Voz Digital, atendió el desfile de Cempoalxóchitl que se dio acabo en Albuquerque, Nuevo Mexico el 2 de Noviembre. Este desfile se da acabo para terminar los días festivos de día los muertos. Dia de los muertos es una fiesta mexicana observada en todo México y en todo el mundo en otras culturas . Los días de fiesta se centran en reuniones de familiares y amigos para orar y recordar a amigos y familiares que han muerto. Esta fiesta tiene origines de los Aztecas indígenas y hasta este día se sigue celebrando.
Imágenes, Elizabeth Moreno
Audio Postales / Audio Postcards
Por: Manuel Sanz, Tu Voz Digital
Explicando la historia de el día de los muertos:
Paseando y observando
Musica en vivo
Plácida Entrevista a Fidel Gonzales. by Encuentronm on Mixcloud
Extracto:
Plácida Cortes: Como aceptan la cultura las personas aquí de estados unidos?
Fidel Gonzales : Bueno, te refieres a el anglosajón?
Plácida Cortes: Si.
Fidel Gonzales: Como estamos en un continente indígena, como ya lo dije, ay mucha gente, ay mucha gente anglo, hay bastantes imagínense pos son la mayoría. Y al no tener una cultura propia que seguir, o tienen la suya pero como no están dentro de las raíces donde nació pues van asimilando otras culturas. Asi pasó con nosotros no, así paso con el cristianismo, con el catolicismo, con el judaísmo, con todas las otras religiones que tienen influencia ya al nivel mundial si han tendido que a ir asimilando entonces como mucha gente tuvo que desconectarse de sus raíces por muchas cosas nos han hecho sentir vergüenza, nos han hecho sentir pena, en determinado momento miedo porque era o haces lo que digo o terminas muerto que esta la fecha sigue sucediendo entonces mucha gente a tenido que esconderse o
Buscar otra solvencia spiritual en algún otro movimiento religioso.
Entonces como lo ve el hombro blanco o como lo ve el anglosajón?
Yo creo que hay mucha gente que ahora esta respetando, ay otros que ni las va ni les viene, y ay otros que definitivamente no saben ni como se llaman pero pues, en realidad, con o sin ellos, nosotros los dueños de esta cultura, los que venimos de esto lo tenemos que mantener, por eso danzamos y por eso cantamos.
---
Marigold Parade
Tu Voz Digital attended the Marigold parade that was held in Albuquerque, New Mexico on November 2nd. This parade happens to celebrate the Day of the dead, which is a Mexican holiday, observed throughout Mexico and around the world in other cultures. The holidays are centered on gatherings of family and friends to pray for and remember friends and relatives who have died. This festival has indigenous Aztec origins and to this day it is still celebrated.
Extract from the interview of Fidel Gonzales.
Placida Cortes: How do people here in the US accept this culture?
Fidel Gonzales : Well, you mean the Anglo-Saxon ?
Placida Cortes : Yes.
Fidel Gonzales : Well, as we are an Indigenous continent , as I mentioned before , there are many Anglo people, they are the majority ,and many of them do not have a culture which they follow, or they do have one but because they are not within the roots of their birthplace they assimilate into other cultures. That is what happened with us, and that is what happened with Christianity, Catholicism and Judaism, and any other religion that has influence at a global level. So because of this they have had to assimilate, and because many people have had to disconnect themselves because of many reasons, they have made us feel ashamed, they have made us feel sorry for ourselves, and at a certain time they have made us feel fear, because it was either do as I say or you will end up dead, which to the date keeps on happening. So many people have had to hide or look for a spiritual solvency in other religious movements.
So how does the Anglo-Saxon see this culture?
I think that there are many people who respect it; there are other people who don't care, and there are many people who definitely don't even know their names, but in reality, with or without them, we, the owners of this culture, the ones that come from this, have to keep on maintaining it, this is why we dance, this is why we sing.