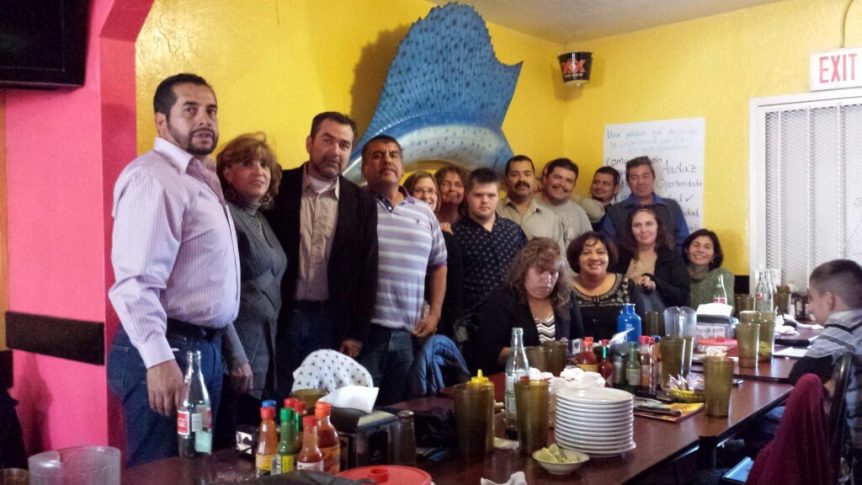 Reconocimientos De CALI
Imagen: Felipe Hernandez
Por Manuel Sanz
Por mucho tiempo Encuentro a intentado conformar un grupo y por fin lo ha logrado! Pero que es CALI? CALI son siglas por comunidad, aprendizaje, y liderazgo. La filosofía de atrás de CALI es que todos podemos ser líderes y con el apoyo y la dirección adecuada podemos lograr desenvolver nuestro liderazgo para apoyar a nuestra comunidad.
Después de varios meses de reuniones sabatinas en las cuales bajo la asesoría y enseñanza de nuestro tutor y maestro Miguel Angel Acosta un grupo de personas nos fuimos adentrando en lo que es es el aprendizaje y uso de las herramientas con las que cuenta la sociedad para aprovecharlas en el uso y desarrollo de una comunidad; como utilizar las redes sociales con las que contamos muchas veces sin darnos cuenta y canalizar esas redes para el crecimiento tanto personal, de grupo y lo mas importante de la comunidad, como a través de instituciones ya existentes y muchas veces menospreciadas u olvidadas podemos utilizarlas en provecho de nuestra comunidad, por poner un ejemplo la asociación de vecinos de la zona en que tu vives. Este país esta basado en el pueblo y para el pueblo, y muchas veces lo olvidamos.
El enfoque de CALI es recordarnos que utilizando las herramientas adecuadas podemos como comunidad lograr lo que nos proponemos. Y lo estamos haciendo!
Dentro del curso se nos solicito apoyar a la comunidad de San Jose por problemas de contaminación y uso del suelo; en la cual nos organizamos para hacer una encuesta y dar a conocer a la comunidad de San Jose los problemas que están viviendo que muchas veces ni ellos mismos se dan cuenta hasta que es demasiado tarde. Fue un éxito! Se recopilo mucha información, se dio a conocer a esa comunidad los problemas que les aquejan y los que están por venir, picando piedra dice un dicho, es lo que hace CALI picar piedra para lograr una comunidad mejor.
En la entrega de reconocimientos tuvimos el honor de contar con la presencia de miembros del staff como: Anne Liechty, Iliana Lopez, y Norma Casas. Tan-bien estaban ahí personas de la mesa directiva de Encuentro, incluyendo Maria Martinez, Pedro Casas y Andrea Plaza. Una mención especial a nuestros invitados, el senador Erick Griego y Mauricio de Segovia De el Centro De Igualdad y Derechos que dieron fe del eventos. También le queremos dar muchas gracias a la señora Matilde Medina que siempre nos apoya con muy rica comida.
Enhorabuena Encuentro! Por apoyar esta iniciativa; enhorabuena CALI y que sigan los éxitos!
_________________________________________________________________________________________
CALI Recognitions
By Manuel Sanz
For a long time Encuentro has tried to create a group and they have finally accomplished it! But what is CALI? CALI is an acronym in spanish for community, learning and leadership. The philosophy of CALI is twofold: one, that we can all be leaders with the help and adequate direction, two, that we can unwrap our leadership skills so that we can help out our community. After various months of meetings under the advice and learnings of our tutor Miguel Angel Acosta, we came to be more involved in the learning of tools that our society depends on, in order to take advantage, and use them for the development of our community; We also learned how to use social networks that we rely on so heavily, without even knowing it, and to channel these networks for not only the personal growth of the group, but more importantly, the community. Through pre-existing institutions that are many times undervalued, or forgotten we can use these networks for the advantage of our community, for example the association of neighbors from the zone which one lives in. This country is based on the people and for the people. Unfortunately many times we forget that. The focus of Cali is to remind us that we as a community can reach our goals with the proper tools, and we are doing it! During the course we were asked to help our community of San Jose with problems of contamination and use of soil; we organized ourselves to create a survey in order to make the community of San Jose aware of the problems they are living under, which many of them don't even know are happening until it's too late. It was a success! We gathered a lot of information, we drew awareness to the problems that affect the community, and the ones that are to come.
In the delivery of recognitions we had the honor of counting with the presence of members of the Encuentro Staff like: Anne Liechty, Iliana Lopez, and Norma Casas. Furthermore, the presence of members from Encuentro's board of directors which included Maria Martinez, Pedro Casas, and Andrea Plaza. Also, special thanks goes out to our invitees, the senator Erick Griego and Mauricio De Segovia From El Centro De Igualdad y Derechos. Last, but not least we want to thank Matilde Medina who always helps us with very delicious food. Congratulations Encuentro for helping out with this initiative! Congratulations CALI and let the successes continue!