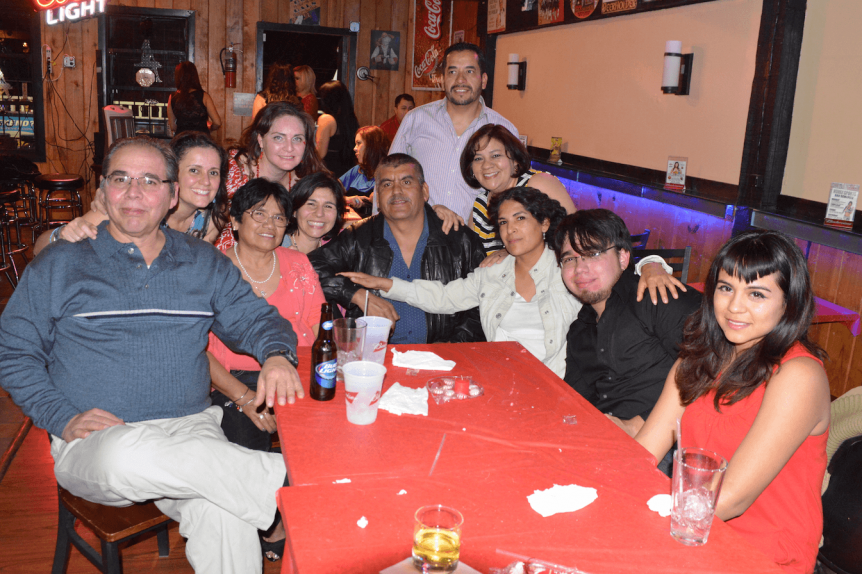 Celebrando El Dia Del Amor y Amistad
Fotos: Elizabeth Moreno
Por Manuel Sanz, Tu Voz Digital
Este 14 de Febrero de 2015 una vez mas encuentro festejo el día del amor y la amistad y como ya es costumbre los miembros de Encuentro acudieron a la cita en el centro nocturno Leo's. La fiesta empezó con una suculenta cena llamada "Tinga" un clásico platillo mexicano hecho por nuestra querida, Monica Ramirez, el cual estaba para chuparse los dedos.
La musica amenizada por el DJ de Leo's puso a toda la gente a bailar, en un ambiente de camaradería y diversion todo mundo bailaba, ria, platicaba, bromeaba; todo esto sazonado con las bebidas del bar muy bien atendido por Carlota la bartender del lugar,
Ya entrada la noche se realizo el sorteo de regalos el cual fue dirigido por Teresa Guevara dando unos hermosos premios a los ganadores, premios donados por encuentro y miembros del mismo rematando con el primer lugar que fue un hermoso collar realizado y donado por Claudia Garcia.
Y la noche seguía y la diversion también junto con los miembros del staff, ahi nos toco saludar a Andrea Plaza, Teresa Guevara, Norma Casas, Iliana Lopez, Pedro Casas, John Acosta, Pat Bonilla entre muchos mas.
Ya entrada la noche se realizo el concurso de baile en el cual se desarrollo una dura competencia para lograr los primeros lugares en un ambiente de lo mas divertido.
Después de una velada excelente la gente empezó a retirarse, comentando que están listos para el proximo año, Felicidades Encuentro! Nos vemos el proximo año!​
________________________________________________________________________
Celebrating Love and Friendship
By Manuel Sanz, Tu Voz Digital
This February 14, 2015 Encuentro celebrated the day of love and friendship, and as usual Encuentro members attended the event at Leo's nightclub. The party started with a delicious dinner called "Tinga" a classic Mexican dish made by our dear, Monica Ramirez, that was to die for.
The music entertainment by the DJ at Leo's put everyone to dance, in an atmosphere of camaraderie and fun everybody danced, laughed, talked, joked; everyone was having a great time and of course the bar drinks were very well served by Carlota the bartender of the place.
Teresa Guevara directed a raffle where beautiful prizes were given to the winners, prizes that were donated by Encuentro. The winning prize was a beautiful necklace made and donated by Claudia Garcia.
And the night continued and so did the fun along with members of staff, In attendance was Andrea Plaza, Teresa Guevara, Norma Casas, Iliana Lopez, Pedro Casas, John Acosta, Pat Bonilla and many more.
Late at night there was a dance competition that developed into a very heated contest where bragging rights were at stake.
After an excellent evening people started to leave, saying that they are ready for next year, E Congratulations Encuentro! See you next year!