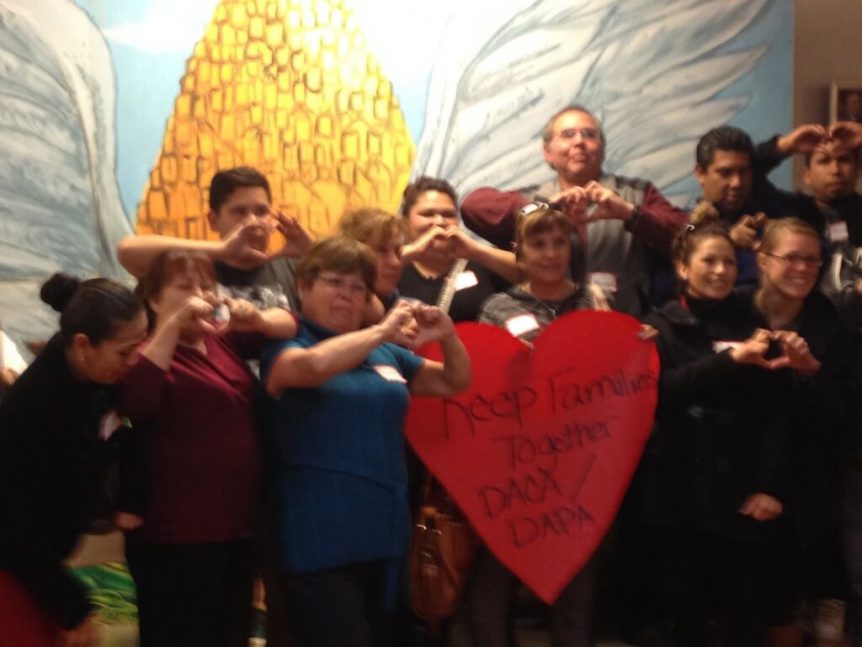 Resumen: Junta De Membresía
Fotos por Felipe Hernandez, Tu Voz Digital
Por Manuel Sanz, Tu Voz Digital
Este 12 de Febrero se celebro la junta mensual de membresía de el "Centro de Igualdad y Derechos."
esta junta se realiza con la finalidad de informar a los miembros de dicha organización de los últimos
acontecimientos que suceden en el país que afectan a los inmigrantes y a los grupos minoritarios que aquí
radican, así como eventos que se han realizado en la organización.
La reunión inicio presentando el mural realizado por el grupo de jóvenes del centro, encabezado por Marian Mendez, el cual fue un proyecto de Verano basado en los conceptos y valores que promueve el centro como son: familias unidas educación y derechos laborales. Todo esto plasmado artísticamente en esta obra, felicidades a Marian y este grupo de jóvenes entusiastas.
También se realizo una sencilla puesta en escena de una obra de teatro denominada "El teatro del oprimido" la cual fue presentada al publico semanas atrás; una obra que capto la atención del publico asistente ya que la temática trataba sobre los problemas y angustias que desgraciadamente viven día a día los inmigrantes en este país, siendo una obra interactiva entre los protagonistas y el publico asistente.
Por parte del comité de trabajadores el Sr. Juan Gomez hablo de una situación que actualmente esta viviendo. Se trata de un caso de discriminación, acoso y robo de salario que vivieron el y sus compañeros en una compañía de la localidad, los cuales están siendo asesorados por el personal de el "CID" y la clínica legal.
Fabiola Bawden toco el tema que actualmente esta viviendo la comunidad de Nuevo México; La intención de la Gobernadora Susana Martinez de quitar las licencias de conducir a los inmigrantes… por quinta vez! Así es, de no creerse. que temas que realmente aquejan a el estado de Nuevo México como es: la pobreza, inseguridad, bajo nivel educativo, falta de empleo, etc. que para vergüenza de la gobernadora, Nuevo México se encuentra en los niveles mas bajos de EUA y ella siga perdiendo el tiempo de su gobierno, cámara de Representantes, Senadores y organizaciones civiles en lugar de atacar esos problemas que realmente son graves para el Estado.
Plácida Cortes, Tu Voz Digital, entrevista a una estudiante de Encuentro, Mirna Lazcano
Ya por ultimo se hablo sobre el desarrollo de el alivio administrativo que ordeno el Sr. Presidente Barack Obama, y como lo han tratado de frenar; en estos momentos 26 estados están demandando a el Sr. Presidente para evitar la implementación de dicho programa, así como en la cámara de Senadores tratan de evitarla no otorgando los fondos para que se implemente. El pueblo americano es inmigrante y ve con buenos ojos la lucha que protagoniza las comunidades que llegan a esta tierra por una vida mejor y hacer crecer a este país, tristemente todavía hay un pequeño y poderoso grupo de personas que insisten en segregar y discriminar al inmigrante latino, como en el pasado hicieron con otros grupos étnicos. Hacen pesado el camino pero al final la justicia triunfara, La lucha sigue.
________________________________________________________________________
Recap: Membership Meeting
Por Manuel Sanz, Tu Voz Digital
On Feb. 12 the monthly membership meeting of the El centro de Igualdad y Derechos was held.
This meeting is done in order to inform members of El centro of recent
events happening in the country affecting immigrants and minorities.
The meeting started by presenting a mural that was created by the youth group center, headed by Marian Mendez. This was a summer project based on the concepts and values promoted by the center such as: United families, education, and labor rights. All this reflected artistically in this work, congratulations to Marian and this group of young enthusiasts.
At the meeting, el centro members also conducted a play named "Theatre of the oppressed," a play that centered around the problems and anxieties that immigrants face in this country everyday. This play was interactive, allowing the public to participate in place of the protagonists.
Mr. Juan Gomez, of the workers committee, talked about a situation that he is currently living. This is a case of discrimination, harassment and wage theft that he and his coworkers have been dealing with in a local company. Juan Gomez and his coworkers are being advised by the staff of the Centro de Igualdad y Derechos and the New Mexico Immigrant Law Center.
Fabiola Bawden also talked about the governors intent to remove drivers licenses; The intent of the Gov. Susana Martinez is to remove driver's licenses to all undocumented immigrants for the fifth time. Gov. Martinez continues to focus on this instead of issues that really plague the state of New Mexico like: poverty, insecurity, poor education, unemployment, etc.
Finally, in the meeting they also discussed the development of the administrative relief that President Barack Obama issued, and how republicans have tried to block; at this time 26 states are suing President Obama to avoid the implementation of the relief. The chamber of Senators are also trying to block funds in order to block the relief. The U.S. is full of immigrants that are seeking a better life, and to help build this country, sadly there are still very few, but very powerful groups of people that insist in continuing segregating and discriminating immigrant latinos, like they have done in the past with other ethnic groups. They make the route very difficult, but at the end justice will prevail. Our fight continues.