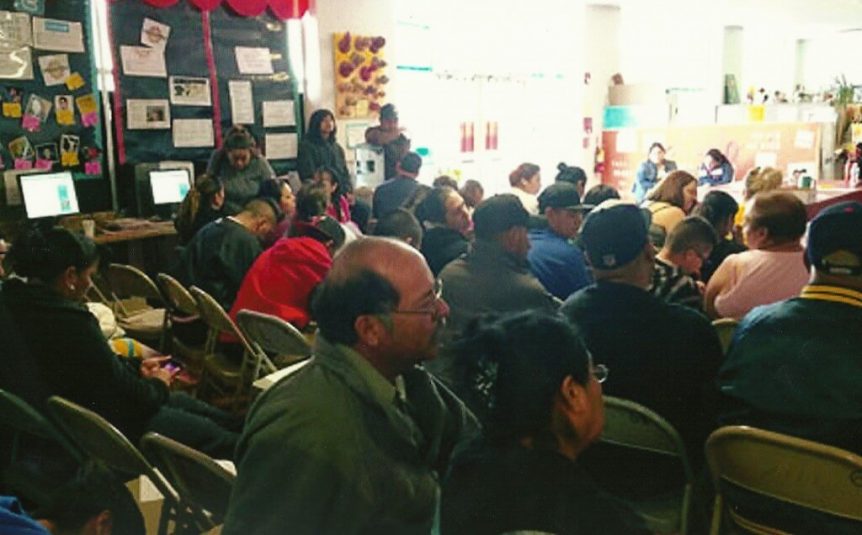 Compartiendo Nuestra Visión
El Sábado 4 Abril Encuentro y El Club de Leones de Nuevo México organizaron un evento en donde pudimos proveer exámenes de la visión y lentes gratis a las personas de la comunidad.
El evento fue todo un éxito y en total pudimos servir a 130 personas incluyendo a niños.
El examen de visión proveído también incluyó un examen de detección de las enfermedades de los ojos glaucoma, enfermedad diabética de los ojos y la degeneración macular relacionada con la edad.
Sin la ayuda de nuestros valiosos voluntarios este evento no se hubiera llevado a cabo ya que la mayoría de las personas atendidas no hablaban inglés y nuestros voluntarios bilingües hicieron posible las consultas entre doctores de habla Inglés y los clientes de habla español.
De parte de todo el personal de Encuentro queremos dar un agradecimiento especial a Ernest B. Martin, Carol Marshall, Dr. Deborah Moy, Miriam Stucker, Shirley Milton, Luckey Sells y todos sus voluntarios.
Este evento fue una gran experiencia para todos y le queremos dar gracias a todos los participantes. Esperamos hacer este un evento anual.
______________________________________________________________
Sharing Our Vision
Encuentro and the Lions Club of New Mexico organized an event where we provided free vision screenings and free glasses to  people in the community.
The vision screenings also included a screening of eye diseases like glaucoma, diabetic eye disease and age related macular degeneration.
Without the help of our valued volunteers this event would not have happened as most of the people that were seen did not speak English and our bilingual volunteers were able to do the consultations between English speaking doctors and Spanish-speaking clients.
On behalf of all Encuentro staff we want to give special thanks to Ernest B. Martin, Carol Marshall, Dr. Deborah Moy, Miriam Stucker, Shirley Milton, Luckey Sells and all their volunteers.
This event was a great experience for everyone and we want to thank all participants. We hope to make this an annual event.