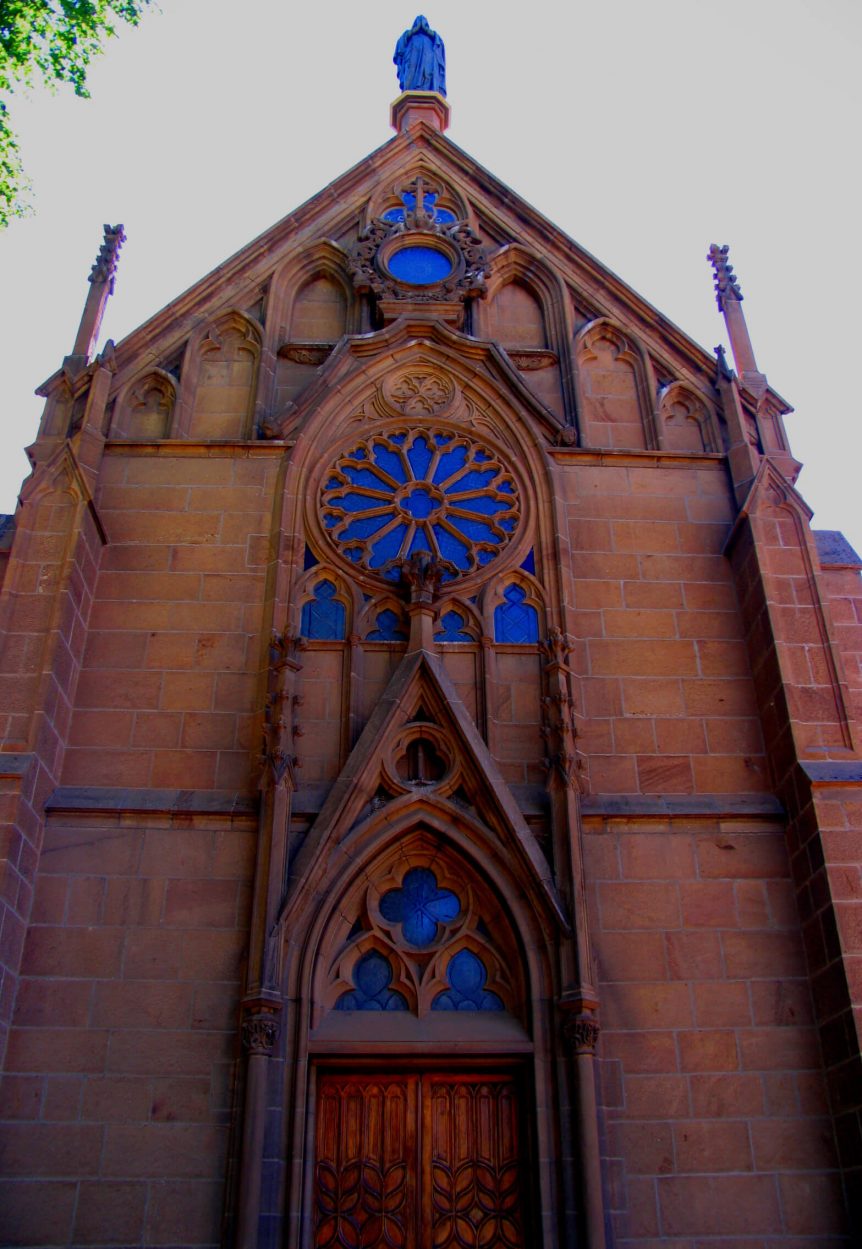 Por Felipe Hernández:
Transcrito de audio
Hola, buenas tardes. Mi nombre es Felipe Hernández y hoy les quiero contar una historia de una escalera milagrosa.
La escalera está localizada dentro de la Capilla de Loretto en Santa Fe, Nuevo México.
La historia dice que en los fines de los siglos 19 se había construido una capilla, nombrada la capilla de San Loretto. Cuando los arquitectos habían terminado la construcción de la capilla los arquitectos y las hermanas de la iglesia se fijaron que había faltado una escalera para llevarlas al segundo piso. Los arquitectos les dijeron a las hermanas que ya era muy tarde para construirla porque la iglesia estaba muy chica y muy angosta para construir la escalera. Las hermanas de la iglesia se pusieron a rezar por nueve días, acabando de rezar se apareció un hombre en un burro. Las monjas le preguntaron que quien era, y él dijo que él era un carpintero y que podía construir la escalera. El señor pedió un tipo de madera de pino pero no había, entonces él fue a traer otro tipo de madera que se podía doblar para hacer los escalones. Terminando con la construcción las monjas le preguntaron qué cuanto cobraba, y él dijo que no cobraba. Entonces las monjas quisieron agradecer su construcción de la escalera con una comida, pero cuando se lo iban hacer el señor había desaparecido.
Empieza una investigación en donde se investiga de donde vino la madera que utilizo el señor porque era una madera que no se había visto, los investigadores no pudieron hallar ningún rasgo de donde vino esa madera porque no existe árbol ni pino que produce esa madera. La escalera milagrosa obtuvo ese nombre por los misterios alrededor de su construcción y porque la escalera no tiene clavos ni pegamento, ni soportes central pero aun así sigue en tacto.
Hoy en día la capilla de Loretto recibe a 250,000 visitantes al año y la iglesia tiene 137 años de la fecha. Cobran $3 dólares para entrar a la capilla y realmente es una bonita experiencia que tiene mucha historia y cultura y esta localiza aquí en Nuevo México. Si no lo han visto, realmente se lo recomiendo.
The Miraculous Staircase
Por Felipe Hernández:
Transcribed from audio
Hello and good afternoon, my name is Felipe Hernandez. Today I want to tell you the story of the magic staircase. The staircase is located inside the chapel of Loretto in Santa Fe, New Mexico.
The story is set in the end of the 19th Century when the chapel of San Loretto was built. After the architects finished the construction of the church, the architects and nuns of the chapel noticed that they had forgotten about the staircase to reach the second floor. The architects told the nuns that it was too late to build a staircase because the chapel was too small and narrow. The nuns prayed for 9 days, and after those nine days a man on a donkey appeared. The nuns asked him who he was, and he responded that he was a carpenter and he could build the staircase. The man asked for pine wood but there wasn't any. Then, he went out to find wood and came back with a type of wood that he could warp and bend as he wished to build the staircase. When he was done with the stairway the nuns asked him how much he would charge for his work. He refused to take anything from the nuns. The nuns were very thankful to the man that they wanted to make him a feast. Once they had started to make him food, he had disappeared.
An investigation begun where they tried to figure out where the wood came from because it was a type of wood that nobody had ever seen before. The investigators could not come to any conclusion of where the wood had come from. The magic staircase got its name from the mysterious construction. The staircase also does not have any nails, glue, or support, but still, the staircase stands.
The 137 year old chapel of Loretto receives 250,000 tourist a year because of the staircase. It cost 3 dollars per person to enter the chapel. The chapel is truly a beautiful experience with much history and is located here in New Mexico. If you have not got to visit it, I strongly recommend it.