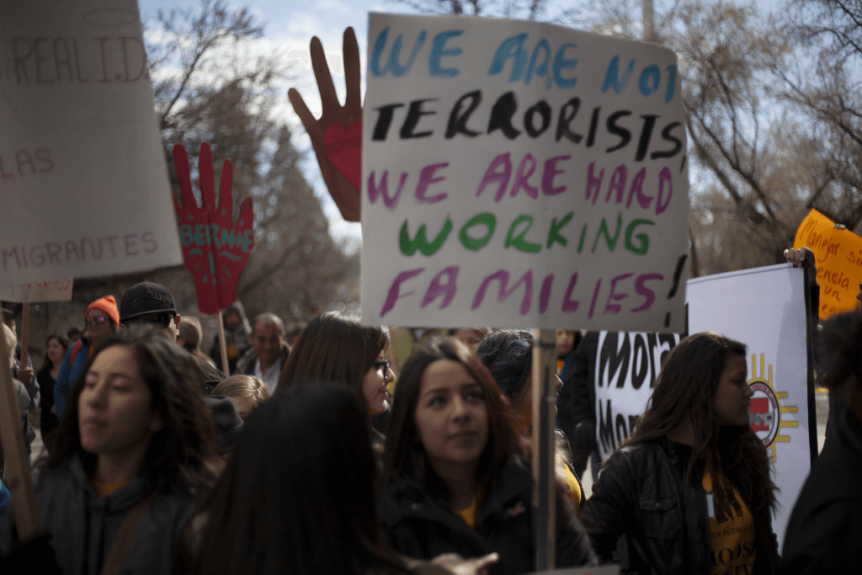 Luchando Por Nuestras Licencias Por La Séptima Vez
Cienes de inmigrantes y sus hijos, de mas de 15 condados en Nuevo México, se reunieron en una demostración en frente del capitolio del estado de
Nuevo México para protestar el septimo intento por la gobernadora y sus aliados anti-inmigrantes de implementar la ley federal Real ID que discriminaria a familias inmigrantes.
Miembros de Encuentro, junto con miembros de nuestras organizaciones hermanas, El Centro de Igualdad y Derechos y Enlace Comunitario hicimos el viaje hasta Santa Fe el Lunes, 25 de Enero para llevar miles de peticiones urgiendo que la gobernadora y sus legisladores paren de acosar a trabajadores y familias inmigrantes y apoyar a un verdadero compromiso de Real ID que no estigmatize a conductores basados en origen nacional o estatus.
Periodista comunitaria, Plácida Cortés cubrió el evento en donde pudo entrevistar a Senador Democrata Nuevo Mexicano, Gerald Ortiz y Pino y al Profesor Miguel Angel Acosta que estaban presente. Escuche las entrevistas aquí:
---
Fighting For Our Licenses For The Seventh Time
Hundreds of immigrants, families, and students from more than 15 counties in New Mexico, gathered for a demonstration in front of the Roundhouse on Monday, January 25th, to protest the seventh attempt by the governor and her anti-immigrant allies to use the Real ID act to discriminate against immigrant.
Members from Encuentro, as well as members from our sister organizations El Centro De Igualdad y Derechos and Enlace Comunitario made the trip to Santa Fe on Monday to carry thousands of petitions urging the Governor and legislators to stop persecuting immigrant workers and families and support a true Real ID compromise that does not brand drivers based on national origin and status.