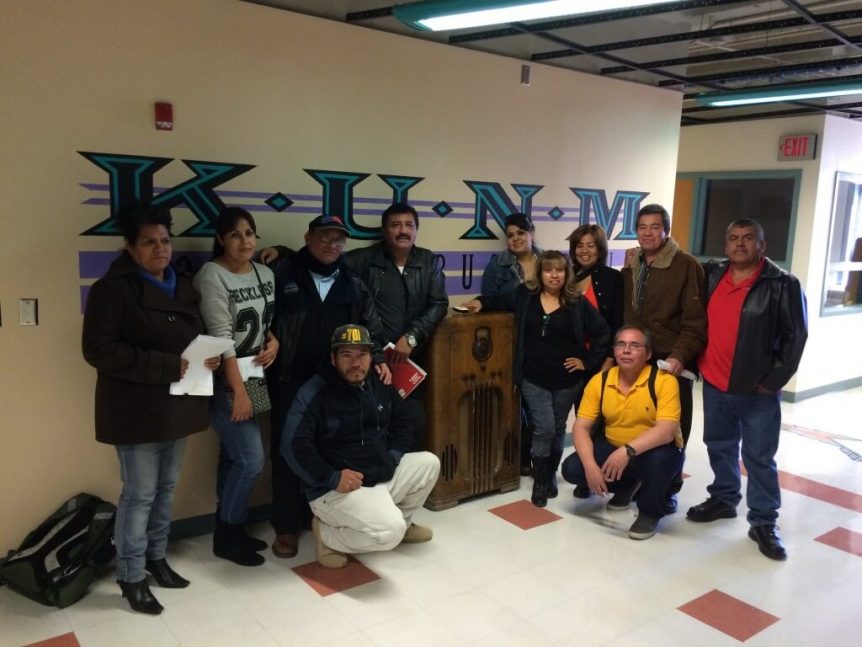 Activos En Nuestra Comunidad: Talleres De Radio Con Mariano Paliza
Encuentro, con ayuda de las organizaciones El Centro De Igualdad y Derechos, Generation Justice, Quote Unquote y Community Engagement Center, tuvieron la oportunidad de organizar talleres de Radio para nuestra comunidad. Los talleres cubrían temas que incluían como conducir una entrevista, voltear la noticia, programación radial, como conducir un programa de radio entre otros temas mas. El taller se organizo con el propósito y el fin de que los participantes involucrados pudieran estar listos para salir al aire en la radio, ser locutores de DJ.
Los talleres concluyeron con un radio teatro basado en la novela de Pedro Páramo, escrita por autor Mexicano Juan Rulfo.
Encuentro pudo traer a periodista comunitario y Instructor, Mariano Paliza desde Lima, Perú para enseñar los talleres. Mariano nos pudo acompañar desde Noviembre hasta Diciembre para dar los talleres cada Sábado durante esos meses. Mariano Paliza ha trabajado en Perú como periodista por muchos años y el ha ayudado levantar y lanzar varios radio comunitarios en Lima, Perú. Mariano también ha trabajado en Berlín, Alemania como organizador de la practica de no-violencia y de los derechos humanos. El Señor Paliza trabaja por CAISEP, una organización enfocada a los derechos humanos.
El grupo de los participantes tuvieron un muy buen tiempo en los talleres lleno de aprendizaje, y aunque el instructor Mariano Paliza se ha ido a Alemania, seguiremos produciendo radionovelas con el grupo!
Nuestro periodista comunitario, Mario Aguilar, tuvo la oportunidad de entrevistar al Instructor Mariano Paliza.
Nuestos periodistas, Mario Aguilar y Plácida Cortés entrevistan a Ana Quiróz, estudiante del taller.
---
Active In Our Community: Radio Workshops with Mariano Paliza
With the help of several non-profit organizations, including El Centro de Igualdad y Derechos, Generation Justice, Quote Unquote, and Community Engagement Center, Encuentro was able to organize community radio workshops that focused their teachings on radio programming, conducting interviews, flipping journalistic articles into radio segments, and also the structure of radio programs among other themes. The workshops were organized with the purpose that all of the participants would be ready to go live on air, and to eventually certify themselves as radio disc Jockeys.
The workshops concluded with a radio-drama about the story of Pedro Paramo by Mexican writer, Juan Rulfo. The majority of the participants of the workshop participated in the recording of the radio-drama.
Encuentro was able to get a community journalist and Instructor from Lima, Peru to teach the workshops. Mariano was able to teach the workshops every Saturday from November to December. Mariano has worked as a journalist for many years, and he has helped launch various community radios in Lima. Mariano also works for CAISEP, an organization that focuses its work on human and civil rights. He currently resides in Germany, where he continues his work as an organizer for the non-violent practice.
The participants in the workshops had a very good time throughout Mariano's time with us, and although Mr. Paliza has left to Germany, the group will continue to produce radio-dramas!