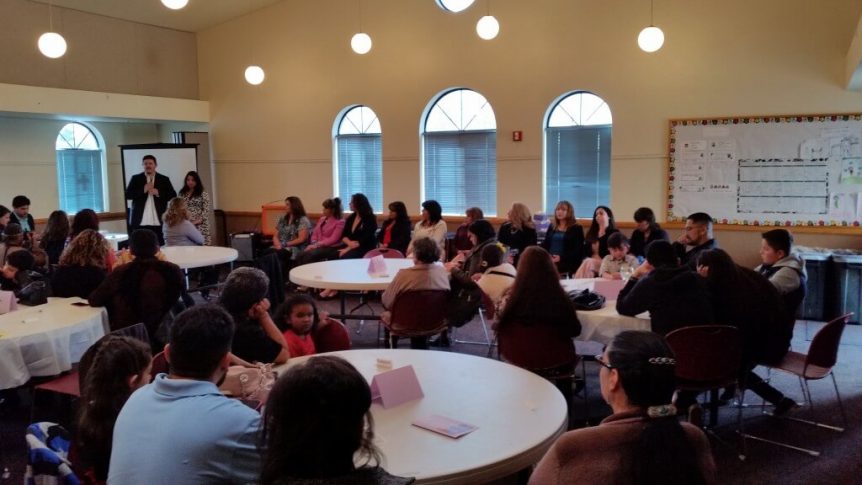 Este pasado Enero 2016 Enlace Comunitario estuvo de manteles largos.
Enlace Comunitario es una organización sin fines de lucro liderada por mujeres latinas que promueve la justicia social desde Albuquerque, New Mexico. Su misión es eliminar la violencia doméstica en las comunidades latinas inmigrantes.
Es por eso que año con año capacita a mujeres de la comunidad latina para eliminar la violencia doméstica en nuestra comunidad, y este año no fue la excepción; nos tocó estar presentes y ser testigos de la "Graduación de Promotoras de Enlace Comunitario 2015".
Un evento de lo mas emotivo que se desarrollo en la "Mesa Presbyterian Church", la cual conto con la presencia de familiares y amigos de las recien graduadas, asi como de invitados especiales.
La ceremonia inicio con unas cálidas palabras de bienvenida expresadas por Antoinette Sedillo Lopez quien es la Directora ejecutiva de Enlace Comunitario exhortando a las recién graduadas a continuar fortaleciendo esta causa tan noble, enseguida pasó al estrado Jessica Villanueva Terapeuta en Enlace Comunitario donde expresó su orgullo y felicidad por las recién graduadas, enseguida se hizo presente la coordinadora del proyecto de promotoras Ana López la cual hizo una reseña del trabajo realizado asi como una descripcion de la personalidad de cada una de ellas haciendo notar la camaradería y compañerismo de este grupo, después de esto Sandro Anguiano quien es el coordinador del proyecto de promotores y facilitador del taller "entre amigos" también dio palabras de aliento a las recién graduadas, tambien estuvo presente Idalia Lechuga Tena, actual representante Estatal del distrito 21 felicitando a estas esforzadas mujeres asi como ofreciendo su ayuda y consejo en caso de que alguna de ellas quiera continuar en el ambiente político.
Mención especial el discurso del Dr. W. Azul La Luz, en el cual relató algunas de sus experiencias a lo largo de su vida exportando a las recién graduadas a seguir adelante poniéndose él mismo como ejemplo de que si él logró vencer los obstáculos tan duros que tuvo ellas lo pueden hacer también.
Después de estos emotivos discursos procedieron a la entrega de diplomas a las graduadas siendo estas: Ana Adriansen, Anabel Derma, Juana Chicas, Claudia Delgado, Rosa Cardenas, Claudia Garcia, Monica Ramirez, Rosalba Ramirez, Luz Romero, Leticia Sierra y Patty Vargas.
Felicidades promotoras recién graduadas, Felicidades "Enlace Comunitario", sigan con esta labor tan loable y humanitaria en pro de una comunidad libre de violencia.
---
This past January 2016 Enlace Comunitario went all out. Enlance Comunitario is a non-profit organization led by Latina women. This organization promotes social justice in Albuquerque, New Mexico. Their mission is to eliminate domestic violence in the Latino immigrant community.
That is why every year, they empower women in the Latino community to end domestic violence in our community. This year was no
exception, we were present and witnessed the "Graduacion de Promotoras de Enclace Comunitario" (Graduation of Promoters of Enlace Comunitario 2015). This is a very emotional event that developed in the "Mesa Presbyterian Church", where the family members and friends of the newly graduated came together, as well as special guests.
The ceremony began with welcoming few words from Antoinette Sedillo Lopez, who is the Executive Director of Enlace Comunitario, for to the newly graduated to continue strengthening this noble cause. Immediately stepped to the podium Jessica Villanueva Terapeuta in Enlace Comunitario where she expressed her pride and happiness by the newly graduated students. Next was the Coordinator of the project's promoters Ana Lopez which gave an overview of work done as well as a description of the personality of each one of them, noting the friendship and companionship of this group. After this Sandro Anguiano who is the Coordinator of the project promoters and facilitator of the workshop "between friends" also gave words of encouragement to the newly graduated. Idalia Lechuga Tena, current representative State of the district 21, also attended and congratulated these hard-working women as well as offering their help and Council, if any of them want to continue in the political environment.
Special mention in Dr. W. Azul La Luz's speech, in which he tells some of the stories of their experiences throughout his life he encouraged the newly graduates to continue is the same as an example of that if achievement overcome obstacles so hard that had them can do you also.
After these emotive speeches proceeded to the awarding of diplomas to the graduates are: Ana Adriansen, Anabel Derma, Juana girls, Claudia Delgado, Rosa Cardenas, Claudia García, Mónica Ramírez, Rosalba Ramirez, Luz Romero, Leticia Sierra and Patty Vargas.
Congratulations to the recent graduates. Congratulations Enlance Comunitarion, continue with this work so praiseworthy and humanitarian for a violence-free community.