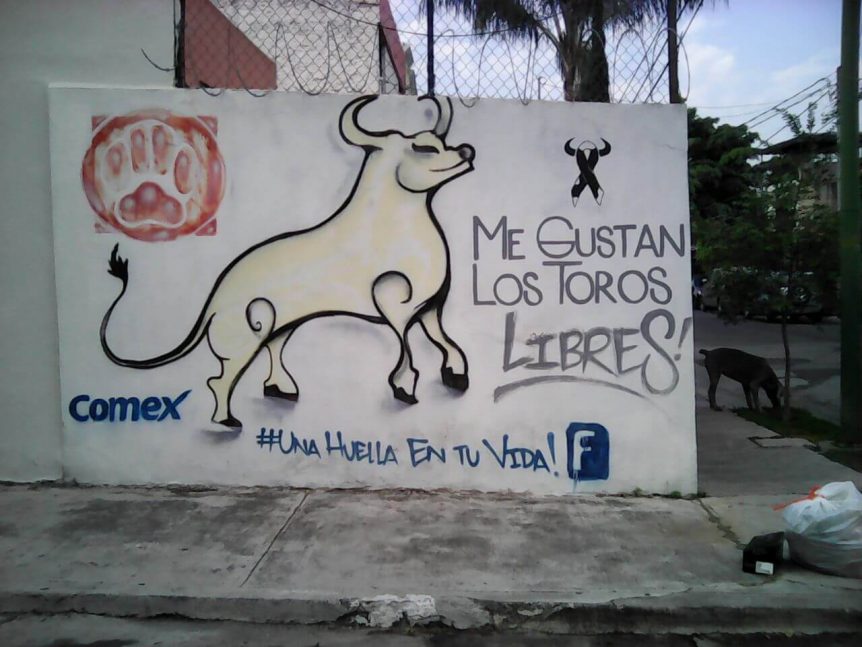 Una Tarde En Ciudad Juarez
Nuestro reportero comunitario, Manuel Sanz, de Tu Voz Digital viajo a Cd. Juárez, Chihuahua. En su tiempo ahí pudo realizar esta nota sobre las corridas de toros que son muy famosas y populares en Mexico. Manuel nos relata esta narrativa enfocada en las particularidades de este espectáculo y sobre grupos que están luchando para eliminar esta practica. Publicado por John Acosta.
Viernes por la tarde, estaba hospedado en un hotel en el centro de Cd. Juárez; recién había estado con el dentista y sentía los estragos de la sesión, decidí ir a caminar un rato por las calles para reconocer la ciudad.
Vi unos señores con uniformes muy modestos y colgada en el pecho una identificación, cargaban una franela en la mano, al principio no los reconocí, luego me di cuenta que eran los famosos franeleros -personas que te guían e indican donde puedes estacionar tu auto-, al parecer éstos eran de los buenos, ya que te guiaban a estacionamientos privados , porque hay los malos que reservan la vía pública con una silla, escoba, bote, lo que se pueda para evitar que te estaciones hasta que no les des un pago por ello. ¿A qué se debe este bullicio de autos, gente, franeleros? me pregunté mientras seguía caminando, cuando al torcer en una esquina me dí cuenta de que estaba muy cerca de la plaza de toros y esa noche ¡había corrida!.
La curiosidad me atrajo y me encaminé hacia allá, era todo un espectáculo ver a la gente, los vendedores callejeros ofreciendo enchiladas, tacos, refrescos; otros puestos vendiendo botas de vino, habanos, sombreros, golosinas y semillas de calabaza con y sin mantequilla "cómprelas aquí, porque adentro son más caras…" pregonaban.
Gran cartel, se presentaba el rejoneador Pablo "Hermoso" de Mendoza acompañado por Arturo Macias y Antonio García "El Chihuahua." Me llamó la atención la gente que entraba a la plaza, era variopinta, había los que se les notaba su ropa humilde, inclusive de trabajo, así como los que iban con sus mejores galas, mujeres muy guapas con botas y pantalones de cuero, chaquetas de piel, sombreros acorde con la ocasión y si no llevaban los podían comprar ahí; el sistema tocando pasodobles muy conocidos, mucho bullicio, mucha fiesta; "fiesta brava".
Pero frente a la entrada principal había otro tipo de personas a las que miraban extrañados, no tenían por qué estar ahí, no cuadraban con el ambiente; gritaban, protestaban. Uno con altavoz invitaba a no entrar, otros mostraban la palma de la mano manchada en color rojo, simulando sangre, la sangre del toro.
Eran los defensores de los animales protestando por la crueldad de este espectáculo.
Y yo ahí, hacía un recuento de lo que había visto desde que salí del hotel, caminando por esas calles del centro llenas de baches, de construcciones abandonadas, de construcciones derruidas, de banquetas destruidas, de edificios descarapelados. La señora con su hijo de escasos cuatro años vendiendo en la calle semillas de calabaza "cómprelas aquí, porque adentro son más caras…"
El ocaso hacía la escena más surrealista, ¿a esto se refieren cuando hablan de realismo mágico? me pregunté al ver a la gente entrar a la plaza, monumento de la crueldad humana, mujeres disfrazadas de María Félix comprando sus habanos, hombres disfrazados de ricos hacendados, la señora y su hijo vendiendo semillas de calabaza "cómprelas aquí, porque adentro son más caras…"
Pablo "Hermoso"de Mendoza con sus caballos feliz de estar ahí, el toro, no tanto. Las dos caras de una misma moneda llamada sociedad.
---
An Evening In The City of Juarez
Our community reporter, Manuel Sanz, of Tu Voz Digital traveled to the city of Juarez, Chihuahua. In his time there he was able to work on this story about the bullfights that are very famous and well known in Mexico. Manuel describes this in his narrative which focuses on particularities of this spectacle, and he also talks about how there are groups that are fighting to eliminate this practice. Published by John Acosta. 
It was Friday in the evening and I had been staying at my hotel room in the center of the city of Juarez; I had recently visited the dentist and I was feeling the impact of the session, but I decided to walk the streets for a bit, in order to get more acquainted with the city.
I saw some men that were wearing very modest uniforms and some identification was hanging around their neck. They were carrying a flannel around in their hands, at first I did not recognize them, but soon I realized that they were the famous franaleros -workers who guide you and indicate you in where you can park your auto-, it seemed like these men were of the honest type because they would guide you towards private parking. The dishonest types usually reserve public roads with a chair, broom, receptacle, or whatever they can so that you can avoid parking until you pay them. I then asked myself while I was walking, "What is the reason for all of this hustle and bustle, so many vehicles, franeleros?" I turned the corner and realized that I was extremely close to a bull ring, and tonight there was a bullfight.
The curiosity got the best of me and I started to walk towards the bull ring, it was a complete spectacle to see all of the people, to see street vendors selling enchiladas, tacos, drinks; there were also other sellers selling boots, wine, cuban cigars, hats, sweets, pumpkin seeds with and without butter, "buy em here because inside they're too expensive." They announced.
There was a great poster that read, presenting the bullfighter, Pablo "handsome," de Mendoza accompanied by Arturo Macias and Antonio Garcia, "El Chihuahua." The people that were walking into the plaza drew my attention, the were diverse, there were people that were dressed very modest, even work clothes, and there were people that were dressed to the nines including good-looking women with leather boots and leather pants, leather jackets, hats according to the occasion and if they didn't take any they could buy them there. The sound system was playing dances that were very well known. There was a lot of noise. There was a lot of partying; there was a wild party.
But close to the front of the main entrance there were people that seemed like they did not fit with the environment. They looked puzzled. They shouted. They protested. A person on a loudspeaker was yelling for people not to enter. Others showed their palms of their hands stained with the color red, simulating blood, the blood of the bull.
They were animal rights advocates protesting against the cruelty of this event. And I was just there, recounting what I had been seeing since I came out of the hotel, walking the streets of the center, full of potholes, abandoned constructions, destroyed constructions, demolished sidewalks, buildings with peeled paint. A lady with her son that was maybe about four years old selling pumpking seeds, "buy em here because they're much more expensive inside…"
The sunset painted the scene as more surreal, is this what they were referring when talking about magical realism? I asked myself as I saw people enter the bullring, a monument of human cruelty, ladies dressed as Maria Félix, buying her cuban cigars, men dressed as rich landowners, the lady and her son selling pumpkin seeds "buy them here because they're much more expensive inside…"
Pablo "Handsome" de Mendoza was with his horses happy to be there, the bull, not as much. The two sides of a same coin called society.