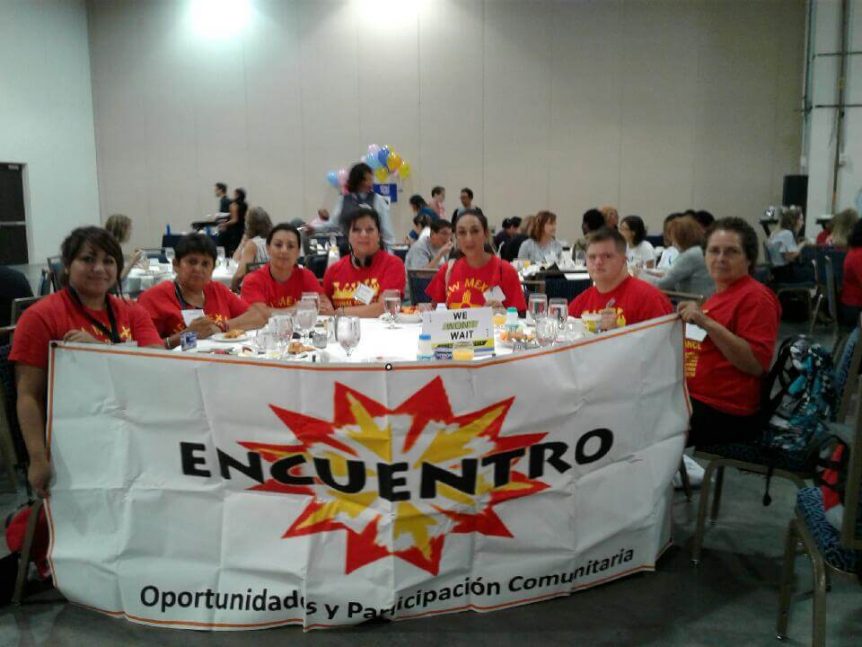 Luchando Por Las Trabajadoras Del Hogar
La señora Ana Maria Mora de 71 anos de edad estudia para su clase de ayudantes del cuidado de la salud a domicilio (HHA por sus siglas en ingles.)
Ella se va al sitio Blackboard para accesar todos los materiales de estudio para la clase. Los estudiantes tienen pruebas, y ella se tiene que
preparar para la siguiente. "Quiero hacer una carrera de esto," Mora dijo. "Yo se que me estoy poniendo mas vieja pero pienso que es importante seguir aprendiendo y luchar por algo mejor."
La clase de HHA, la cual fue creada por Encuentro y esta siendo ofrecida en Central New Mexico (CNM). Según CNM la clase "prepara a estudiantes en dos niveles: un entrenamiento fundamental para ayudantes de trato personal, y entrenamiento mas avanzado para ayudantes del cuidado de la salud a domicilio y la finalización del programa cumple o excede con lo que exige el Departamento de Nuevo México por cada nivel de entrenamiento."
"(La clase)Comenzó porque Andrea Plaza, la directora de Encuentro, quería ver como podía ayudar a todos los adultos que vienen…a los varios programas que tienen aquí…realmente ayudarles mover con más herramientas mientras están mejorando su inglés…que eso transfiera a habilidades en el trabajo…conseguir mejores trabajo porque tiene mas habilidades."  dijo Leah Steimel, consultante en el proyecto de ayudante para la salud en el hogar. "Estuvimos hablando con mujeres y vimos que este tipo de trabajo ya lo están haciendo pero muchas de ellas no tienen el entrenamiento suficiente. Por eso es importante esta clase." 
https://soundcloud.com/encuentro-382148369/lucero-tovar-entrevista-a-leah-steimel-de-hha
La clase de HHA esta abierta para todos pero la mayoría de estudiantes que entran son mujeres dijo Iliana López, Coordinadora de Programas y Organizadora de los Trabajadores Domésticos. Encuentro forma parte de la Alianza Nacional de Trabajadoras del Hogar entonces también estamos utilizando esta clase como una manera de construir líderes que abogan por los derechos laborales para las mujeres. Alianza Nacional de Trabajadoras del Hogar
Alianza Nacional de Trabajadoras del Hogar
Según el sitio de la Alianza Nacional de Trabajadoras del hogar (NDWA por sus siglas en ingles) la NDWA es la voz principal de dignidad y justicia por los millones de trabajadores domésticos en los Estados Unidos, la mayoría que son mujeres. 53 organizaciones afiliadas, Encuentro es una de esas organizaciones. El NDWA es formado por mas de 20,000 niñeras, amas de casa, y cuidadores de personas de la tercer edad en 36 ciudades y 17 estado según su sitio.
"El Centro y Encuentro forman parte de la alianza por que apoyamos la misión de mejorar las protecciones laborales para los trabajadores domésticos," dijo Claudia García, Organizadora Comunitaria de El Centro De Igualdad y Derechos. "Vemos este tema afectando a muchas de nuestras mujeres en nuestra comunidad inmigrante.
Según el sitio de NDWA, 95% de trabajadores domésticos son mujeres y 47% son inmigrantes.
"Yo limpio casas, y he visto el tipo de abuso que tenemos que confrontar," García dijo. "Y es por eso que fuimos
a luchar en Washington."
Asamblea Nacional de la Alianza Nacional de Trabajadoras del Hogar 2016
Graduadas de HHA, Jessica Casas y Maria Valdez viajaron a la Asamblea Nacional de la Alianza Nacional de Trabajadoras del Hogar 2016 desde el 17 de septiembre al 20 de septiembre. Ahí se reunieron con sienes de trabajadores domésticos de todo el país.
Varias otras mujeres también estuvieron presente en nombre de Encuentro y El Centro de Igualdad y Derechos. La mujeres que fueran a representar eran Liliana Reyes, Fermina López, Diana Bustillos y Claudia García.
Según el NDWA El foco de la asamblea era "crear comunidad, construir poder, y alinear las estrategias para nuestro movimiento," según NDWA.
"En Albuquerque he visto mucho maltrato en la comunidad de trabajadores domésticos incluyendo robo de salario y discriminación," García dijo. "Y eso es lo que hablamos en la asamblea…hablamos del trato human, y la necesidad para igualdad económica para todos."
"Es consolador ver a tantas mujeres luchar por lo que merecemos," dijo García. "Creo que estamos dando pasos grandes para nuestras mujeres aquí en Albuquerque, que este siendo respaldada la clase de HHA por un colegio acreditado enseña que estamos logrando mas y mas, pero no podemos conformarnos. Esto es sólo una victoria. Tenemos que seguir luchando por la inclusión completa."
---
Fighting for 'Trabajadoras del Hogar'
71-year-old Ana Maria Mora studies for her Home Heath Aide class at Encuentro, a nonprofit organization focused on education and social justice. Although her ESL 1 class just ended her day has just begun. She only has a short time to study because she has to go to her housekeeping job soon. I have to plan my time wisely she says.
She goes on the blackboard website to access all of the study materials for her class. The students are quizzed, and she is preparing herself for the next one.
"I want to make a career out of this" Mora said. "I know I'm getting older, but I think it's important to keep learning and fight for something better."
The class that she is taking is a Home Health Aide class which was created by Encuentro and is being offered at Central New Mexico Community College(CNM).  According to CNM the class "prepares students at two levels: a foundational training for Personal Care Assistants and more advanced training for Home Health Aides, and completion of the program meets or exceeds the New Mexico Department of Health requirements for each level of training."
"(The Class) was created because Andrea Plaza, the director of Encuentro, wanted to see how we could help all the adults here..that are enrolled in the programs here … and allow them to move with better tools … which transfer to job skills … to get better jobs because they have advanced skills. "said Leah Steimel, Home Health Aide consultant. "We were talking to women and found that they were already doing this type of work, but many of them did no have sufficient training. That is why this class is important."
https://soundcloud.com/encuentro-382148369/lucero-tovar-entrevista-a-leah-steimel-de-hha
Home Health Aide is open for all, but the majority of students that enter the class are females said Iliana Lopez,  Encuentro's Programs Coordinator & Domestic Worker Organizer.  Encuentro is a part of the National Domestic Workers Alliance so we're also utilizing this class as a way to build leaders that advocate for worker rights for women."
National Domestic Workers Alliance
According to the National Domestic Worker Alliance website The National Domestic Workers Alliance (NDWA) is the nation's leading voice for dignity and fairness for the millions of domestic workers in the United States, most of whom are women.
The organization was founded in 2007 and is powered by 53 affiliate organizations, with Encuentro being one of them. The NDWA is also comprised of over 20,000 nannies, housekeepers, and caregivers for the elderly in 36 cities and 17 states according to their site.
"El Centro and Encuentro form part of the alliance because we support the mission of improving labor protections for domestic workers," said Claudia Garcia, El Centro De Igualdad y Derechos community organizer. "We see this issue affecting a lot of our women in our immigrant community."
According to the NDWA website 95 percent of domestic workers are women, and 46 percent of domestic workers are immigrants.
"I am a housekeeper, and I've seen the type of abuse we face," Garcia said. "Which is why we went to fight in Washington."
National Domestic Workers Alliance 2016 National Assembly
HHA graduates Jessica Casas and Maria Valdez traveled to the National Domestic Workers Alliance 2016 National Assembly from September 17th – 20th. Here, they met with hundreds of domestic workers from the country.
Several other women representing Encuentro and El Centro De Igualdad y Derechos were also present at the assembly including Liliana Reyes, Fermina Lopez, Diana Bustillos and Claudia Garcia.
The focus of the assembly was to "foster community, build power, and align on strategies for our movement," according to NDWA.
"In Albuquerque I've seen a lot of mistreatment in the domestic worker community including wage theft and discrimination," Garcia said. "And that's what we talked about in the assembly…we talked about the human treatment, and the need for economic equality.
"It's comforting to see so many women fighting for what we deserve," Garcia Said. "I do think we are making strides for our women in Albuquerque, the HHA class which is being backed up by a College institution validates that we are being recognized, but we can't get comfortable. That is just one win. We have to keep fighting for full inclusion."