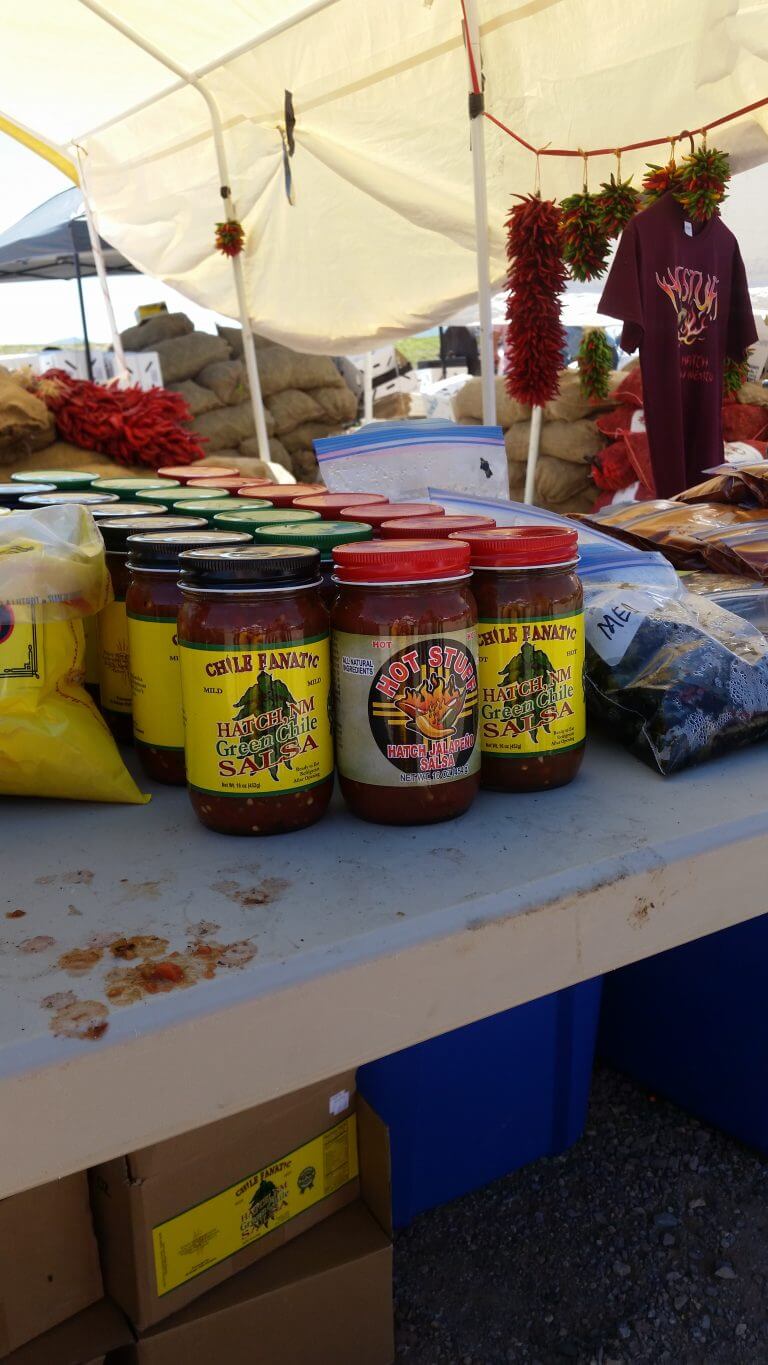 Periodistas Comunitarios de Tu Voz Digital, Manuel Sanz y Mario Aguilar viajaron a la ciudad de Hatch, Nuevo México en donde se estaba dando acabo la fiesta anual de la fiesta de chile. Mario y Manuel estuvieron ahí cubriendo el evento para esta nota.
El pueblo de Hatch, Nuevo Mexico es conocido por su delicioso chile y su floreciente comunidad agricultural. Anualmente se celebra la fiesta de chile en el pueblo la cual atrae a mas de 30,000 personas de Estados Unidos y de todo el mundo.
"La gente le encanta. De hecho vienen de muchos países. Me han tocado de Tokyo, de Europa, De Canada, de hecho las personas de Europa dijeron que lo miraron en el internet y vinieron a Estados Unidos nada mas para la fiesta del chile," dijo  Lucy Mancara y Maria Buñuelos, participantes de la fiesta.
Según el Departamento de Agricultura de Estados Unidos la cosecha anual de chile es valorada a $65 million de dólares y eso es simple el comienzo de las ganancias económicas. Cuando el chile es vendido en tiendas, restaurantes el valor se multiplica sobrepasando un valor de $400 millones según la asociación nueva mexicana de chile.
Con ganancias así uno pensaría que habría una demanda para los granjeros del chile que traen el producto a las mesas pero dice productor de chile, Jose Soto, que se batalla para encontrar trabajadores.
"Hay mucho trabajo. Todos empiezan al mismo tiempo y toda la gente batalla por trabajadores." dijo Soto. "Hemos tratado de buscar nosotros. Tenemos clientes en Utah que nos compran y él lleva trabajadores a Salt Lake City Utah no mas con el puro permiso. Le piden mas requisitos a él. Tiene que darles casa, tienes que pagarle poco mas, pero si podríamos hacer eso nosotros nos ayudaría mucho."
El programa el de que habla Jesús es el programa de trabajadores H-2A. El cual permite a empleadores Estadounidenses que cumplen con los requisitos reglamentarios y específicos para llevar a nacionales extranjeros a los Estados Unidos para realizar trabajo temporal en el campo. El tiempo que se pueden estar los trabajadores son tres años.
Empleadores tienen que verificar con el servicio de Ciudadania e Inmigración de Estados Unidos que los trabajos son temporales y que no tienen suficientes trabajadores Estadounidenses que son capaces, dispuestos, calificados, y disponibles para hacer este trabajo temporal.
Soto dice que la mayoría de las personas que contrata son Mexicanos, porque Americanos no quieren hacer este trabajo.
"Se necesita…se necesita. Aquí la mayoría del Méxicano anda en el field. Andan los muchachos. No se mira un Americano pero es duro," Soto dijo.
El otro programa, H-2B, permite a empleadores Estadounidenses llevar a extranjeros nacionales a los EE.UU. para cubrir puestos de trabajo temporales que no son para agrícolas.
Según la Oficina de Rendición de Cuentas del Gobierno de los EE.UU más de 250,000 trabajadores extranjeros entraron en los EE.UU. a través de ambos programas de visa a partir de 2009 hasta 2013."
¿Pero qué pasa si no hay suficiente mano de obra en la cosecha? Buñuelos dice que se desperdicia el campo.
"Se les hecha perder un field," Buñuelos dijo.
Pero aun así programas como el H-2A y el H-2B dejan muchos problemas para el trabajador como robo de salario y condiciones de vida deplorables.
Una posible solución para este problema de explotación del trabajador sería una reforma federal de inmigración integral.
---
For The Love of Chile
Community journalists, Manuel Sanz and Mario Aguilar of Tu Voz Digital  traveled to the city of Hatch, New Mexico for the Annual Chile Festival Mario and Manuel were there covering the event for this story.
The village of Hatch, New Mexico is known for its delicious chili and thriving agricultural community. Every year the Annual Chile Festival attracts more than 30,000 people in the US and around the world.
"People love it (The festival). In fact many come from many countries. I have seen people from Tokyo, Europe, Canada, in fact, the people that came from Europe said they looked for information online and came to the United States for nothing more than the chile festival , "said Lucy Mancara and Maria Buñuelos, participants of the Chile Festival.
According to the United States Department of Agriculture the annual chile harvest is valued at $65 million dollars, and that's just the beginning of economic gains. When chili is sold in stores or restaurants the value multiplies exceeding a value of $400 million according to the New Mexico Chile Association.
With profits like that one would think there would be a demand for chili farmers who bring the product to tables but Jose Soto who is a producer of chile says he struggles to find workers.
"There is a lot of work. They all start at the same time and all the people battle for workers." Soto said. "We have tried to find workers ourselves. We have customers in Utah who buy from us and he leads workers to Salt Lake City Utah only with a permission. They ask him for more requirements. You have to give (the workers) home, you have to pay them a little more, but if we could do that we would help us a lot. "
The program that Jesus is talking about is the H-2A program – which allows U.S. employers to meet specific regulatory requirements to bring foreign nationals to the United States to perform temporary work in the field. The maximum time workers may stay in the U.S. are three years.
Employers must verify with United States Citizenship and Immigration Services that the jobs they are seeking to fill are temporary and that they do not have sufficient US workers who are able, willing, qualified, and available for said jobs.
Soto says most of the people he hires are Mexicans, because Americans do not want to do this type of job.
"It is needed… it is needed. The majority of the workers here are Mexican. Young men. You don't see Americans, but it's a hard job. "Soto said.
The other program, H-2B, allows US employers to bring foreign nationals to the US to cover temporary jobs that are not agricultural jobs.
According to the Office of Accountability US Government more than 250,000 foreign workers entered the US through both visa programs from 2009 to 2013. "
But what if there is not enough laborers in the harvest? Buñuelos says that the field goes to waste.
"The fields go to waste" said Buñuelos.
But even programs like H-2A and H-2B leave many problems for the workers as wage theft and deplorable living conditions.
A possible solution to this problem of worker exploitations would be a federal comprehensive immigration reform.