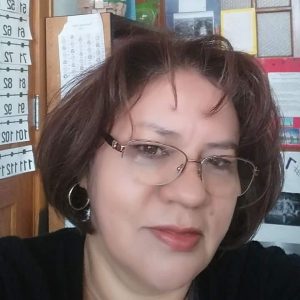 Estamos felices de anunciar a Norma Casas como la nueva navegadora de Pathways. Norma empezó con Encuentro en agosto del 2011 como maestra de guardería. Desde entonces ha sido encargada de la guardería y asistente administrativa. Norma tiene experiencia como promotora de salud cuando vivía en Denver. Esta posición que tenía por 4 años la preparo para hacer nuestra nueva navegadora de Pathways. Norma explica que, aunque extrañe el contacto con la gente que tenía como asistente administrativa, esta muy feliz porque puede ayudar a familias con más recursos y poder apoyar a la comunidad más que antes. Norma también está emocionada para seguir aprendiendo en su nueva posición.
Pueden encontrar a Norma Casas nuestra nueva navegadora de Pathways aquí en Encuentro.
[email protected]
505-247-2920
---
We are excited to announce Norma Casas as our new Pathways navigator. Norma started working with Encuentro in August 2011 at childcare and after was the administrative assistant. Before Norma worked in Encuentro, she was a health promoter for 4 years in Denver, Colorado. This position prepared her to be our new Pathways navigator. Norma explains that even though she misses the one-on-one interaction she had with the members of Encuentro, she is excited to help families with more resources and support the immigrant community more than before. Norma is also excited to keep learning in her new position, which she started in early October.
You can find Norma Casa, our new Pathways navigator here at Encuentro.
[email protected]
505-247-2920