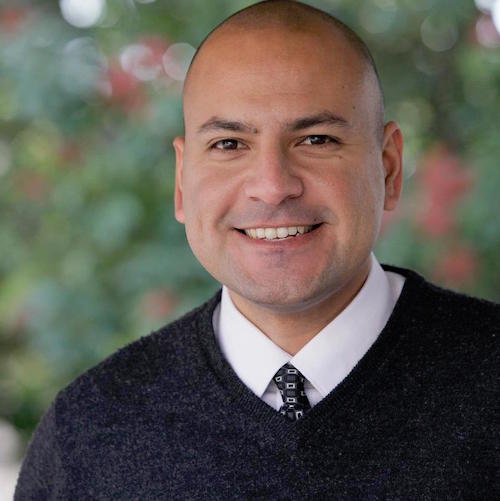 Jason Aleman, Ph.D. Es el nuevo director asociado en Encuentro. Jason nació en una familia de granjeros inmigrantes en Kingsville, Texas. Jason tiene una larga historia trabajando con organizaciones comunitarias de base Latino inmigrantes. Su trabajo empezó después de graduarse de la preparatoria, Jason se mudó a San Antonio creyendo que podría ser un maestro. Fue atraído por las escuelas en los barrios donde pensó que podría proveer apoyo. Jason pronto aprendió que hay demasiada presión en enseñar, para aprobar un examen y se vuelve muy difícil el esperar que los estudiantes aprendan en sus clases básicas, cuando tienen hambre, no han dormido lo suficiente, o tienen problemas en casa. Teniendo este tipo de experiencias con los estudiantes, Jason se sintió obligado a trabajar fuera de los salones de clase para ayudar a la comunidad que él tanto quería, se fue a la Universidad de Austin, donde se graduó y recibió su Licenciatura en servicios sociales, todo esto lo hizo con el objetivo en mente de regresar al mismo vecindario de donde salió. para hacer organización comunitaria y desarrollo organizacional para organizaciones sin fines de lucro. Mientras hacía esto continuó con su educación, encontrando un programa con un doctorado que combinaba su pasión por la educación,la organización comunitaria y el desarrollo organizacional. Encontró todo esto en San Marcos, Texas en la pequeña universidad donde pudo desarrollar su propia agenda de investigación y habilidades para trabajar con la comunidad latino inmigrante.
Se enfocó en la formación de la identidad latina, especialmente en padres jóvenes latinos que conoció en San Antonio. Después de recibir su Doctorado, se unió a organizaciones tales como La Asociación de servicios Familiares y la Red de jóvenes en Philadelphia. Eventualmente, Jason se mudo a vivir en Nuevo Mexico porque extrañaba a sus hijos que vivían en Albuquerque, "Jason dice que está feliz de vivir aquí y poder proveer cualquier recurso y habilidad que fue capaz de aprender durante el paso de los años y así poder apoyar a Encuentro en su misión" Jason compartió con el personal de Encuentro, en un nivel muy personal que "su meta para los siguientes 6 meses es conocer a la comunidad y aprender de los programas que provee la organización, así como aprender Espanol." Él está tratando de hablar espanol con todos " y todos han sido pacientes y amables con un extraño que no habla bien el lenguaje, pero esta preparado con habilidades que ellos saben que puede fortalecer la organización, "Jason compartió que cuando sus padres asistieron a la escuela en los Estados Unidos no se les permitía hablar español, por consecuencia cuando él y sus hermanos nacieron el español no era un idioma que se hablara en casa".
Jason buscaba  un trabajo en internet y encontró a Encuentro. Mientras revisaba la página de internet de Encuentro, Jason se sintió identificado con la misión, el personal y la comunidad. El piensa que puede cumplir con las necesidades de Encuentro, las cuales son investigación y desarrollo organizacional. "La comunidad de Encuentro está aquí para aprender y trabajar y yo quiero ser parte de esto", Jason está aquí no solo para para proveer recursos, sino también para hablar de investigación, evaluación y empezar así una conversación en cómo expandir nuestra misión y hablar de cómo lucen los siguientes 3 años de Encuentr. Jason estará supervisando el plan financiero y asegurándose que la organización sigue su misión mientras crecemos.
"Entonces porque estoy aquí? Creo que es porque me gusta este trabajo y me enamore de la organización"
---
Jason Alemán, Ph.D. is the new associate director at Encuentro. Jason was born to migrant farmworkers in Kingsville, Texas. Jason has had a long history of working with community organizations based on Latino immigrants. Starting right after graduating high school, Jason moved to San Antonio and thought he wanted to be a teacher. He was really drawn to the barrio schools so he could attempt to provide support there. Jason quickly learned that there is so much pressure to teach to a test and it became really hard to expect students to do basic school assignments when they were hungry or hadn't slept, and having issues at the house. Having these experiences with students, Jason felt compelled to work outside the classroom to help the community that he loved so much. He went to graduate school and got his master's in social work at the University of Texas in Austin. He did this with the mindset to go back to that same neighborhood to do community organizing and organization development for nonprofits. While he was able to do this he was still drawn to further his education. He was able to find a doctoral program that allowed him to combine his both of his love for education, and community organizing. He found this at San Marcos, Texas at a small university where he was able to develop his own research agenda and skill sets to work with Latino community.
He focused on Latino identity formation especially for young latino fathers that he had met in San Antonio. After getting his doctorate, he joined organizations such as Family services Association and Philadelphia Youth Network. Eventually, Jason came to live in New Mexico simply because he missed his kids as they live here in Albuquerque Jason says "I'm so happy to be here and provide any kind of resources and skill set that I was able to collect over the years and support Encuentro in its mission." As Jason shared with Encuentro's staff on a very personal level "my goals for the next 6 months are to meet the community, learn the program of the organization, and learn Spanish." He is trying to speak Spanish with everybody "and everybody has been so patient  and so welcoming to an outsider that doesn't speak the language well but is equipped with skill sets that I think they know will value the organization." Jason shared that when his parents went to schools in the United States the Spanish was beaten out of them, so by the time he and his siblings came around Spanish was not spoken in the house.
Jason looked for a job on the internet and found Encuentro. As he looked through Encuentro's website Jason related and liked the mission, the staff, and the community. He thinks he is a good fit for what Encuentro needs which is research and organization development. "Encuentro's community is here to learn and work and I wanted to be part of that". Jason is here to focus on not only providing resources but to talk about research and evaluation and start conversations about how we are we extending our mission and talk about what the next 3 years look like for Encuentro. Jason oversees this plan making financially and making sure the organization stays on the mission while expanding the organization.
"So why I am here I think is because I love this work and I have quickly fallen in love with the organization"