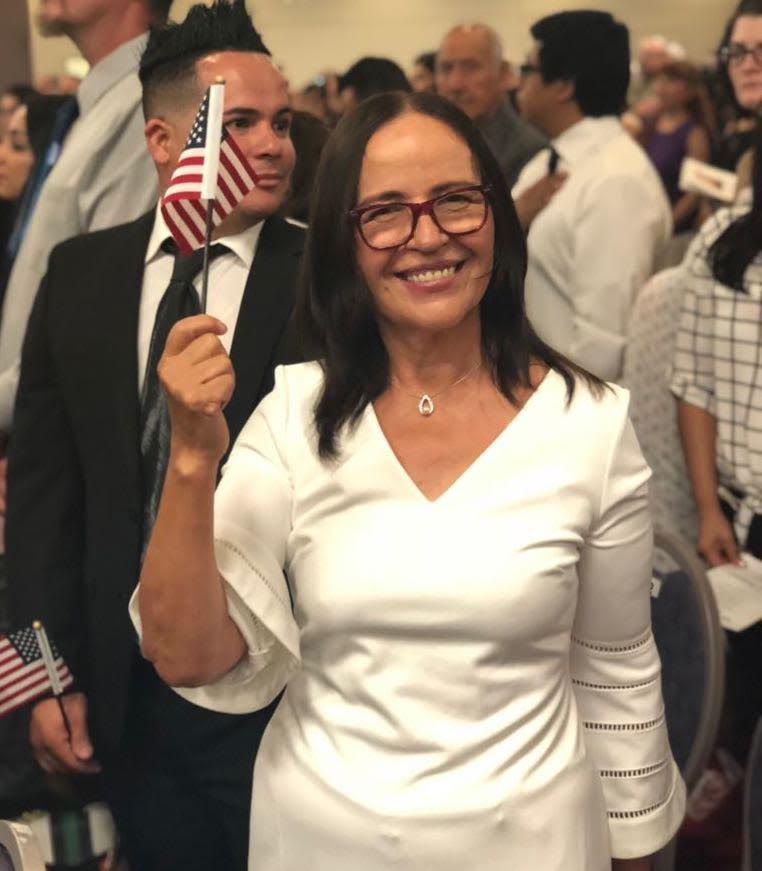 Encuentro, Un Aliado en el Camino del Inmigrante/Encuentro, an Ally in the Immigrant's Path
Español.- 
Encuentro ofrece sus clases de Educación Adulta como una opción en respuesta a las necesidades de nuestros inmigrantes Latinos, además de apoyarlos a llevar una vida digna en este país. Por ejemplo: aprender el idioma inglés, lograr una visión de autosuficiencia para la familia, obtener confianza y considerar la opción de algunas carreras, conocer sus derechos. Estos son algunos motivos por los que Encuentro existe.
Pero Encuentro no es solo una escuela, es una comunidad que da espacio de participación y validez a la vida individual del inmigrante. A través de los años sus clases han tomado un carácter de utilidad en la vida y visión hacia el futuro.
Para poder explicar esto, vamos a compartir la experiencia de Lupita, quien ha sido estudiante de Encuentro por más de cinco años. Ella vive con su hija y su nieto formando una familia. Ella ayuda a cuidar al niño mientras su hija trabaja y contribuye un poco en los gastos de la casa con su retiro.
Lupita comenzó participando en la clase de Nutrición con el maestro José Reyes, y después se registró en la clase de Finanzas con la maestra Barbara Lopez. "Quería aprender sobre mi salud y manejar mi dinero", dice Lupita. "Soy retirada y no es que tenga mucho dinero. Simplemente quería ser capaz de administrar lo que recibo mensualmente lo mejor posible. Me di cuenta que Encuentro tenía otras clases y después de pensarlo me atreví a tomar la de inglés básico, y esto me dió el valor de tomar un semestre de ciudadanía, y me hice ciudadana de E.U.", dice Lupita con mucha satisfacción.
En lo que está más agradecida es en su proceso de ciudadanía. Menciona que se sentía bastante insegura, incluso intimidada para llenar las formas de solicitud. "Pero los abogados de New Mexico Immigrant Law Center, que vienen los miércoles a Encuentro, me ayudaron a llenar las formas sin ningún costo", continúa Lupita. No pagó ningún servicio de abogado, solo la cuota que cobran los Servicios Federales de Naturalización e Inmigración por la aplicación de ciudadanía.
"Bueno, ya que me hice ciudadana quise ver qué más podría aprender en Encuentro. Pues tomé la clase de 'Cuidados de Salud en el Hogar'", también nos comparte Lupita.  Su motivación para esta clase fue que tiene padres de la tercera edad y quería estar al tanto de ellos en caso de que necesitaran atención. Pero no descarta la posibilidad de trabajar en este campo.     
Ahora Lupita se ha registrado para tomar entrenamiento en periodismo comunitario que Encuentro ofrece a través del grupo 'Tu Voz Digital', y recomienda: "Aprovechen todos los recursos que Encuentro ofrece, y sean perseverantes. Pregunten sobre las clases y otros servicios que dan. Con Norma, la Navegadora de Salud, recibí una prescripción de anteojos incluyendo el examen visual sin ningún costo. Aprendes a obtener algunos recursos. Tú levantas tu autoestima cuando participas en diferentes grupos. Consigues amistades porque existe una hermandad entre compañeros aparte de los maestros. En 'Tu Voz Digital' aprendes sobre los medios de comunicación. Te enseñan lo que vale la voz del inmigrante, a ser críticos al no aceptar todo lo que se te dice". Al parecer, la comunidad que ha conocido Lupita a través de Encuentro ha complementado su proceso de vida.
Existen estudiantes que después de tomar las clases de Encuentro deciden proseguir más estudios en Central New Mexico Community College (CNM), o University of New Mexico (UNM). Refuerzan sus esperanzas al darse cuenta que tienen potencial, y se atreven a dar un paso decisivo hacia adelante.
__________________________________________________________________________________________________________________
English
Encuentro offers Adult Education classes in response to the needs of the Latino immigrant community, and to support them in leading a dignified life in this country. Such needs may be: learning the English language, building confidence in a new career, knowing their rights, and becoming self sufficient with their families. These are reasons why Encuentro exists. Encuentro is not only a school. Throughout the years it has become a safe and participatory space for the immigrant community. Classes serve the life needs of the community and help them obtain a vision to the future.
To better explain this, we will share Lupita's experience. Lupita lives with her daughter and grandson child making a family.  She takes care of her grandson while her daughter works. She also contributes a little to their home's income through her retirement.
Lupita has been a student at Encuentro for five years starting in the Nutrition class with teacher José Reyes. Afterward, she registered in the Finance class with teacher Barbara Lopez: "I wanted to learn about my health and how to manage my money", Lupita says, "I am retired, and it's not that I have a lot of money; I simply wanted to know how to administer the monthly amount I receive.  I then realized Encuentro had other classes. After thinking about it I took the basic English class. This gave me the courage to take a semester of Citizenship, and then applied and became a U.S. citizen this year. I didn't want to have any risk with my legal permanent resident status with the current president", Lupita says with much satisfaction.
What Lupita feels most pleased about is the process of obtaining her citizenship. She mentions she felt quite uncertain about applying, even intimidated by the citizenship application forms. "But a lawyer from the New Mexico Immigrant Law Center, that comes on Wednesdays to Encuentro, helped me fill the forms at no cost", Lupita continues. She only paid the amount the U.S. Immigration and Naturalization Services charge for the application.
"After becoming a citizen, I wanted to see what else I could learn at Encuentro. I then took the Home Health Care class", her motivation for this class was that she had senior parents and wanted to learn how to take care of them when needed. She also considers the possibility of employment in this area.
Lupita ends her comments saying: "I have now registered for a training on Community Journalism that Encuentro will offer through 'Tu Voz Digital', and recommends: "Take advantage of all resources that Encuentro offers, and be persistent. Inquire about their classes and other services they offer. With Norma, the Health Navigator, I obtained an eyeglass prescription, including the eye exam at no cost. You learn how to obtain certain resources. Your self-esteem goes up when you participate in their different groups, you make friends. This organization teaches you the value of the immigrant's voice", Lupita ends her comments.  The community she has met and what she has learned at Encuentro has complimented her life path in a special way.
It's common to see Encuentro students gain confidence after taking classes. Many then become CNM or UNM students. Their hopes are strengthened and they realize their potential and take a decisive step to move forward.