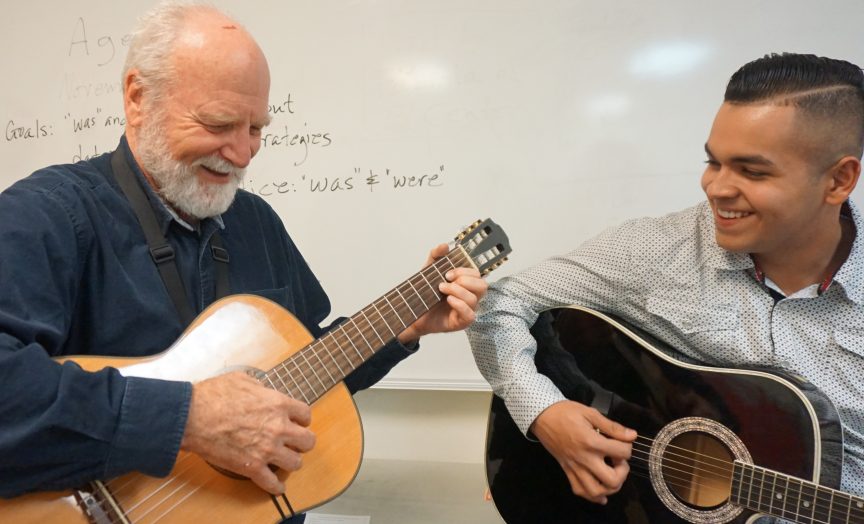 El Sueño de Mario/ Mario's Dream
Español.- 
Mario vino a Encuentro para tomar una clase de Inglés intermedio, y quiere aprender lo más pronto posible. El sabe que esto le ayudará a tener un mejor trabajo.
Hay un componente semanal en la clase que a Mario le gusta mucho, y es practicar pronunciación cantando canciones. Su maestro Larry toca guitarra, canta la letra y la clase lo sigue. Mario trae su propia guitarra y le encanta acompañar a su maestro, "Ya aprendí muchas canciones y disfruto aprender así. He hecho mucho progreso en mi escritura y en hablar inglés. Quiero mucho a Encuentro, mis maestros y mis compañeros de clase. Son mi segunda familia," dice Mario.
Mario tiene 19 años y trabaja tiempo completo. Su visión para el futuro es estudiar una carrera de técnico en plomería o electricidad, y entonces trabajar para ayudar a su familia. Con tal de tomar cursos de certificación, él sabe que el colegio comunitario le pedirá un buen nivel de escritura en inglés y hablarlo fluido. Pero Mario está determinado a lograr su sueño.  
Su donación ayuda a programas de Educación Adulta para Inmigrantes en Encuentro a realizar los sueños de personas como Mario. Usted se puede convertir en el pilar para el sueño de este joven inmigrante y optimista. Participa en Giving Tuesday/Martes para Donar, el 27 de Noviembre.
English.- 
Mario came to Encuentro to take the intermediate English class, he wants to learn English as soon as possible because he knows this will help him get a better job.
One component in Mario's class he really likes is practicing his pronunciation by singing in English. His teacher, Larry Moore, plays guitar, sings the lyrics, and the class follows along. Mario now brings his own guitar and loves singing along with his teacher. "I know many songs already and enjoy learning this way. I have done much progress in my English speaking and writing. I love Encuentro, my teachers,  and my classmates. They are like my second family," Mario says.
Mario is 19 years old and works full time. His vision for the future is pursuing a career in plumbing and electricity, then getting a job to help his family. He knows that community college classes require him to write and speak English at an advanced level in order to take any technical certification courses. He is determined to accomplish his vision.
Your contribution helps Encuentro's Immigrant Adult Education Programs accomplish the dreams of people like Mario's. You can be the pillar for the vision of this optimistic young immigrant.