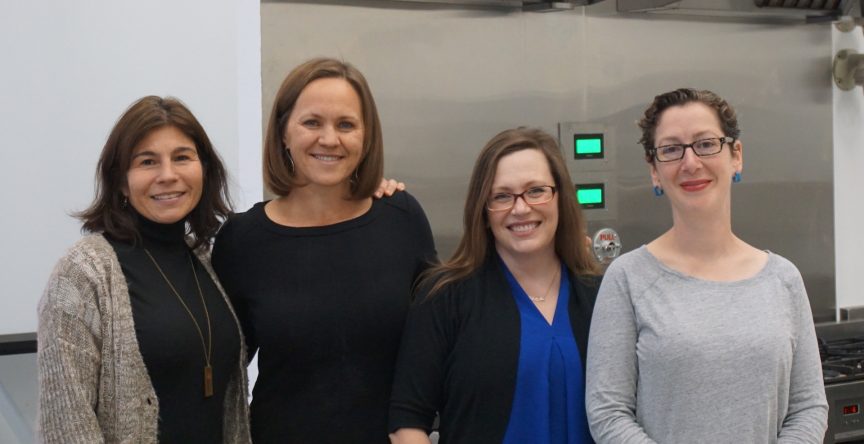 Una Colaboración muy Nutritiva: "Conectando Cosechas con Salud"/A Nutritious Collaboration "Connecting Harvest with Health"
En Español.-
Una Colaboración muy Nutritiva: "Conectando Cosechas con Salud."
Encuentro se hizo parte de un equipo colaborativo para responder al problema de hambre que viven las personas de la tercera edad en Nuevo México. Somos un estado con una de las tasas más altas de hambre entre la población de la tercera edad de la nación (Feeding America, 2016).  
Para comenzar a abordar el tema, El Departamento de Agricultura de los Estados Unidos aprobó un subsidio de $400,000 para un proyecto con el nombre de "Conectando Cosechas con Salud", y Presbyterian duplicará los fondos. Las organizaciones participantes son Presbyterian Healthcare, Three Sisters Kitchen, Meals on Wheels, y  Encuentro.
Como parte de esta colaboración, Encuentro entrenará a 135 Asistentes de Salud en el Hogar en nutrición y preparación de alimentos saludables para personas de la tercera edad. La intención es de mejorar sus habilidades en su campo de trabajo. La Directora Ejecutiva de Encuentro, Andrea Plaza, describe este proyecto como una oportunidad para ambos Asistentes de Salud en el Hogar y la Tercera Edad de bajos recursos: "Este proyecto aumentará conocimientos para Asistentes de Salud en el Hogar y sus habilidades alrededor de alimentos saludables y sus prácticas de preparación, específicamente relacionadas con la nutrición que necesitan las personas de la tercera edad. Y como resultado del entrenamiento contribuirán a mejorar su salud". Además, noventa Asistentes de Salud en el Hogar tendrán la oportunidad de participar en prácticas de servicio conjuntando al Asistente de Salud en el Hogar con una persona de la tercera edad de bajos recursos que necesite cuidado. Parte de la práctica de servicio incluirá preparación de alimentos, y proveer compañía para abordar el asunto de aislamiento que muchas personas de la tercera edad sufren, lo cual contribuye a su mala nutrición.
'Meal on Wheels' expandirá su servicio de entrega de alimentos a domicilio aumentando la cantidad de frutas y legumbres producidos localmente, promoviendo alimentos sin costo para pacientes que son parte de Presbyterian considerados de riesgo alto, y de bajo recurso. En cuatro años esta colaboración espera comprar 63,000 libras de frutas, verduras y legumbres de por lo menos diez productores locales para proveer entrega de comidas a personas de la tercera edad de bajos recursos. Existe mucho entusiasmo entre estas cuatro organizaciones por mejorar la nutrición de nuestra población de la tercera edad, y por el aumento al acceso de alimentos locales, lo cual significa un desarrollo económico para el área.  
Three Sisters Kitchen abrió un espacio en el corazón del centro de Albuquerque, 109 Gold Ave. SW, Anzia Bennett, su Directora Ejecutiva describe su rol de colaboración como "La comida es medicina. Planear y preparar los alimentos dan unión a nuestras comunidades. Estamos organizando a miembros de la comunidad a enseñar la preparación de los platillos más saludables y diversos culturalmente". Además de la cocina para enseñar, el espacio incluye un pequeño restaurante y café, y una esquina con una pequeña librería con libros para cocinar!
Encuentro está muy contento de participar en este proyecto porque provee educación adicional y oportunidades de trabajo a nuestros estudiantes graduados de Asistencia de Salud en el Hogar, mientras mejora la salud de la tercera edad, y apoya a nuestros productores locales.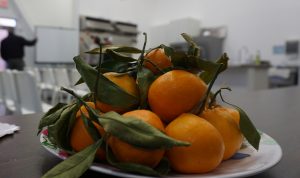 In English.-
A Nutritious Collaboration: "Connecting Harvest to Health."
Encuentro is part of an organizational partnership to address hunger problems seniors experience in New Mexico, which has one of the highest rates of senior hunger in the United States, according to Feeding America (2016).
To begin addressing this issue, the United States Agriculture Department approved a four-year, $400,000 grant for the project called "Connecting Harvest to Health", and Presbyterian will provide matching funds.The organizations participating in this project are Presbyterian Healthcare, Three Sisters Kitchen, Meals on Wheels, and Encuentro.  
As a part of the collaboration, Encuentro will train 135 Home Health Aides on healthy food nutrition and preparation for seniors to enhance their workforce development skills.  Encuentro's Executive Director, Andrea Plaza, describes the project as an opportunity for Home Health Aides and for low income seniors. "This project will increase Home Health Aides knowledge and skills around healthy food and preparation practices as they specifically relate to the nutrition needs of seniors. As a result of the training, they will contribute to improving senior health. Additionally, ninety Home Health Aides will have the opportunity to participate in internships that pair caregivers with low-income seniors who need care.  A part of the internship will include preparing meals and providing accompaniment to address the isolation issues many seniors face, which contribute to poor nutrition and health.
Meals on Wheels will expand their home food service by increasing the local produce in meals and sponsoring free meals for select high-risk, low-income Presbyterian patients.  Over four years, this partnership expects to buy more than 63,000 pounds of produce from at least ten local growers and provide meal delivery to low-income seniors. There is enthusiasm among these organizations for the nutrition improvement of senior population and for the projected increased access to local produce, which will represent  economic development for the area.
Three Sister's Kitchen has opened a space in the heart of downtown Albuquerque, at 109 Gold Ave SW, and Executive Director Anzia Bennett, describes their role in the collaboration as, "Food is medicine. Producing and preparing our food brings community together. We will be organizing community members to teach healthy meal preparation from the most culturally diverse backgrounds." In addition to a teaching kitchen, the space includes a local food shop and café, and there is even a corner with a small cooking book library!
Encuentro is happy to participate in this project because it provides additional education and job opportunities for Encuentro's Home Health Aides, while also  improving senior health and supporting our local producers.