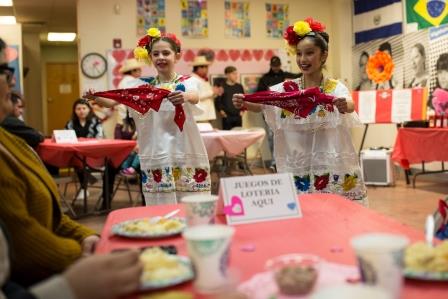 Comparte el  Amor – Noche de Lotería reunió a nuestra comunidad/ Share the love – Lotería Night brought our community together
En Español.- 
El evento anual de recaudación de fondos "Comparte el  Amor – Noche de Lotería" reunió a nuestra comunidad
El amor fluía el sábado por la noche: amor por Encuentro, amor por los estudiantes inmigrantes que trabajan arduamente en el Encuentro y amor por nuestra inmensa comunidad, que nos brinda un apoyo increíble para nuestro trabajo.
Nuestro evento, adecuadamente titulado Comparta el Amor (Share the Love, en inglés), fue nuestra primera noche anual de Lotería. Fue un evento familiar para recaudar fondos para Encuentro y un testimonio del talento y la belleza de nuestra comunidad. Jugamos ocho rondas de Lotería (Bingo Mexicano) con cartas tradicionales y dichos poéticos, usando frijoles secos como fichas de marcador de posición. 
Los ganadores de cada ronda recibieron premios donados por los estudiantes y aliados de Encuentro. Entre cada ronda de Lotería, tuvimos entretenimientos: poesía, mariachis, bailes folklóricos y canto.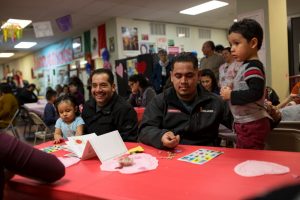 Encuentro también honró a cuatro individuos muy especiales con premios de apreciación: Manuel Sáenz (estudiante), David López (voluntario), Verónica Salazar (maestra) y Fermina López (maestra de guardería).
Se sirvió comida deliciosa, donada por varios negocios  de inmigrantes y aliados de Encuentro. Estamos muy agradecidos a las más de 30 empresas locales y organizaciones asociadas que compraron anuncios de divulgación en nuestro programa, bellamente diseñados por uno de nuestros voluntarios, y aún más agradecidos a nuestros generosos patrocinadores del evento: McCune Foundation, Rio Grande Credit Union, Nusenda Foundation, y nuestro principal patrocinador Southwest Capital Bank.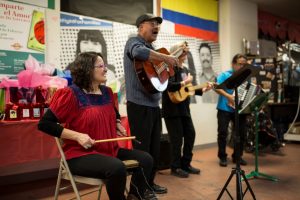 En total, recaudamos cerca de $ 15,000, monto que apoyará nuestra programación de 2019. Mi corazón estaba lleno al ver todo el arduo trabajo de Encuentro, y mis hijos, que lo pasaron genial jugando Lotería y comiendo pastel, ya me preguntan cuándo será el próximo evento.
Sandra Ortsman, Presidenta de la Junta de Encuentro
Fotos por Adria Malcolm – Para mas fotos haga clic aquí
In English.- 
Annual fundraising event "Share the love – Lotería Night" brought our community together
The love was flowing on Saturday night- love for Encuentro, love for Encuentro's hard-working immigrant students and love for our broader community, which provides us with incredible support for our work.
Our event, aptly titled Share the Love (Comparta el Amor, in Spanish), was our first annual Loteria night.  It was a family-friendly fundraiser for Encuentro and a testament to the talent and beauty of our community. We played eight rounds of Loteria (Mexican Bingo) with traditional cards and poetic sayings, using dried beans as placeholder chips.
Winners of each round received prizes donated by Encuentro students and supporters. Between each round of Loteria, we had performances- poetry, mariachis, folkloric dancing and singing. Encuentro also honored four very special individuals with appreciation awards- Manuel Saenz (student), David Lopez (volunteer), Veronica Salazar (teacher), and Fermina Lopez (daycare teacher).
Delicious food, donated by multiple immigrant-owned businesses and Encuentro supporters, was served. We are so grateful to the over 30 local businesses and partner organizations who bought outreach ads in our program, beautifully designed by one of our volunteers, and even more grateful to our generous event sponsors: McCune Foundation, Rio Grande Credit Union, Nusenda Foundation, and our top sponsor Southwest Capital Bank.
In total, we raised close to $15,000 which will support our 2019 programming. My heart was full to see all of Encuentro's hard work celebrated, and my kids, who had a blast playing Loteria and eating cake, are already asking me when the next event is.
Sandra Ortsman, Encuentro Board President
Photos by Adria Malcolm – Check more pictures here