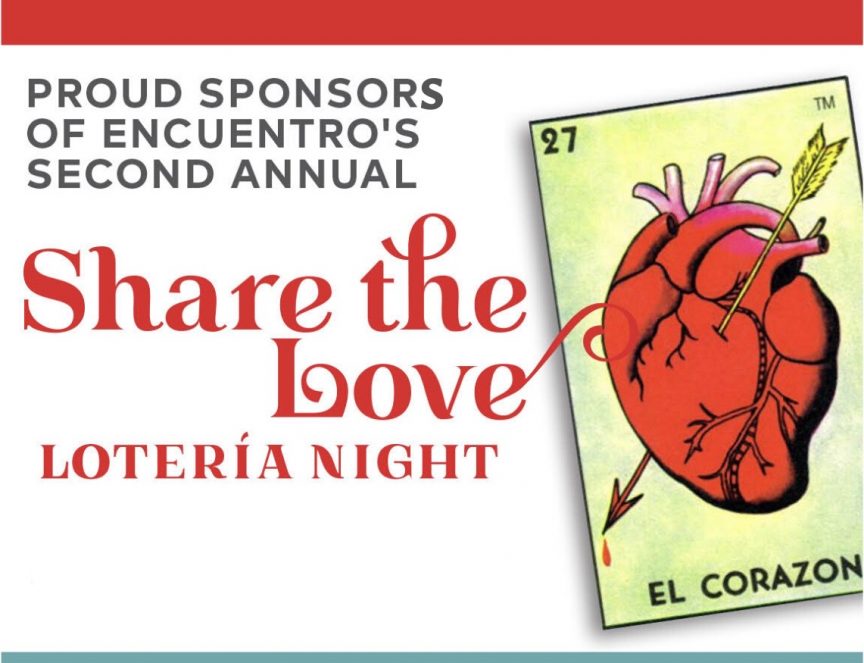 "Share The Love" Proud Sponsors/ Orgullosos Patrocinadores de "Comparte el Amor"
iEl amor está en el aire! Y en conmemoración del noveno año de Encuentro trabajando para conectar a nuestras familias latinas inmigrantes con oportunidades educativas que les ayuden a desarrollar habilidades para la justicia social y económica, ¡Nos estamos preparando para celebrar nuestra segunda Noche Anual de Lotería "Comparte el Amor" con ustedes!
Este evento familiar ofrece entretenimiento en vivo, comida deliciosa y diversión para toda la familia. iÚnase a nosotros mientras celebramos y agradecemos las muchas contribuciones que los estudiantes de Encuentro hacen en nuestra comunidad!  Las ganancias de este evento apoyaran los programas de educación para adultos y desarrollo profesional galardonados y reconocidos a nivel nacional de Encuentro.
Este divertido evento se llevará cabo el Sábado, 8 de Febrero del 2020 en punto de las 6pm en South Valley Academy. Venta de boletos comienza el 13 de enero, 2020. iAcompáñanos y comparte el amor!
Love is in the air!  In commemoration of Encuentro's ninth year working to engage Latino immigrant families in educational opportunities that build skills for economic and social justice,  we are excitedly gearing up to celebrate, our second annual Share the Love Loteria Night!
This family-friendly event features live entertainment, delicious food and fun for the whole family. Join us as we celebrate  the many contributions that Encuentro students and immigrants make in our community. Proceeds from this event supports Encuentro's award-winning, nationally-recognized adult education and career development programs. 
This fun community-wide event will be held on Saturday, February 8, 2020 at 6pm at South Valley Academy. Ticket sales begin on January 13, 2020.  Join us and share the love!
BECOME A SPONSOR / ¡CONVIERTETE EN PATROCINADOR!
We have sponsorship opportunities. For more information, please contact Julia Cusatis, Encuentro Director of Development, at 505-247-2920 or [email protected]
Tenemos oportunidades de patrocinio. Para mayor información, contacta a Julia Cusatis, Directora de Desarrollo, al 505-247-2920 o por email [email protected]
We appreciate our Sponsors!/ ¡Apreciamos a nuestros patrocinadores!