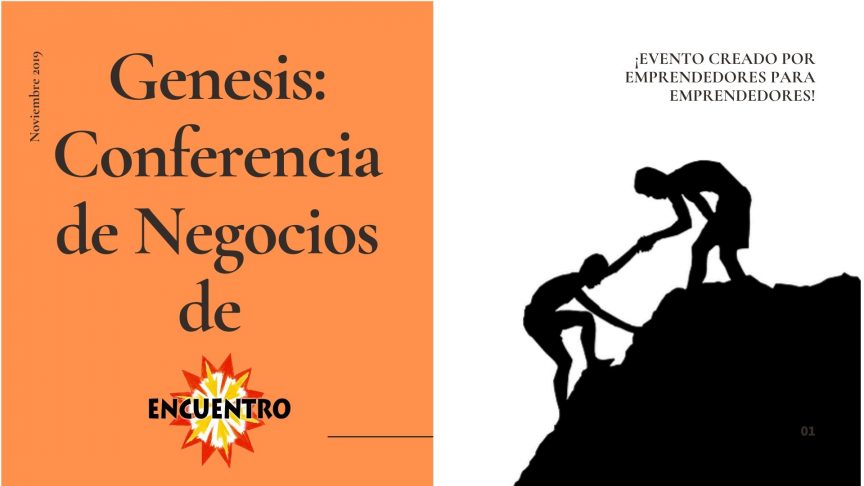 Genesis: Primer Conferencia de Negocios de Encuentro
Encuentro conecta siempre sus programas educativos con oportunidades de desarrollo profesional para todos sus estudiantes y sin duda alguna, su programa de emprendedores y creadores de pequeños negocios es una muestra clara de este objetivo.  
El pasado mes de noviembre, Encuentro llevó a cabo su primer conferencia de negocios organizada por estudiantes del programa de pequeños negocios y su coordinador, el maestro Gerardo de Luna.  La conferencia tuvo como finalidad el ofrecer un espacio de convivencia e intercambio de ideas para sus estudiantes emprendedores, con información 100% en español y con la oportunidad de hacer crecer no solo su red de contactos, pero también sus negocios e ideas.       
El evento tuvo lugar en Mini Event Center y contó con la asistencia de miembros de la comunidad estudiantil de Encuentro, sus familias, integrantes de organizaciones aliadas a Encuentro e integrantes de la comunidad en general interesados en la materia empresarial, logrando así, una asistencia de más de 50 personas quienes también disfrutaron de música en vivo.
Como parte de la agenda, se contó con la presencia de Isaac de Luna, coordinador de medios de medio de comunicación de la organización Center for Civic Policy, quien compartió información muy valiosa e importante acerca de cómo los dueños de pequeños negocios pueden hacer uso de las redes sociales como herramienta para hacer crecer sus negocios. De igual manera, escuchamos testimonios de dueños de negocios quienes compartieron sus experiencias como emprendedores: los retos a los que se enfrentaron para consolidar su meta y cómo lograron superarlos,la mayoría de ellos, gracias al apoyo del programa de emprendedores de Encuentro. Estos testimonios sirvieron para motivar a la audiencia a tomar ventaja de las oportunidades que organizaciones como Encuentro ofrecen a la comunidad interesada en la materia.
El equipo de periodismo comunitario de Encuentro, Tu Voz Digital, se dio a la tarea de cubrir el evento y trae para ustedes una interesante entrevista con Isaac de Luna, quien nos comparte la definición de lo que es ser un  emprendedor; de igual manera, escucharemos el sentir de varios asistentes al evento así como sus experiencias como dueños de negocios o como aspirantes a esta meta.
iEsperamos que la disfruten!         
Preparación y grabación: Tu Voz Digital, Periodistas Comunitarios, Maricela Ramirez y Mario Aguilar, Guillermina Quiroz
Audio Edicion: Guillermina Quiroz
ENGLISH SUMMARY
Encuentro is working to connect their educational programs with professional development opportunities for all their students. Without a doubt, their small business program is a clear example of that objective.
On November, Encuentro held its first business conference organized by the students and coordinator of Encuentro's Small Business Program, Gerardo de Luna. The conference was aimed at gathering entrepreneurial students in a culturally accessible environment to exchange ideas and information; this presented the opportunity to grow not only their networking circle, but also their business and ideas.
The event took place at the Mini Event Center and was attended by Encuentro students, their families, members of allied organizations, and the general public that was interested in business topics. The event was attended by more than 50 people.
As part of the agenda, we had as speaker Isaac de Luna, media coordinator of the Center for Civic Policy organization, who shared very valuable and important information about how small business owners can make use of social media as a tool to grow their business. 
We also heard testimonials from small business owners who shared their experiences as entrepreneurs: what challenges they faced to consolidate their goal and how they managed to overcome them thanks to the support of Encuentro's Small Business Program. These testimonies served to motivate the audience to take advantage of the opportunities that organizations such as Encuentro offer to the community interested in the subject.
Encuentro's community journalism team, Tu Voz Digital attended the event and brings you an interesting interview with Isaac de Luna, who discusses what it means to be an entrepreneur. Tu Voz Digital's team also interviewed attendees to gain insight on their experiences or aspirations of being an entrepreneur, and their feedback on the event.
We hope you enjoy!
 Producers: Tu Voz Digital Journalist, Maricela Ramirez, Mario Aguilar and Guillermina Quiroz
Audio editors: Guillermina Quiroz