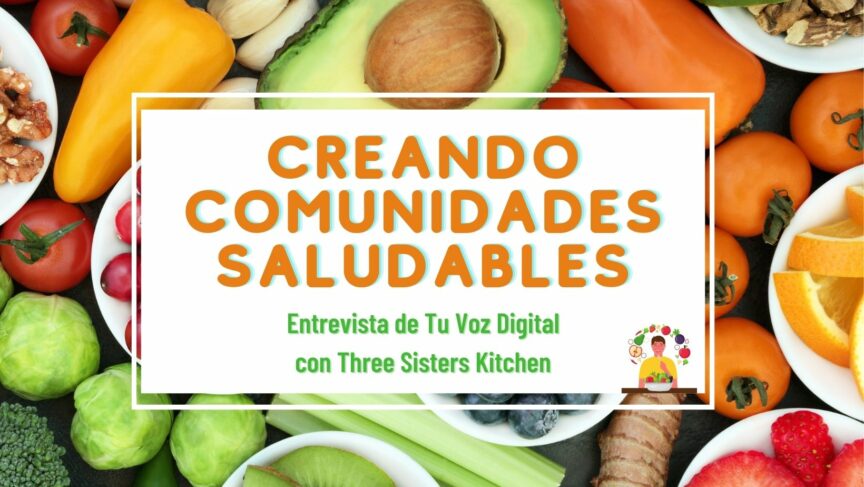 TVD Interview: Hablemos sobre Three Sisters Kitchen y su trabajo creando comunidades saludables para todos
La comida no solo nos nutre, si no también, nos conecta con nuestras tradiciones, culturas y crea empleos y oportunidades económicas en nuestras comunidades. Sin embargo, el acceso limitado a alimentos frescos y saludables, espacio en la cocina y la falta de apoyo empresarial, ha reducido las oportunidades de participación de manera significativa en los sistemas alimentarios locales.
Three Sisters Kitchen es un espacio de comida comunitaria sin fines de lucro ubicada en el corazón del centro de Albuquerque que cree que la buena comida, la salud y las oportunidades económicas son para todos. Es por eso que comenzaron su espacio de comida comunitaria, el cual incluye una cafetería,  un salón de clases comunitario y una tienda de alimentos local.
Three Sisters Kitchen hace que los alimentos locales frescos sean accesibles, asequibles y divertidos de cocinar, y crea vías para que los empresarios de alimentos experimenten y construyan negocios que tengan éxito, contribuyendo a una comunidad más saludable y vibrante.
Disfruta de esta INCREÍBLE conversación que tuvo Tu voz Digital con Divana Olivas, coordinadora de programas en 3SK, quien compartió con nosotros detalles sobre sus programas y el impacto positivo que estos tienen en nuestras comunidades.
Encuentre más información sobre Three Sisters Kitchen visitando: https://threesisterskitchen.org o contacte a Divana en [email protected]
Food nourishes us, connects us to our traditions and cultures, and creates jobs and economic opportunity in our communities. But limited access to fresh, healthy food, kitchen space, and entrepreneurial support has narrowed opportunities to meaningfully engage in local food systems.  Three Sisters Kitchen is a non-profit community food space in the heart of downtown Albuquerque that believes that good food, health, and economic opportunity are for everyone.
That is why they started their non-profit community food space, including a Cafe, Test Kitchen, Community Classroom, and Local Foods Shop. Three Sisters Kitchen makes fresh, local food accessible, affordable, and fun to cook, and creates pathways for food entrepreneurs to experiment and build businesses that succeed, contributing to a healthier and more vibrant community.
Enjoy this AMAZING conversation Tu voz Digital held with Divana Olivas, Program coordinator at 3SK, who shared with us details about their programs and the positive impact those programs has in our communities.
Find more information about Three Sisters Kitchen visiting: https://threesisterskitchen.org or contact Divana at [email protected]