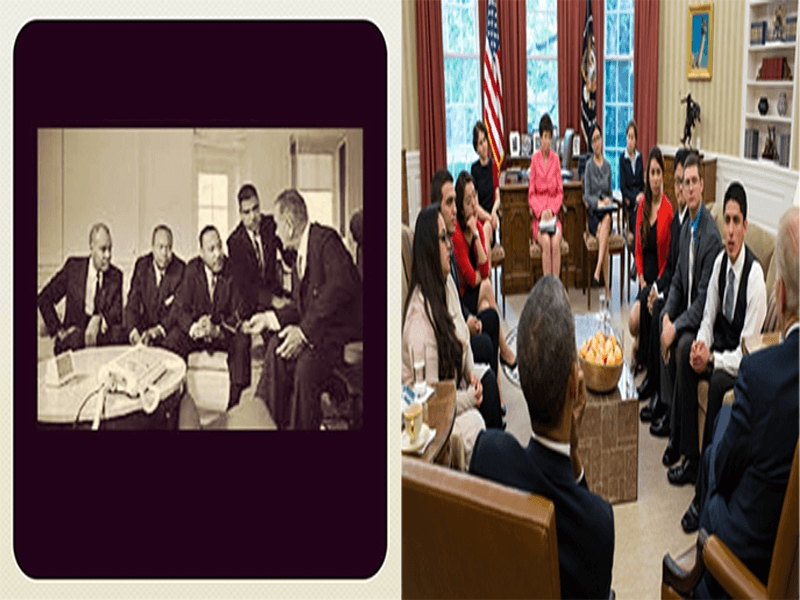 Selma: Las sorprendentes similitudes con el movimiento moderno por los derechos de los inmigrantes
La semana pasada organicé una proyección de la película "Selma," para la comunidad en Encuentro con la ayuda de mi maravilloso equipo. También tuve la oportunidad de ver la película por primera vez, y fue una obra maestra. La bella composición de tomas, estética hermosa y brillante actuación de la película claramente y maravillosamente capturan la historia de la lucha de la comunidad Afroamericana por los derechos civiles en 1965. La película esta compuesta de tal manera que hasta parece que esas luchas ocurrieron ayer.
Cuando terminó la película uno de mis buenos amigos y organizador comunitario de El Centro De Igualdad y Derechos, Mauricio De Segovia, dio una apasionante y poderosa presentación delante de nuestra comunidad. En su presentación nos proporcionó imágenes que sacaron un sorprendente paralelo entre el movimiento por los Derechos Civiles de la comunidad Afroamericana y el movimiento moderno por los derechos de los inmigrantes. A través de las imágenes me di cuenta de que los movimientos son los mismos, y que Estados Unidos no ha progresado mucho cuando se trata de la cuestión de la fobia y medio a la gente que viene de diferente raza, clase social, estatus y sexo.
Mauricio trabaja como organizador comunitario para El Centro de Igualdad y Derechos en donde el defiende y lucha por los derechos de los inmigrantes. En su experiencia en El Centro el a asistido a muchas protestas organizadas en donde el a luchado contra las leyes injustas que afectan a los inmigrantes indocumentados. La lucha, representada en la película Selma, donde la comunidad Afroamericana busca asegurar el derecho de votar era demasiada familiar para Mauricio porque el a pasado por muchas luchas similares.
Su presentación fue increíblemente potente y honestamente no creo que las palabras pueden hacerle justicia y por eso voy a utilizar sus imágenes, y describirlas con lo mejor de mis capacidades.
(Izquierda) Dr. Martin Luther King y otros líderes de derechos civiles hablando sobre los derechos de voto con el presidente estadounidense Lyndon Johnson en su oficina oval en 1965. (Derecha) DREAMers hablan sobre los derechos de los inmigrantes con el vicepresidente Estadounidense Joe Biden y el presidente Estadounidense Barack Obama en su oficina oval, en 2014.
(Izquierda) El Capitolio del Estado de Alabama y la conclusión de la marcha de Selma a Montgomery Albabama en 1965.(Derecha) Miembros de El Centro de Igualdad y Derechos, Mauricio De Segovia, Esli Beltrán, Rachel Lazar, y Nora Hernández, luchando contra la injusticia en una conferencia en Montgomery Alabama.
(Izquierda) Un canino policíaco asalta a un hombre Afroamericano en los 1960's. (Derecha) Mauricio De Segovia arrestado en frente de las oficinas de John Boehner por desobediencia civil en una manifestación de los derechos de inmigrantes en 2013.
(Izquierda) Inmigrante indocumentado, Ramon Dorado Jr, cruza la frontera a los Estados Unidos de México a lado de a más inmigrantes indocumentados en 201. (Derecha)DREAMers en Colorado organizan una sentada en protesta a las leyes migratorias de el Presidente Obama en 2012.
(Izquierda)Dr. Martin Luther King Jr y otros lideres de derechos civiles se dirigen de Selma, Alabama a Montgomery, Alabama a lado de lideres religiosos en 1965.  (Derecha)El Centro de Igualdad y Derechos lleva acabo una conferencia de prensa frente a una iglesia al lado de líderes religiosos.
(Izquierda) Esta es una imagen de los jinetes de la libertad. Los jinetes de la libertad eran activistas de los derechos civiles que viajaban por autobus a los estados segregados al sur de los Estados Unidos en 1961 y los años siguientes. (Derecha) Esta es una imagen de los viajadores sin papeles, sin miedo . Los viajadores sin papeles, sin miedo son activistas inmigrantes que viajan a diferentes partes de los Estados Unidos para abogar por los derechos de inmigrantes.
(Izquierda) Líder Americano en los movimientos sociales por los Derechos Civiles, el socialismo , la no violencia y los derechos de los homosexuales, Baynard Rustin. Baynard era abiertamente gay. (Derecha) Artista y activista, Julio Salgado. A través del uso de su arte, Julio, se ha convertido en un activista muy conocido dentro del movimiento DREAM. Salgado utiliza su arte para apoderar a las personas indocumentadas y "Queer."
(Izquierda) John Lewis líder de los derechos civiles en 1965. (Derecha) John Lewis arrestado en la misma manifestación de los Derechos Inmigrantes en donde fuer arrestado Mauricio De Segovia en el 2013.
_____________________________________________________________________________
Selma: The striking similarities with the modern immigrant rights movement
With the help of the my wonderful team I was able to organize a screening of Ava DuVernay's Oscar-winning 2014 film "Selma," for the community at Encuentro last week. I was also able to watch the film for the first time, and it was an absolute masterpiece. The film's wonderful shot composition, beautiful aesthetics and brilliant acting vividly and wonderfully capture the story of the black communities struggle with civil rights back in 1965. The film is composed in such a way that it makes it seem like those struggles happened just yesterday.
After the Film ended one of my good friends and community organizer at El Centro, Mauricio De Segovia, gave a gripping and powerful presentation in front of our community. He provided us with images that drew a striking parallel between the Black Rights Movement and the modern Immigrant Rights Movement. Through the images I realized that the movements are the same, and that the United States has not progressed much when it comes to the issue of the fear and phobia of people who come from different race, class, status, and gender.
Mauricio works as a community organizer for El Centro de Igualdad y Derechos where he advocates and fights for immigrant rights. In his experience at El Centro he has attended many organized protests where he has fought diligently against unfair laws that affect undocumented immigrants. For Mauricio the struggle that the African-American community faced in their pursuit to ensure equal voting rights were all too familiar because he has faced very similar struggles.
His presentation was incredibly powerful and honestly I really don't think words can do it justice so I will use his images and describe them to the best of my abilities.
(Left) Dr. Martin Luther King Jr and other civil right leaders discussing equal voting rights with US President Lyndon Johnson in his oval office in 1965. (Right) DREAMers discussing immigrant rights with US Vice-President Joe Biden and US President Barack Obama in his oval office, in 2014.
(Left)The Alabama State Capitol and the conclusion of the Selma to Montgomery march back in 1965. (Right) Members of El Centro De Igualdad y Derechos, Mauricio De Segovia, Esli Beltran, Rachel Lazar, and Nora Hernandez, fighting against injustice at conference in Montgomery Alabama.
(Left)A Police K9 assaults an African-American man back in the 1960's. (Right) Mauricio De Segovia being arrested at an immigrant rights rally in front of John Boehner's office.
(Left)Undocumented Immigrant, Ramon Dorado Jr, crosses back into the US from Mexico along with other undocumented immigrants, in 2014(Right). DREAMers in Colorado organizing a sit-in, in protest of President Barack Obama's Immigration laws in 2012.
(Left)Dr. Martin Luther King Jr and other Civil Right Leaders march alongside religious leaders in 1965 (Right)El Centro De Igualdad y Derechos holds a press conference in front of a church alongside religious leaders.
(Left) This is a picture of the Freedom Riders. The Freedom riders were civil rights activists who rode interstate buses into the segregated southern United States in 1961 and following years. (Right) No papers, no fear riders. The No Papers, No Fear Riders are immigrant right activists who ride to various parts of the US advocating for immigrant rights.
(Left) American Leader in social movements for Civil Rights, socialism, nonviolence and gay rights, Baynard Rustin. Baynard was openly gay.(Right) Artist and activist, Julio Salgado. Through the use of his art, Julio, has become a well-know activist within the DREAM act movement. Salgado uses his art to empower undocumented and queer people.
(Left) John Lewis, Civil Rights Leader, in 1965 (Right) John Lewis being arrested in the same Immigrant Rights Rally that Mauricio De Segovia was arrested at in 2013.