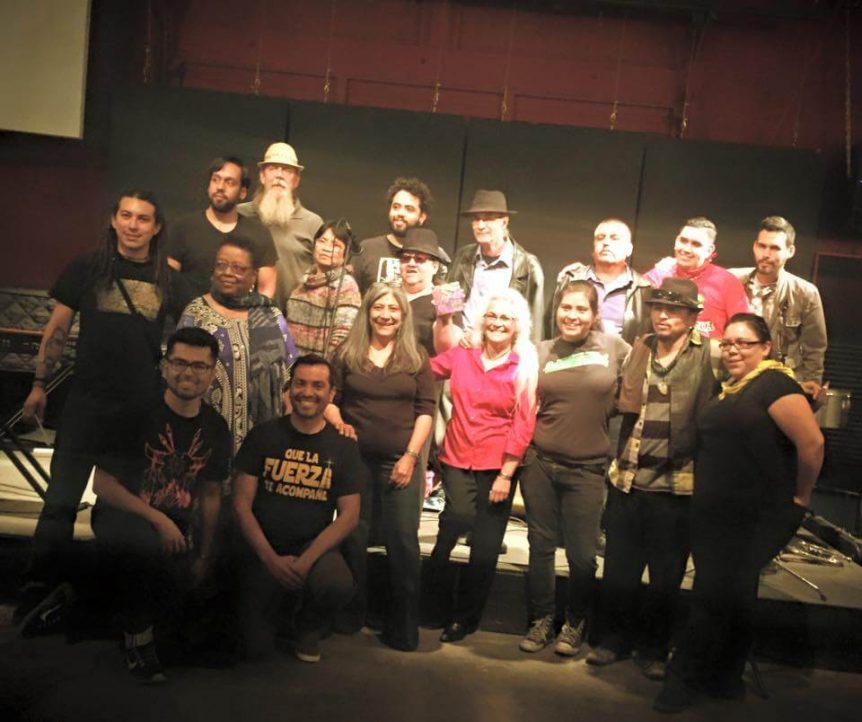 Concierto De Beneficio: Radio Burque
El Jueves pasado Los Jardines Institute y Radio Burque organizaron un concierto de beneficio para apoyar el proyecto Radio Burque con los grupos Los De Esta Noche y Burque SOL.
El proyecto Radio Burque va consistir de crear un radio comunitario, con el proposito de conectar voces a traves de las ondas de radio en las comunidades más marginadas y menos representadas de Albuquerque, Nuevo México.
Radio Burque fue iniciado por un grupo de personas que incluía nuestro amigo y ex-compañero Candelario Vasquez. Radio Burque también va incluir como DJ's a miembros de nuestro propio grupo de medios de comunicación aquí en Encuentro, Tu Voz Digital.
Actualmente Los Jardines Institute y Media Literacy Project estan en pleno proceso de crear Radio Burque pero se necesita recaudar 17,000 dólares para poder continuar con el proyecto.
"sabemos que es una causa tan importante para nuestras comunidades," Julio Lopez, miembro de Los De Esta Noche, dijo. "Nosotros tenemos de tener los espacios esos, la manera esa de representar nuestra voz, en lugar de que otras personas lo hagan por nosotros."
Si gustan mostrar su apoyo con una donación para Radio Burque sigan este enlace: Yo Apoyo A Radio Burque!
Felipe Hernandez Entrevista a integrantes de Los De Esta Noche Julio Lopez y Jonathan Villareal.
_____________________________________________________________________
Fundraising Concert: Radio Burque
Los Jardines Institute and Radio Burque organized a fundraising concert with bands Los De Esta Noche and Burque Sol last Thursday; the concert was in support of the Radio Burque project.
The Radio Burque project will consist of creating a community radio with the purpose of connecting voices through radio waves in the most marginalized and underrepresented communities in Albuquerque, New Mexico.
Radio Burque was initiated by a group of people that included our friend and former co-worker Candelario Vasquez. Also, The DJ's that will form part of Radio Burque will include the members of our own media team here at Encuentro, Tu Voz Digital.
Currently Los Jardines Institute and Media Literacy Project are in the process of creating Radio Burque but they need funding of $17,000 to continue with the project.
"We know that is such an important cause in our communities," Los De Esta Noche group member Julio Lopez said. "We have to have these spaces, that form of representing our voice, instead of other people doing it for us."
If you would like to show your support with a donation to Radio Burque follow this link: I Support Radio Burque!