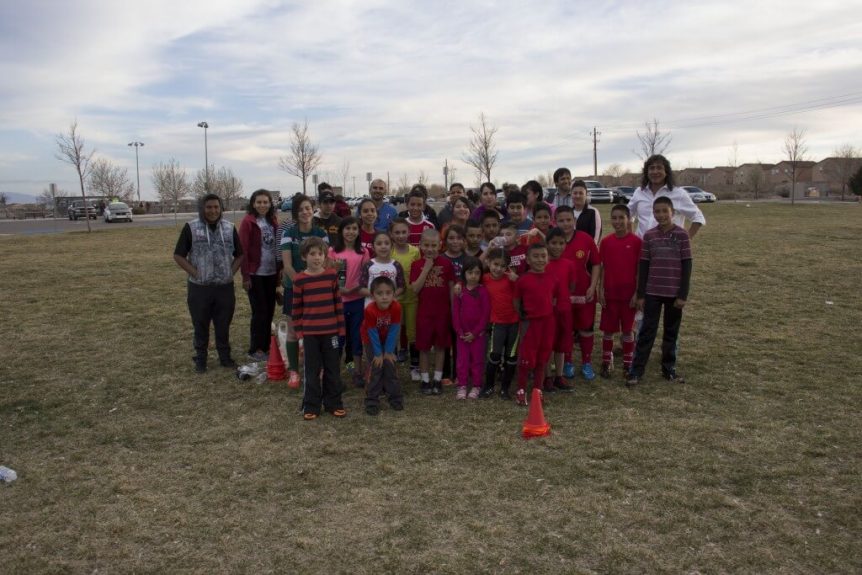 Aprendiendo Con El Fútbol
El fútbol es mas que un deporte, es disciplina, es pasión. El fútbol es sinonimo de vida, hay obstáculos y barreras que hay que superar. El fútbol es humanidad, aceptación, tolerancia y unión. Fuera de la cancha todos somos diferentes pero en ella todos somos iguales, no importa la raza o el color.
El programa ACCESS fue iniciado por Fernando Ortega hace un año y el enfoque del programa es aumentar el potencial de los niños de la comunidad por medio del arte, de la comunidad, de la educación, de la ciencia y del deporte especialmente el fútbol.
"Los metemos al programa empezando con el fútbol para desarrollar habilidades fisico atleticas y de ahí les vamos enseñando mas materias." dijo Fernando.
Para un niño de diez años, Adrian Carrillo, el programa ACCESS ha cambiado su vida. "Adrian era un niño muy tímido y muy callado" dijo Fernando Ortega, Director Del Programa ACCESS. "Cuando primero llego al programa yo sabia que esto niño tenia algo y que tenia mas que dar…pero le faltaba motivación…le faltaba enjundia."
"Por eso yo siempre lo motivaba…échale Adrian, échale, le decía..como si comieras chile verde! Y así lo motivaba" dijo Fernando. "Finalmente en un partido que tuvimos yo vi a adrian mas relajado…y hecho dos golazos…todos se quedaron así como wow." dijo Fernando. "Desde entonces Adrian ya no es tímido y ya nadie puede detenerlo de hablar."
Adrian estaba en un programa de educación especial porque era muy introvertido y desde que el a estado en el programa ACCESS lo sacaron del programa y lo integraron en clases regulares con los otros niños.
"El lloraba, no era seguro, no participaba en la escuela" dijo Teresa Carrillo, mama de Adrian. "Mi hijo era uno de los niños que estaba en la escuela en un programa de ayuda porque era un niño muy introvertido y con las practicas del fútbol el se a hecho mas extrovertido, mas involucrado, mas seguro de si mismo."
"El fútbol le ha dado confianza," dijo Teresa. "La forma que Fernando los hace que participe, por lo regular, los niños usan palabras cortas cuando uno les pregunta, ¿Como te fue en la escuela? responden, bien y ya. Aqui eso no pasa, Fernando les dice, haber hazme una frase larga platicame bien…los hace ser mas seguros, que convivan con todos los compañeros."
Los niños de ACCESS se reúnen con Fernando cada Miércoles para entrenar y tienen juegos de fútbol los Jueves y Viernes. "La edad promedia de los niños es de 5 a 12 años pero aceptamos a niños de cualquier edad," dijo Fernando.
Si quieren mas información o quieren inscribir a su hijo o hija en el programa hablen con Fernando. Su numero de telefono es:505-319-3356.
Escuchen nuestra entrevista con Director De ACCESS, Fernando Ortega y la mama de Adrian, Teresa Carrillo:
__________________________________________________________________________
Learning with Soccer
Football is more than a sport, it's discipline, it's passion. Football is synonymous with life, there are obstacles and barriers that we have to overcome. Football is humanity, acceptance, tolerance and unity. Off the field we are all different but in it we are all equal, regardless of race or color.
The program ACCESS was initiated by Fernando Ortega a year ago and the focus of the program is to increase the potential of children in the community through art, community, education, science and especially sports through soccer.
"We start the kids off with playing soccer so that they learn how to develop athletic skills, and from there we teach them more subjects." Fernando said.
For 10 year-old child, Adrian Carrillo, the program has changed his life. "Adrian was a very shy and very quiet child," said Director of ACCESS, Fernando Ortega. "When I first came into the program I knew this kid had something more to give…but he lacked motivation…he lacked substance."
"So I always motivated him…come on Adrian, come on…run like you just ate green chile! And that's how I would motivate him," Fernando said. "Finally, in one our soccer games I noticed Adrian more relaxed…and he made two great goals…everybody was shocked." Fernando said. "Since then Adrian is no longer shy and nobody can stop him from talking."
Adrian was in a special education program because he was very introverted. In his time in the ACCESS program he has retaken the test and passed. Adrian is now integrated in regular classes in his school.
"He would cry. He wouldn't participate in school," said, Adrian's Mother, Teresa Carrillo. "My son was in an assistance program in school because he was very introverted. Practicing soccer has made him more confident, more involved, more sure in himself."
"Soccer has given him confidence," Teresa said. "The way Fernando makes the children participate, usually, kids use short words like good when one asks, How was your day at school?Here Fernando doesn't allow them to do that. He tells them to describe their day in full sentences and he makes them participate and have dialogue with all of the children."
The children that are part of ACCESS meet with Fernando every Wednesday for Training and they have soccer matches Thursday's and Friday's. "The average age of children is 5-12 years, but we accept children of any age," Fernando said.
If you want more information or would like to enroll your child in the program you can reach Fernando at his number: 505-319-3356.