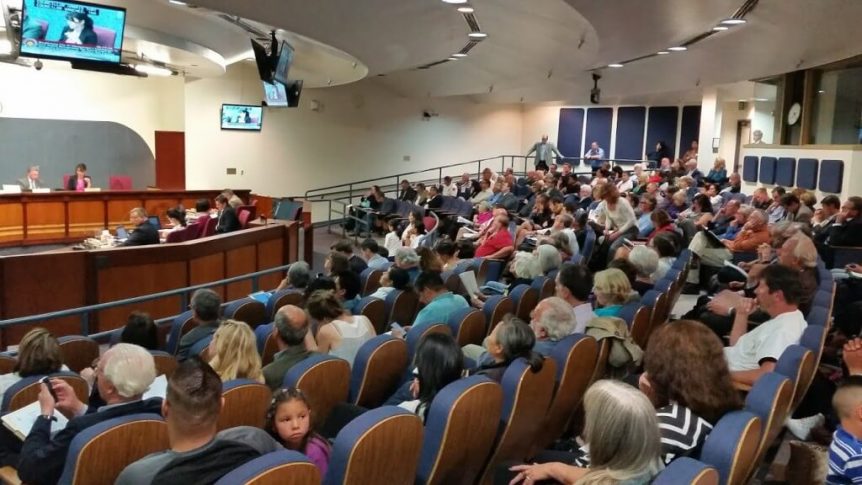 La noche del lunes 6 de Abril de 2015 el Ayuntamiento de La ciudad de Albuquerque paso a votación por un memorial que apoya a la comunidad de inmigrante de la ciudad.
El salón del Ayuntamiento estuvo repleto, al grado que gente quedo fuera debido que se lleno en su
totalidad, estuvieron muchas organizaciones que apoyan a la comunidad inmigrante, se pudo ver miembros del Centro de Igualdad y Derechos, Encuentro entre otras organizaciones.
Después de poner en la mesa de discusión dicho memorial personas de la ciudad pasaron al frente para exponer su apoyo a este memorial, entre ellos pudimos escuchar a miembros del Centro De Igualdad y Derechos: Dalia Hernandez, Jessica Rodriguez, Bertha Campos y Gabriel Hernandez.
Muy nutrido fue el grupo de personas que participaron y todos a favor de dicho memorial.
Muy emotiva fue la exposición de Mirna Lazcano y sus hijas, donde su hija con lágrimas en los ojos les solicitaba a los consejeros que apoyaran este memorial.
Dalia Hernandez hablo sobre la contribución que hace ella y su familia como inmigrantes al generar empleos a la comunidad como propietarios de pequeñas empresas.
Después de que los ciudadanos expusieron sus argumentos se dio paso a el debate entre los concejales, fue un debate alguna veces caldeado ya que había aprobación y oposición entre ellos.
Muy atinada fue la intervención del presidente Garduño al hacer la aclaración de que este memorial no es un debate entre partidos sino una declaración de parte del Ayuntamiento de Albuquerque donde reconoce el aporte de la comunidad inmigrante.
Este memorial afirma que la ciudad no discriminara por motivos nacionalidad de las personas y va a tratar a todas con respeto y dignidad, este concejo cree en la dignidad humana de todos en Albuquerque.
Así como un soporte para los dueños de negocios locales que emigraron a los Estados Unidos. También menciona el apoyo a la fuerza de trabajo de los inmigrantes en Nuevo México.
Después de una votación cerrada donde los concejales Don Harris, Dan Lewis, Trudy Jones Y Brad Winter votaron en contra, finalmente este memorial presentado por la concejal Peña fue aprobado en su forma original con 5 votos a favor 4 en contra.
______________________________________________________
Pro-immigrant Memorial
The City of Albuquerque City passed a vote for a memorial that would support the immigrant community Monday April 6, 2015.
People were left outside because City Hall was packed to its capacity. There were many organizations there supporting the immigrant community including Encuentro and El Centro de Igualdad y Derechos.
The people came forward to expose their support for this memorial, including members from El Centro De Igualdad y Derechos: Dalia Hernandez, Jessica Rodriguez, Bertha Campos and Gabriel Hernandez.
The people who participated gave very passionate speeches and they were all in favor of the memorial. The exhibition of Mirna Lazcano, and her daughters was also very moving. Mirna's daughter tearfully asked the counselors to support the memorial.
Dalia Hernandez spoke about the contribution made by her and her family by generating jobs in the community as small business owners.
After that various people presented their arguments which gave way to the debate between councilors. The debate got heated as there was opposition between the councilors.
President Garduño intervened and made it to clear that this memorial is not a debate between parties but a statement for the City of Albuquerque recognizing the contribution of the immigrant community.
This memorial states that the city does not discriminate on grounds of nationality and that people will be treated with equality, and that this memorial also works as a support for local business owners who immigrated to the United States. There was also support for New Mexico's immigrant workforce.
The memorial came down to a very contested vote, but it ended up passing and approved by Councillor Peña in its original form 5 – 4.