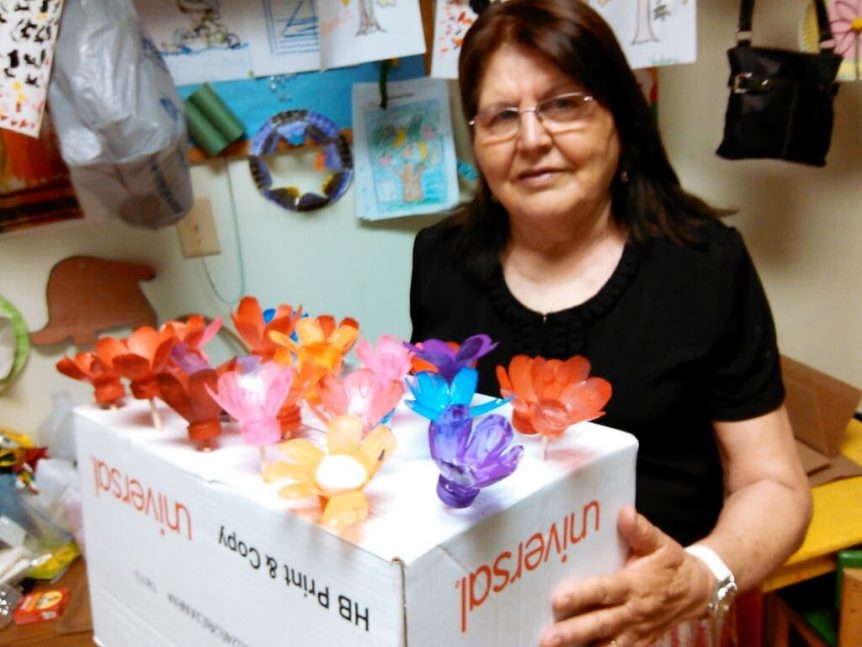 Proyectos De La Guardería De Encuentro
Tenchita y Dora Hernandez se encargan del cuidado de los niños en Encuentro mientras sus padres asisten las clases de Encuentro. En este tiempo que tienen a los niños ellas aprovechan para dar les unas enseñanzas.
Los niños han estado trabajando en arte que incluye crear flores de botellas de plástico reciclable.
Con este proyecto en la guardería, Encuentro aprovecha para que los niños desarrollen su creatividad y aprendan a usar materiales reciclables y aprender como estos nos ayudan a cuidar el medio ambiente.
"Este Proyecto se me ocurrió hacerlo para enseñar a los niños como utilizar el reciclaje para aprender a ahorrar dinero y cuidar el medio ambiente y también que aprendan a valorar y a cuidar las cosas que les dan sus padres," dijo Tenchita.
____________________________________________________
Encuentro's Child Care Projects
Tenchita and Dora Hernandez are responsible for the children's care while their parents attend Encuentro classes. During the time they have the children they teach them valuable lessons.
The children have been working on creating art that includes creating flowers out of recyclable plastic bottles.
Encuentro uses this project in order for children to develop their creativity, learn how to use recyclable materials and learn how these materials help us protect the environment.
"This project occurred to me as a teaching opportunity where I could show children how to use recycling to learn, save money, protect the environment, and also teach them to value and take care of the things were given to them by their parents, " said Tenchita .