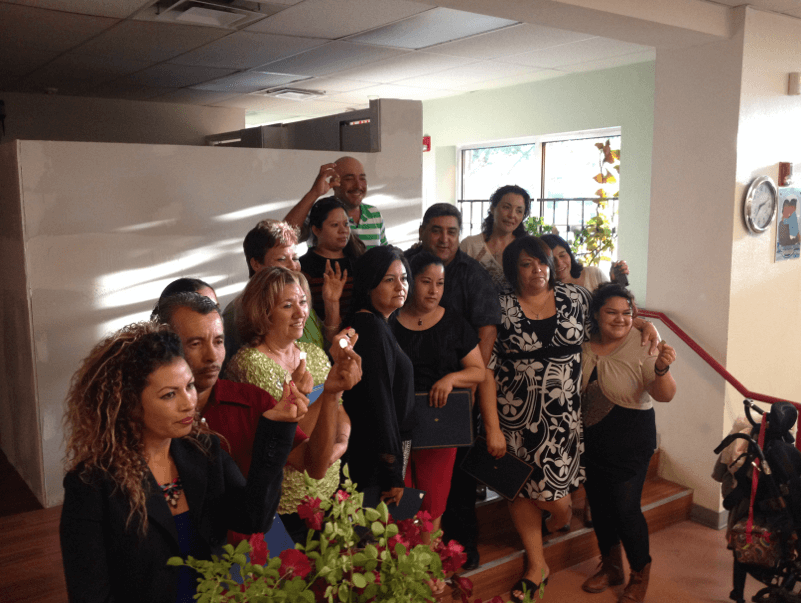 La clase es diseñada para ayudar a personas que están interesadas en iniciar su propio negocio y también a personas que ya tienen su propio negocio pero necesitan ayuda.
"Yo ni tenia ni la mas mínima idea de como realizar un negocio," dijo Rosa Carranza, alumna recientemente graduada de la clase Empezando. "No sabia cual eran las reglas y reglamentos en cuanto abrir un negocio entonces todo eso he aprendido y base a eso voy abrir mi propio negocio primero dios en un futuro."
En Estados Unidos inmigrantes son dos veces más propensos a abrir un negocio que los ciudadanos nacidos en Estados Unidos, según un estudio de Partnership for the New American Economy.
Por eso estas clases como empezando son tan importante. Esta clase ayuda a preparar a nuestra comunidad inmigrante aquí en Albuquerque en sus negocios y La preparación conduce al éxito!
Plácida entrevista a alumnos Rosa Carranza, Ermelo Flores y el maestro de la Clase Empezando, Ross Griego:
__________________________________________________________
Starting Up
Ross Griego teaches a class called Empezando in Encuentro.
The class is designed to help people who are interested in starting up their own business and also people who already started their own business, but need help.
"I had absolutely no idea how to run a business," said Rosa Carranza, a student recently graduated from the Empezando class. "I did not know what the rules and regulations were when it came to opening a business, I learned all that through this class and based on that I will open my own business in the near future, god-willing."
In the United States immigrants are twice as likely to start a business that citizens born in the United States, according to a study by the Partnership for the New American Economy.
This is why this class is so important. This class helps prepare the next plight of our immigrant community members for success in business entrepreneurship.