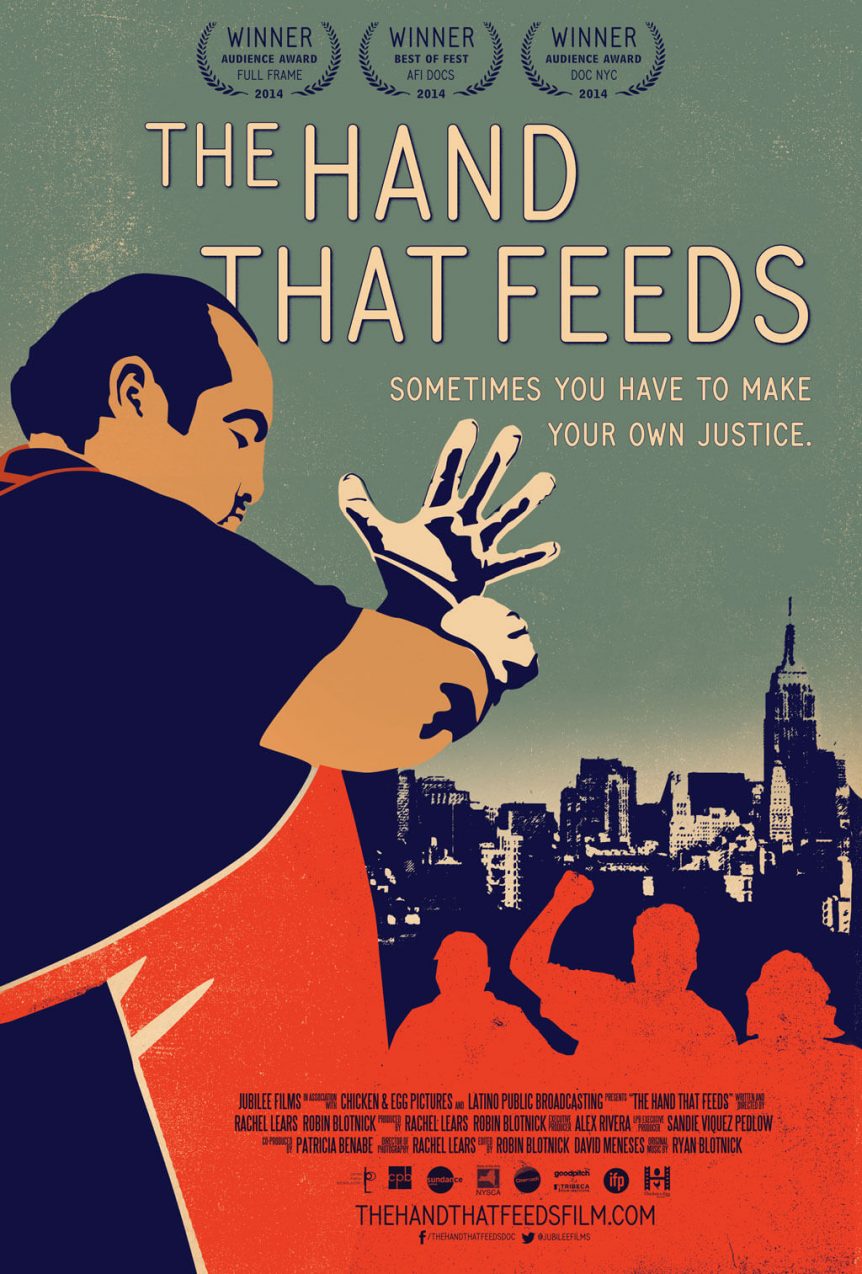 El pasado domingo 14 de Junio tuvimos la oportunidad de acudir al cine "Guild Cinema" para la presentación de la película ­documental "THE HAND THAT FEEDS" Traída a esta ciudad de Albuquerque gracias a la gestión de las organizaciones de Encuentro y El Centro de Igualdad y Derechos.
Esta película relata las vicisitudes y problemas que tuvieron que pasar un grupo de trabajadores de una popular delicatessen en Nueva York para lograr lo que por derecho se merecían. La desesperación y el hartazgo de estos trabajadores ante el abuso y la falta de seguridad en el trabajo los empujo a luchar y resistir ante los abusos, a pesar de que muchos de ellos eran trabajadores indocumentados arriesgando perder su trabajo e inclusive ser deportados.
Esta película muestra el lado que no vemos como clientes de estos negocios donde acudimos por un bien o servicio sin saber muchas veces de todos los abusos de los que son víctimas esas personas que nos atienden detrás del mostrador; pero también nos muestra que cuando las personas se hartan de ser abusados y con la ayuda de organizaciones que defienden los derechos de los trabajadores sin importar su estatus migratorio se puede luchar para hacer valer tus derechos.
Después de la presentación de esta película tuvimos la oportunidad de tener un intercambio de ideas entre los asistentes y miembros de Encuentro y El Centro de Igualdad y Derechos donde se contaron experiencias e historias de miembros de nuestra comunidad. Fue muy gratificante ver la respuesta del publico que en su mayoría sino en su totalidad apoya la comunidad inmigrante y el derecho que tiene a un trabajo digno para el bienestar de el y su familia.
Esta película­ documental es hecha por trabajadores para los trabajadores y publico en general por lo que fue un poco frustrante notar que muchos no pudieron asistir a la presentación precisamente por eso: por que estaban trabajando! Por lo que se decidió que en un futuro próximo hacer una nueva presentación para que puedan asistir todos aquellos que no tuvieron la oportunidad de verla, por lo que los invito a que estén pendientes de esta nueva presentación, no se la pierdan realmente vale la pena.
___________________________________________________________
The Hand That Feeds
On Sunday June 14 we had the opportunity to go to visit "The Guild Cinema" for the presentation of the documentary film "The Hand That Feeds" brought to this city of Albuquerque by the organizations Encuentro and El Centro De Igualdad y Derechos.
This film chronicles the vicissitudes and problems that a group of workers have to go through at a popular deli in New York to achieve what is rightfully deserved. The Despair and weariness of these workers from abuse and lack of safety at their workplace pushes them to fight and resist these abuses, even though many of them are undocumented workers who risk losing their jobs and even risk being deported.
This film shows the side we do not see as customers of these businesses where we go for a good or service often unaware of all the ongoing abuses of those people who serve us behind the counter; This film also shows that when people get fed up with being abused they can fight to assert their rights with the help of organizations that defend the rights of workers regardless of their immigration status.
After the presentation of this film we had the opportunity to have an exchange of ideas between participants and members of Encuentro and El Centro De Igualdad where experiences and stories of community members were told. It was very gratifying to see the response of the audience who in its entirety supports the immigrant community, having the right for fair work, and the well-being of the worker and his family.
This documentary film is made by workers for workers and the general public so it was a bit frustrating to note that many of our members could not attend the presentation because they were working. So it was decided that in the near future Encuentro and El Centro will show another presentation so those who could not assist can have a chance to see it so I invite you to stay tuned for this new presentation. Don't miss it. The film is really worth it.