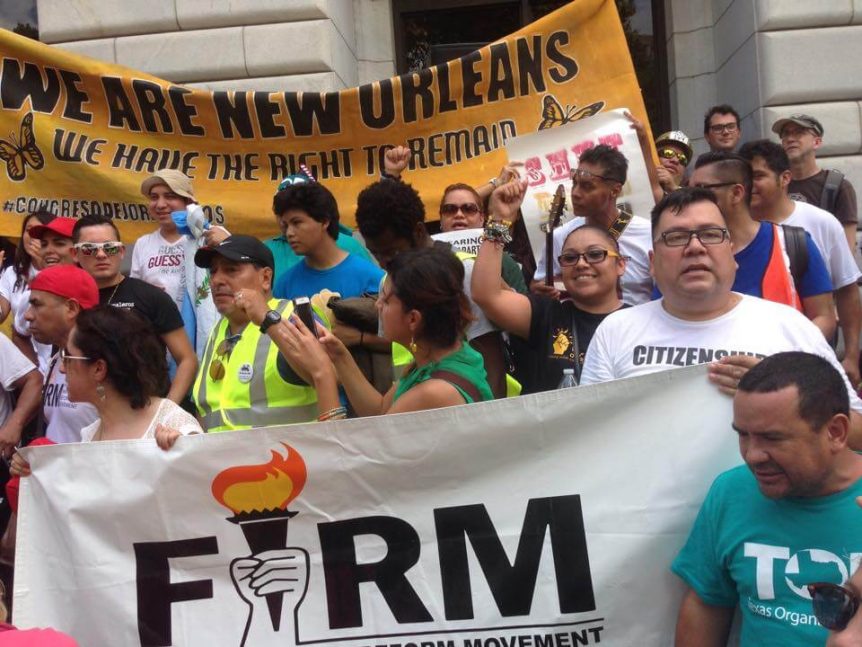 DACA y DAPA siguen bloqueados
Hace unas semanas Miles de activistas, incluyendo miembros de nuestra organización hermana El Centro De Igualdad y Derechos, intentaron de convencer a los magistrados del tribunal de apelaciones del quinto circuito en Nueva Orleans, sobre los programas (DACA Expandida), una póliza estadounidense creada por el presidente Barack Obama llamando por acción deferida por ciertos jóvenes indocumentados que llegaron a los Estados Unidos cuando eran niños y (DAPA) una póliza de inmigración estadounidense que les daría acción diferida a ciertos inmigrantes indocumentados que han vivido en los Estados Unidos desde 2010 y que tienen hijos que son ciudadanos estadounidenses o residentes permanentes. DACA y DAPA le daría alivio migratoria a casi 5 millones de personas indocumentadas en los Estados Unidos.
Los programas de DACA expandido y DAPA propuestos por el presidente Barack Obama han sido detenidos desde el 16 de febrero por el juez federal de Texas, Andrew Hanen. Desde ese tiempo el gobierno federal esta metido en una batalla legal con una coalición de 26 estados en su mayoría republicanos opuestos a la regularización de indocumentados. Aun no se llega a tomar una decisión sobre DACA expandido y DAPA.
Escuchemos a Fabiola Bawden y Marian Jazmin Mendez de El Centro de Igualdad y Derechos hablar sobre los últimos sucesos en Nueva Orleans de los programas DACA expandido y DAPA  donde ellas estuvieron presente:
_________________________________________________
DACA and DAPA remain blocked
A few weeks ago thousands of activists, including members of our sister organization El Centro de Igualdad y Derechos, tried to convince the judges of the Fifth Circuit Court of Appeals in New Orleans, on the programs (Expanded DACA), a US policy created by President Barack Obama calling for deferred action for certain young undocumented immigrants who came to the United States as children and (DAPA) A US immigration policy that would allow deferred action to certain undocumented immigrants who have lived in the US since 2010 and who have children who are US citizens or permanent residents. DACA and DAPA would give immigration relief to roughly 5 million undocumented people in the United States.
Expanded DACA and DAPA which were proposed by President Barack Obama this year have been detained since February 16 by a federal judge in Texas, Andrew Hanen. Since that time the federal government is involved in a legal battle with a coalition of 26 states who are mostly Republicans that are opposed on the regularization of undocumented people. A decision has yet to be made on the programs of expanded DACA and DAPA.
Listen to Marian Jazmin Mendez and Fabiola of El Centro De Igualdad y Derechos discuss the latest events of DACA and DAPA in New Orleans where they were present