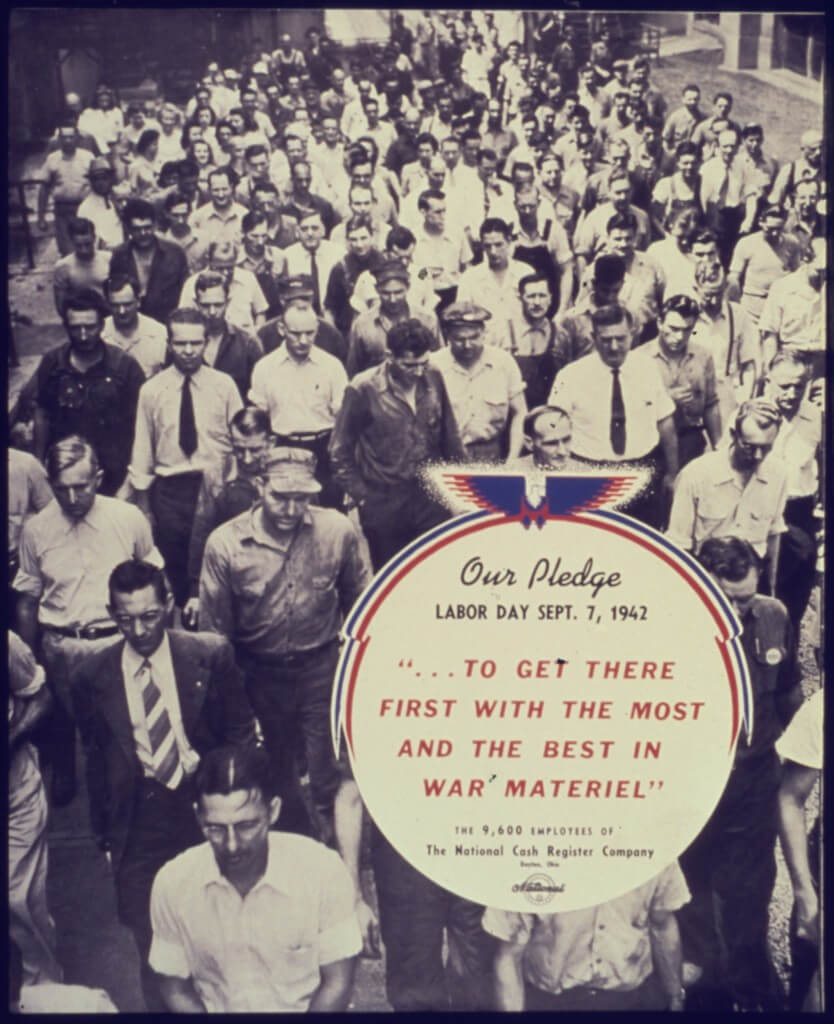 Trabajadores de The National Register Company en 1942 (Photo http://content.cdlib.org/ark:/28722/bk0007t0n8z/)
Por Manuel Sanz, redactor.
Transcrito: 
Hola a todos, hoy hablaremos del festejo que se hace cada primer lunes de Septiembre desde 1882 organizado por la noble orden de los caballeros del trabajo (Knights of Labor) inspirados por no decir copiado por un evento similar realizado en Toronto, Canadá en 1884. El día del trabajo o Labor Day.
Según el Departamento del Trabajo de los Estados Unidos este festejo es una creación de el movimiento laboral y esta dedicado a los logros sociales y económicos de los trabajadores americanos y constituye un anual tributo nacional de la contribución de los trabajadores que le dan fortaleza, prosperidad y bienestar a nuestro país.
Suena muy bien no creen? Y la verdad estoy totalmente de acuerdo en que se les haga un reconocimiento anual a los trabajadores americanos que realmente se merecen eso y mas; pero vayamos por partes y escarbemos un poco en el siglo 19.
corría el año de 1886 en plena revolución industrial, los trabajadores cansados de la explotación de la cual eran víctimas decidieron El 1 de mayo, iniciar una huelga, logrando reunir mas de 20,000 trabajadores en la plaza Haymarket de Chicago. Pero que quería esa gentuza que no son otra cosa que el rezago de Europa que busco nuestras costas para abusar de nuestra hospitalidad y desafiar a la autoridad de nuestra nación? Según decían los encabezados de periódicos de esa época, les suena familiar? creó que si, todavía hay gente que sigue pensando igual, Lo único que pedían era hacer valer la máxima de "horas para el trabajo,8 horas para el sueño y ocho horas para la casa".
Era mucho pedir? Tal vez si, por que en aquel tiempo los trabajadores trabajaban entre 12 y 14 horas diarias normalmente, en condiciones insalubres y sin ningún tipo de servicio medico o de seguridad,
pero en que acabo todo esto? En una masacre, la huelga fue rota asesinando trabajadores, encarcelándolos, colgándolos sin un juicio justo, pero ni aun así los trabajadores cejaron en su intento. se propagaron las huelgas y después de muchas lagrimas y sangre se logro la jornada laboral de 8 horas de la cual tu eres beneficiado.
Pero volviendo al punto de partida, recuerdan que les comente que en 1882 la noble orden de los caballeros del trabajo habían hecho un desfile para conmemorar a las trabajadores? Pues como esta masacre del 1 de mayo se había dado en 1886 y ante el temor de que el 1 de mayo se utilizara para hacer revueltas y protestas, el presidente Grover Cleveland apuro para que el primer lunes de Septiembre sea la fecha oficial de el día del trabajo, bueno, solo aquí y en Canadá y algún otro país que desconozco, aunque el mundo en mas de 80 países el día oficial sea el 1 de mayo, día de los trabajadores una fecha que debería ser recordada por todos los trabajadores americanos ya que fue un logro de ellos, a ellos les debes que tu jornada laboral sea de ocho horas y no a la noble orden de los caballeros del trabajo, de ahí la pregunta, primer lunes de Septiembre dial del trabajo o día de la sumisión del trabajador? Aun queda mucho por hacer, en la actualidad después de mas de 120 años aun seguimos peleando por unos derechos tan simples como que al trabajador le avisen con doce horas de anticipación cuando menos cual será su jornada de trabajo, que le paguen los días de enfermedad, que tenga un trabajo de tiempo completo, días de maternidad pagados, vacaciones, etc. es pedir mucho? Eso pensaban en 1886 cuando pedían 8 horas de trabajo 8 de sueño y 8 para la casa. Muchas felicidades a todos los trabajadores Norteamericanos gracias por su esfuerzo y sacrificio.
___________________________________________
History of Labor Day
By Manuel Sanz, Editor.
Transcribed from Spanish to English.
Hello everyone, today we'll talk about Labor Day which takes place every first Monday of September since 1882, and was organized by the Noble Order of the Knights of Labor (Knights of Labor) and was also inspired by a similar event held in Toronto, Canada in 1884.
According to the Department of Labor of the United States this celebration is a creation of the labor movement and is a dedication to the social and economic achievements of American workers, and constitutes as a yearly national tribute to worker contributions and workers that give strength, prosperity and welfare to our country.
Sounds great does it not? And I'm in total agreement that the US make this an annual recognition of American workers who really deserve that and more, but for now lets go by part by part and dig deeper in the 19th century.
The year was 1886 during the industrial revolution and workers grew tired of the exploitation to which they were victims. They decided that on May 1st they would start a strike where they managed to reunite more than 20,000 workers in Chicago's Haymarket Square. But what did these people who are nothing but riff raffs coming from Europe seeking our shores only to abuse and challenge the authority of our nation want? This is what the newspaper headlines published during that time. Does it sound familiar? I think so, and there are still many people that think the same. All workers wanted were the conditions of having "8 hours for work, 8 hours for sleep and 8 hours in the house."
Was too much to ask? It may have been because during that time workers worked 12 to 14 hours a day in unsanitary conditions and without any medical service or safety. But how did this all end? In a massacre, the strike was broken by killing workers, jailing them, and hanging them without a fair trial, but not even that would defer the workers giving up their attempt. Strikes spread and after many tears and bloodshed the working day of 8 hours, that benefits you, was achieved.
But back to the starting point, recall that I mentioned that in 1882 the Noble Order of the Knights of Labor had made a parade to commemorate the workers? But since this massacre happened on May 1st 6 and fearing that day of May 1st would be used for riots and protests, President Grover Cleveland hurried and made the first Monday in September the official day for Labor Day, well only here and in Canada and another country that I do not know of, but in the rest of the world, and in more than 80 countries the official day is May 1st the actual Labor Day, a date that should be remembered by all American workers since it was an achievement of them, it is them you owe that your workday is eight hours and not the Noble Order of the Knights of Labor, hence the question, is the first monday of September a workers day or the submission of the worker? But there is still much to do today, after more than 120, years we're still fighting for such simple rights like predictive scheduling, paid sick days , more full-time jobs, paid maternity days, vacations, etc. It that to much to ask for? That is what many people thought back in 1886 when workers wanted 8 hours of work, 8 hours of sleep and 8 hours at home. Congratulations to all American workers thanks for your effort and sacrifice.