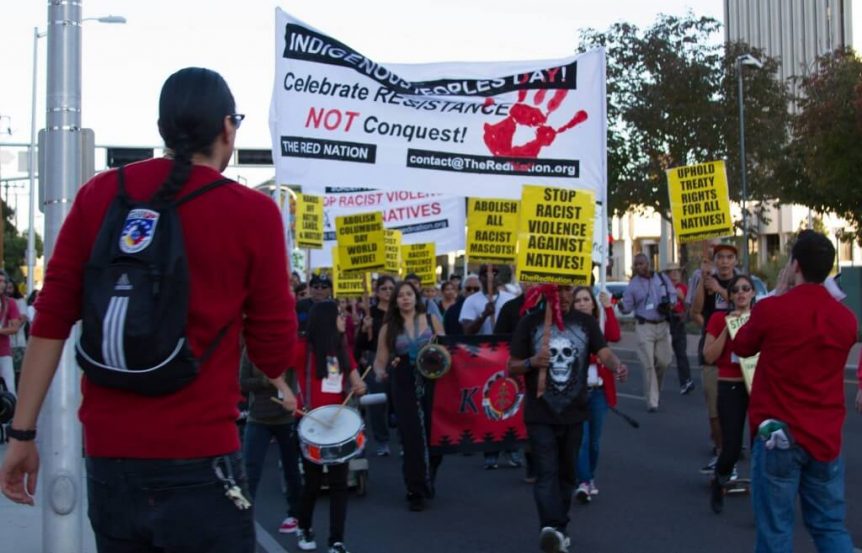 La semana pasada el Presidente del ayuntamiento de la ciudad de Albuquerque Rey Garduño declaro que Albuquerque ya no celebrara el día de Cristobal Colon si no que este día ya sera celebrado como el día de los indígenas cada segundo lunes de octubre.
"Podemos ver que con dedicación y trabajo dura podemos causar un cambio," dijo Sam Gardipe, miembro de The Red Nation, un medio de comunicación independiente basado en Albuquerque, Nuevo Mexico.
Red Nation estaba dirigiendo una campaña en donde buscaban abolir el día de Cristobal Colón en la ciudad y el estado.
"El dia de Cristobal Colón celebra la muerte y desaparición de la gente nativa, la tierra y la vida," dice en el sitio web de The Red Nation. 
"tal vez es un cambio minimo, pero es un cambio. Ahora tenemos que enfocarnos en buscar formas de detener la violencia contra los nativos," Gardipe dijo.
Manuel Sanz y John Acosta entrevistan a Sam Gardipe, miembro de The Red Nation. Escucha La Entrevista aquí (La entrevista es en Ingles)
________________________________________________________________________________________________________________
Indigenous Peoples Day
Last week the Albuquerque city council president Rey Garduño declared that the city will not celebrate Columbus Day any longer, but instead every second Monday of October will be celebrated as Indigenous People Day.
"We can see that with dedication and hard we can cause change," said Sam Gardipe, member of the Red Nation, an independent media based in Albuquerque, New Mexico.
Red nation was running a campaign that sought to abolish Columbus Day in the city and state.
"Columbus Day celebrates the death and disappearance of the native people, the earth and life," says the website of The Red Nation.
"Maybe it is a minimal change, but at least it's a change. Now we have to focus on finding ways to stop the violence against natives," Gardipe said.
Manuel Sanz and Juan Acosta interview Sam Gardipe, member of the Red Nation. Listen to the interview here.