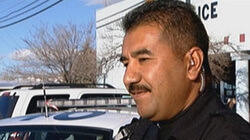 Conversación Con Un Oficial de APD: Luis Hernandez
Nuestro periodista comunitario, Mario Aguilar, tuvo la oportunidad de entrevistar a Luis Hernandez, un agente de policía del departamento de Albuquerque. Hablaron sobre temas que incluyeron el control de armas, violencia en estados unidos, y como prevenir tragedias.
Escucha la conversación aquí:
____________________________________________________
Conversation with an APD Officer: Luis Hernandez
Our community journalist, Mario Aguilar, had the opportunity to interview Luis Hernandez an Albuquerque Police Department police officer; they talked about gun control, violence in the United States, and strategies to prevent strategies.
Listen to the conversation here (the conversation is in spanish):